Fiction
10:04: A NOVEL
by Ben Lerner
In Ben Lerner's second novel, 10:04, weather maps that promise hurricanes deliver mere showers. The symptoms presented by an ailing human body don't always yield a diagnosis and the night sky is a mystery. Excavated dinosaur bones can suggest that a creature as wonderful as a brontosaurus might have existed and then, on review, reveal that marvel to have been a fiction all along. It is hard to make sense of all this cultural, biological, and physical data; to integrate, as the narrator of this remarkable novel reflects, 'all that information into a larger picture'.
We find ourselves in the company of two similarly bewildered textual personae: the first, the narrator, speaks directly to us about the novel that he plans to write; efforts of the second to write that novel are narrated in the third person. That second character, an author named Ben, is the stand-in for the narratorial I – and both resemble Ben Lerner, the Brooklyn-based poet and author who is reaping the royalties for 10:04. And to complicate any assessment of 10:04's likenesses, the novel in question, the one Ben is trying to write, will turn on a set of fabricated letters between a fictional author and famous writers, some of whom actually lived.
10:04 opens as the narrator and his agent celebrate a book deal negotiated after the appearance of a short story in the New Yorker. (Lerner's story 'The Golden Vanity' appeared there in 2012 and is repeated in full in 10:04.) The decadence of this meal is registered by the consumption of 'baby octopuses the chef had literally massaged to death'. We may wish to stay with the ethical reprehensibility of so coddling a cephalopod for gastronomical purposes, or to wonder at the metaphorical possibilities inherent with this brilliant creature, an etymological and actual head-foot composite, all thought and mobility, and to its death by a surfeit of care. But there is no time: 10:04 pulls us forward.
Similarly, the narrator, in the early section, worries about a possible diagnosis of Marfan Syndrome, a condition which afflicts the body's connective tissues and imperils stereognosis, making it difficult to 'read the realistic fiction the world appears to be'. Later on, he hides in his room and cuts contact with the world for most of a residency in the Texan town of Marfa. How on earth, Lerner seems to ask of E.M. Forster and his fellow modernist overlords, can we make the right connections?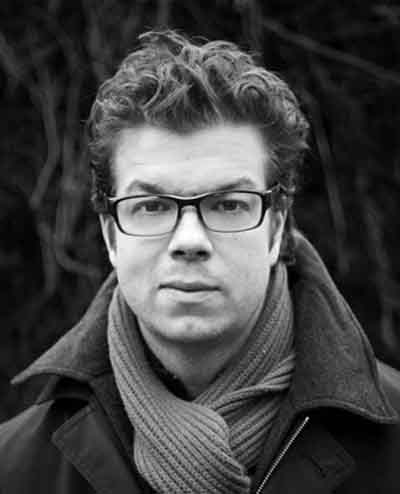 Ben Lerner (photograph by Matt Lerner)
The 10:04 of the novel's title points us in the direction of an unlikely guide: Marty McFly, a time-travelling young man bedevilled by the consequences now of meddling with what happened then, a danger also present for novelists working with autobiographical material. Gen X readers with sharp memories of the film Back to the Future (1985) will know that Marty McFly had to reach a certain clock tower in Emmett Brown's DeLorean by 10:04 pm in order to project himself back to the future, and thus to avoid distorting the time-space continuum.
During the opening lunch, we discover that Lerner's narrator will reap $270,000 after taxes from his book deal. Throughout the novel we return to that pile of cash and what it signifies. The money will allow Ben to, in his words, 'project myself into several futures simultaneously'. The novel-to-come will help pay for fertility treatments for his friend Alex as they attempt to conceive a child together; it will cover gifts for Roberto, the Salvadorean ten-year old Ben meets each week in the role of an unofficial tutor.
Lerner is an astonishingly deft writer. He could simply entertain us with his supple, tentacular sentences, but instead he dares us to consider what the contemporary novel is worth, financially and politically. Hence the racy disclosure about the advance and the details of that outrageous lunch. We are frequently reminded that the futures into which this novel projects its characters have material dimensions. We learn which characters do and do not have health insurance; we meet an Occupy protester who showers at the narrator's apartment; we eavesdrop on the denizens of the literary world as they gossip at parties and over dinner about advances, film rights, and mediocre novels that sold big.
Walt Whitman is one of the presiding spirits of 10:04, but Lerner's avatars do not quite put one in mind of the exuberant animus of Leaves of Grass. Whitman is bold, he roars with tremendous gusto, especially by comparison to the self-deprecating, anxious, and highly self-conscious voices that carry 10:04. For Lerner, irony is a necessary prophylaxis against the risk of making the wrong kinds of attachments, but it undermines the sincere efforts of his characters to communicate and to create communities.
'Lerner is an astonishingly deft writer ... he dares us to consider what the contemporary novel is worth, financially and politically'
For Lerner, as for Whitman, communities are important, and so too are the pronouns that facilitate them. 10:04 swings between the first- and third-person pronouns but its greater interest is in 'a still inhabited second person plural': the collective you. Ultimately, too, it seeks to envisage a first-person plural: a revolutionary us sufficient to contain multitudes.
10:04 is an exciting book, one that thinks seriouslyabout what contemporary literature can do and whom it can reach. Lerner's game transliteration of the conventions of fiction and non-fiction has generated a far from fraudulent new form. 10:04 flickers like a beacon, one that lights a path to help us reach back to the future, and claim it for ourselves.