Few authors summon the various modes of irony to better purpose than J.M. Coetzee. Typically, before Coetzee gives a reading, the audience can safely suppose that they are in for a good laugh, the odd squirm and cringe, and at least one moment of bewilderment. But there are exceptions to this general rule, and the several hundred people who gathered to hear Coetzee read last week, on a balmy Tuesday evening in Adelaide, were fortunate to witness an atypical performance by the Nobel laureate.
The reading, which took place in Adelaide's Elder Hall, was co-hosted by the University of Adelaide's J.M. Coetzee Centre for Creative Practice and the University of South Australia's Hawke Research Institute, as part of Traverses: J.M. Coetzee in the World. The broader event also featured an academic colloquium, an exhibition of archival and sundry material from the Harry Ransom Center's J.M. Coetzee Archive (flown in from Austin, Texas), excellent readings from a curiously dressed Brian Castro (fresh from winning the Patrick White Award a few days before), Jill Jones, Lloyd Jones, and Carrie Tiffany, and the launch of Coetzee's newest collection of fiction, Three Stories (which I reviewed in ABR, November 2014).
'Several hundred people ... were fortunate to witness an atypical performance by the Nobel laureate'
Before Coetzee took to the stage on Tuesday night, the philosopher Jonathan Lear gave a public lecture. Lear argued that Coetzee's Waiting for the Barbarians (1980) can stimulate ethical actions in complex ways, particularly by forcing complacent readers to confront the limitations of their own moral courage. The lecture doubled as the keynote for what proved to be a stunning colloquium.
After Lear's lecture, piano soloist Anna Goldsworthy gave a sparkling performance of J.S. Bach's Prelude and Fugue No.3 in C-sharp major from The Well-Tempered Clavier (a favourite of Coetzee's), and the Zephyr Quartet, featuring mezzo-soprano Elizabeth Campbell, gave an appropriately subdued rendition of Graeme Koehne's 'Three Poems from Byron' (part of which featured on the film soundtrack for Disgrace).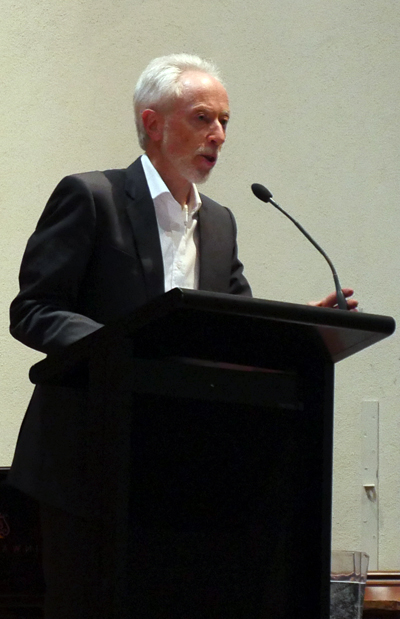 Coetzee reading (photograph by Shannon Burns)
Coetzee's was the final act of the night. After thanking the colloquium's organisers, he prefaced his reading by saying:
I must confess how touched I am at the number of friends and colleagues who accepted invitations to attend, some of whom have flown vast distances to be here tonight. Whether one ought to be holding a conference on a writer who is not safely dead is another question entirely, but my doubts in this respect in no way detract from my gratitude to you for your comradeship.
These sentiments are conventional enough on the page, but as he spoke Coetzee emphasised 'confess', 'touched', and 'vast', and the irony of the second sentence was muted by the carefully expressive delivery of the last clause. Coetzee seemed to speak to his audience in an unusually direct way, and this sense of intimacy was only intensified when Coetzee read from the opening pages of Age of Iron (1990), which are as wrenching as any across his fiction.
Set in Cape Town during the Apartheid era, the novel is a long message from a dying mother, Mrs Curren, to her estranged daughter. While it is possible, on a purely textual level, to register critical ironies in the first several pages of Age of Iron – especially in Mrs Curren's initial interactions with the homeless Vercueil, who sleeps in her driveway – Coetzee's heartfelt reading obscured the double meanings almost entirely. When Coetzee voiced Curren's longing to be near her daughter, to clasp her in a tight embrace, he seemed almost to reach out to his captivated audience: 'How I longed for you to be here, to hold me, comfort me.'
In the text this sentence is punctuated by an exclamation mark, but on the night Coetzee's voice softened and quivered slightly. This was not the Coetzee who stays coolly removed from his readers, and who prefers to let the fiction speak for itself; instead, this time he seemed – to me at least – to let the fiction speak for him.
What to make of this extraordinary performance? In the way of these things, I was inclined to read a great deal into it. Coetzee's performance seemed totally singular and unheralded, but then, a few days later, I was stunned to hear Coetzee's recorded reading from some of the most affecting pages of Disgrace (1999), as part of the archive exhibition in the Kerry Packer Gallery. The exhibition's curator, Jennifer Rutherford had selected passages for Coetzee to record from across his body of work. My initial misgivings about Rutherford's selection of this passage (too laden with pathos, too 'obvious') were completely disarmed by Coetzee's full-hearted reading. I confess to sitting on the gallery floor, pen poised above my notebook, riven with emotion.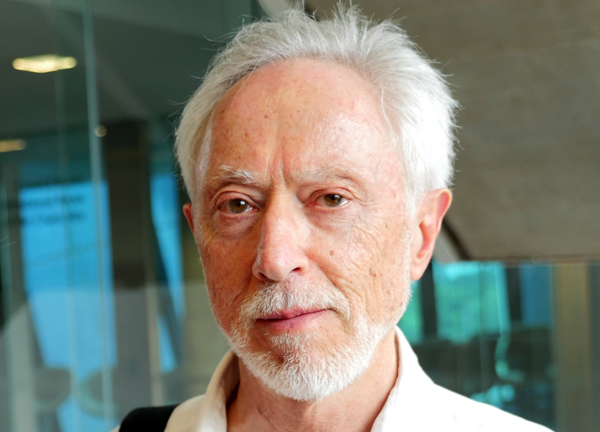 J.M. Coetzee (photograph by Shannon Burns)
The exhibition, which runs until 28 November, features draft pages from most of Coetzee's thirteen novels. We learn that Coetzee commonly writes twenty or more full drafts of each novel. The early manuscripts are written neatly, some in university exam books, while the later manuscripts are printed from a computer and corrected by hand.
One note from the Slow Man (2005) fragments seemed to resonate with Coetzee's reading at Elder Hall. The note says: 'Children thrive on the sensation of safety they get from being enfolded in strong adult arms. But adults just as deeply need the sensation of holding a wriggling, trusting body.' We begin to see that Coetzee's interest in the various modes of emotional intimacy is deep and wide-ranging.
'Coetzee seemed to speak to his audience in an unusually direct way'
Other highlights of the exhibition include a hilarious 'Flow Chart of the Academic Staff Disciplinary Procedure' from Coetzee's time at the University of Cape Town, circulated during the period that Coetzee was writing Disgrace, alongside a handwritten early draft of the first page of the same novel, with numerous corrections in red pen. The exhibition also includes photographs and works of art by Berlinde de Bruyckere, Sharon Zwi, Kai Easton, and Lisa Harms.
While Jennifer Rutherford's curatorial decisions are excellent for the most part, there are one or two problems. The recordings of Coetzee reading passages from his novels are magnificent in themselves, but I found it hard to concentrate on the manuscript material with Coetzee's voice echoing around me. Headphones would have been a better option. And for anyone who is unaware that Coetzee and Berlinde de Bruyckere had a collaborative relationship whereby Coetzee took on the role of 'inspirer' and 'curator' of her 'Cripplewood' display, de Bruyckere's 'wax, epoxy, iron, cloth, polyester' sculpture will seem totally baffling.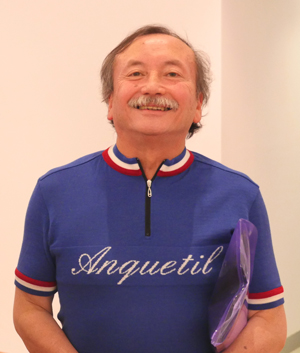 Brian Castro (photograph by Shannon Burns)
'Cripplewood' was first shown in the Belgian pavilion at the 51st Venice Biennale in 2013, and was inspired, in part, by Coetzee's short, previously unpublished extension of the Elizabeth Costello 'lessons', entitled 'The Old Woman and the Cats'. The sculpture is evocative enough in itself, but this background information helps viewers to appreciate its relevance to the exhibition.
As well as organising these two public events, Professors Jennifer Rutherford, Brian Castro, Nicholas Jose, Anthony Uhlmann, and Bruno Clément were responsible for pulling together a large-scale international colloquium devoted to Coetzee's work, featuring papers and readings by an extraordinary range of critics, philosophers, creative writers, and artists. Traverses was a very significant occasion in the history of Australian literary scholarship, and stands as a new benchmark for the close and diverse analysis of work by living Australian writers.