Here is a fine new Australian opera from Victorian Opera. Composer Iain Grandage and librettist Alison Croggon have taken Tim Winton's Booker-shortlisted novel The Riders (1994) and created a highly expressive work. Marion Potts directs it on a wide but stark stage furnished only with wooden saw horses. There is a balcony and a revolve, but mostly Potts chooses to observe her anguished and introspective characters through a series of fairly static groupings.
Grandage and Croggon have taken considerable liberties, like all good adapters. Some characters vanish or merge; one, crucially, at the heart of the story – moves centre-stage here. Jennifer elects to abandon her husband (Fred Scully) and their daughter (Billie, just six in the novel, rather taller here) early in the novel. She remains suggestively missing in the novel, but not here. Croggon – poet, novelist, seasoned librettist – knows it is hard to stage an absence. In the program notes she speaks of wanting to 'translate The Riders into another form'. It is a highly feminist reading of Jennifer's motivation, her disdain for convention and riskless futures, her yearning to write poetry. Grandage and Croggon's challenge is to embody Jennifer, who longs for a freedom quite divorced from her uncharismatic kin. Croggon has approached the task with a free hand, aided no doubt by Winton's shrewd attitude towards the business of adaptation. Interviewed in Spectrum (20 September), Winton said: 'Adaptations take place in their own universes. For me it happens at a vast, almost cosmic, remove, and I don't think about it very much because if you do, you go a bit nuts.'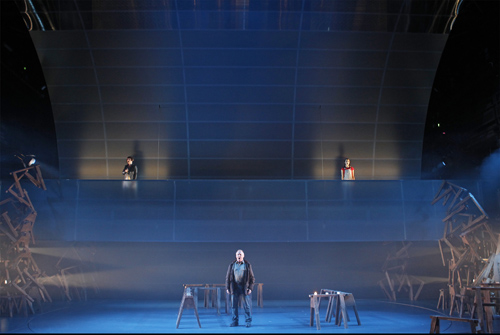 Jessica Aszodi as Jennifer, Barry Ryan as Scully, Isabela Calderon as Billie (photograph by Jeff Busby, courtesy of Victorian Opera)
Like Winton, Grandage grew up in Western Australia. He worked on the stage adaptation of Cloudstreet. Here he is clearly drawn to the later novel's 'velocity … that eternal questioning.' Conscious of The Riders' dependence on aspects of European mythology (the eponymous Riders), Grandage explores his own Anglo-Celtic heritage. Winton's only novel set outside Australia has clearly had been inspiriting for this talented composer.
'Grandage and Croggon have taken considerable liberties, like all good adapters'
Over three acts (performed without intervals), we follow the Scullys from their new home in Ireland (which Scully has been preparing for his wife and daughter) to different settings in Europe where the bewildered cuckold laments his fate, consoles his daughter, and berates those he suspects of betraying him. The mood is wonderfully changeable throughout, and three onlookers (sung by Dimity Shepherd, Jerzy Kozlowski, and David Rogers-Smith), in a series of brilliant trios, afford us a mordant view of the hapless Australian tourists.
The cast is outstanding. Jessica Aszodi, as Jennifer, is magnetic, and copes effortlessly with the wide tessitura. This is a brilliant performance – very funny too at times as Jennifer upbraids Scully and forsakes her dull and bookish daughter at the airport. The role of Scully (Winton's 'desert Irishman') is a demanding one, with some forceful and highly placed singing. Barry Ryan – so fine as Nixon in last year's Nixon in China (Victorian Opera) – was most impressive in the role, and revelled in Scully's eloquent and impassioned music. Dimity Shepherd, who never seems to give a bad performance, added Marianne (Jennifer's tipsy girlfriend, who appears in Act Three) to her long list of highly individualised characters. During Marianne's long confrontation with Scully, Shepherd was quite unfazed by the increasingly hysterical coloratura that Grandage gives her.
Barry Ryan as Scully, Isabela Calderon as Billie (photograph by Jeff Busby, courtesy of Victorian Opera)Only the character Billie (sung here by Isabela Calderon) seemed overwritten, too demanding for such a young voice. Billie – abandoned, clueless, hugging her Hugo – is rarely off-stage. Grandage, interviewed by Philippa Hawker, has spoken of wanting to 'create a language that has on one hand something very simple and honest, the music of Billie, simple, unencumbered, direct utterance, the truth as it were' (Spectrum). This is always ambitious, and the effect – notably in Act Three, which feels overlong and less successful than its predecessors – can be sentimental and platitudinous.
The real star of the night was Grandage's radiant new score, beautifully played by a fourteen-strong Orchestra Victoria, conducted by Richard Mills. The opera (Grandage's first) is highly inventive and impressively restless: it never belabours a fine tune or resists a stylistic modulation. There is a wonderfully agitated quality to this music, reflecting the characters' distrait situations. We hear folk, music hall, cabaret, and bird song. Grandage employs recorders (a virtuosic performance from Genevieve Lacey), piano accordion, and bouzouki. I kept thinking of Peter Grimes, musically and dramatically. It would be fascinating to hear the score performed as a suite, and the opera itself clearly warrants further seasons and plaudits.
The Riders, directed by Marion Potts for Victorian Opera. Performances continue at the Merlyn Theatre, The Coopers Malthouse, until 4 October 2014. Performance attended 23 September.