Erik Jensen, a young journalist who now edits the Saturday Paper, has written an unusual memoir of his four years shadowing an artist – a difficult artist, it must be said (putting it euphemistically). Any new memoirist like Jensen will be interrogated umpteen times about his motivation. Such is the fascination with biography – fascination mixed with ambivalence – he will be asked about catharsis, whether the exercise was improving, enlightening, transmogrifying. In Tardises and tents the memoirist will become adept at distilling his intentions, whether they be financial or fraternal, vengeful or venerative. In Jensen's case, this curiosity is likely to be magnified because of his intimacy with his subject and the marked decadence of the setting. This biographer's rationale is as intriguing as that of his beleaguered subject.
Jensen was not yet twenty when the artist Adam Cullen persuaded him to write his 'biography' (with a fanciful boast of a contract with Thames & Hudson). Cullen, who craved publicity and was often good for one-liners, had liked a profile that Jensen wrote about him for a magazine. Cullen's health by this stage was broken after years of abuse; he had just lost his gallbladder and much of his pancreas to alcohol-related pancreatitis. He was living in the Blue Mountains, his best art behind him. Increasingly, he turned to dealers for solace. He could only paint if he had drunk a bottle of vodka.
Like many memoirists, Jensen feels his way into the book, as if unsure how to begin or whether he should proceed at all. Homelily, tentatively, the book opens with an email exchange with the artist Dale Frank, an erstwhile friend of Cullen's, who is now wary and undeceived. Frank essays his reasons for not wanting to mythologise Cullen. 'Discussing his failings, his abuses and abusing, his fears, his bigotry, his aggressive self-destruction, his mellow cyanide, alongside any talent … all goes to mythologising him, unfairly.' Jensen persists; he even records Dale Frank's compliments ('I was seduced by your charm, good looks and your truffle-like intelligence that evening'). He reassures Frank that 'the book will contain no myths'; he hopes to 'get at the truth'. Frank then disappears from Acute Misfortune.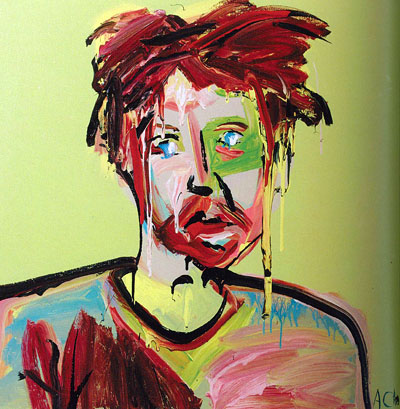 Portrait of Erik Jensen by Adam Cullen, 2010

The book, after this uncertain overture, proceeds more promisingly with Cullen's funeral in July 2012. Not often do we meet the biographer as pallbearer. 'Coffins weigh more than you expect,' Jensen writes. With the journalist's flair for pithy, telling phrases, he evokes the scene in the 'strangely griefless' church. A minister delivers the usual rhubarb: 'His life is a canvas that is now finished … His life was his masterpiece.'
Jensen had spent four years with Cullen in a kind of queasy thraldom. By this stage Cullen had not eaten solids for two years. He lived on milk and fruit juice. There were two buckets by his bed ('one for vomit, one for piss'). 'Not infrequently,' Jensen writes, 'he seems pathetic.' At times we marvel at the author's perseverance. Imagine putting up with this sodden self-analysis:
People don't like you to change. People like to have you as one thing. They like reliable. They like a harmless, good-looking, reliable failure. Sorry, I'm not that. I used to be good-looking, but I'm not reliable. I don't care about people.
Jensen is open about their dissolute times at Wentworth Falls, where '[e]ven the trees look as if they've been abused'. Early on, Cullen managed – with his passion for hunting and firearms – to shoot Jensen. Later he threw Jensen from the back of his motorbike (this time it was not an accident). It was rare for them to conduct an interview without alcohol or drugs. Jensen gets drunk with Cullen, watches him shoot up, even accompanies him to Sydney when he needs to score (a thrice-weekly round-trip that, at $300 a fare, endears Cullen to taxi drivers). Going home in the taxi, Jensen records the addict's swooning remarks: 'It's about getting lost. Lost in jazz, lost in heroin, just being free.'
After this, it is a relief to meet Cullen's parents. Kevin, the father, is wonderfully eccentric. Exhibitionism clearly runs in the family. When Adam was a boy, Kevin would set off for work without his trousers. Even now he fetches the morning paper in a dress. Kevin, an active seducer since the age of fourteen, is cheerfully randy but scathing about his son. 'Flirting, I just can't help it. Adam would never get a root unaided.' Cullen is clearly drawn to his father ('he's a real man, you know'). He is proud of the fact that they share a stutter.
'[Cullen] could only paint if he had drunk a bottle of vodka'
Jensen lunches with Cullen's mother before her death. Carmel has the best line in the book. They discuss her son's premature baldness, which has won him free drinks at his haunt, the Harold Park Hotel. '"Adam used to tell them he had leukemia and they gave him free beer,"' Carmel said. "Now I've bloody got it. He gave it to me."' Cullen, typically, was bitter about his actor–mother's failure to recognise his talent ('She never told me how good I'd done'). They were estranged for many years. Yet after her death there is a series of distraught diary entries culminating in a single drunken word, 'Mummy'.
Cullen had been an unpopular student at art school. Little wonder: in one performance he chained a pig's head to his ankle and dragged it around until it began to disintegrate. It left him with a violent distrust of other artists (only Sidney Nolan and Mike Parr impressed him). He was enraged by Shaun Gladwell's selection for the Venice Biennale: 'They should be approaching me … I was making that work ten years ago, carrying around roadkill. He lives in fucking Potts Point. I am Mad Max.' As Jensen notes, 'Resentment courses through everything Adam says.'
Cullen's egomania was colossal, childlike (Jensen early notes his 'major in performance'). Occasionally he spoke of himself in the third person. When his retrospective at the Art Gallery of New South Wales ended in 2008 he was disconsolate. He wanted it to become a memorial. 'I think it should be there forever.'
Lying for him was second nature, especially with journalists and his biographer. He told one girlfriend that his brother had died years ago from a heroin overdose. In fact he had only one sibling, who survived him. He loathes his brother and excoriates him to Jensen, saying that Mark was bisexual ('the most evil thing there is'). At art school he bragged about belonging to a fascist gang that had kicked to death a homosexual. Almost wearily towards the end, Jensen writes, 'So much of Adam was paraphrased … He was an assemblage. He was always pilfering …'
'Cullen's egomania was colossal, childlike'
The highlight of Cullen's life was the Archibald Prize that came at his fourth attempt, in 2000: a controversial portrait of David Wenham. It is disquieting to read about Cullen's glamorisation of this most dubious of art prizes. For Cullen the Archibald was the supreme validation. Nothing that followed brought him similar consolation or success. His health was broken, and all his compulsions were unloosed. Finally, he was pulled over for drink driving yet again. The police found a massive collection of firearms inside the car. Being examined later by two policewomen was devastating for Cullen ('It was the strip-search that broke me'). The case that followed dragged on and shattered his bravado. He was not jailed, but the weapons offences led to a mandatory treatment plan, including sessions with a psychiatrist. All his invincibility was shot. 'I'm so used to absolute freedom. I can shit anywhere. I can piss anywhere. I can take drugs. I can kill things. But in there I was nothing … He asks what I feel. And of course the arsehole makes me burst into tears about stuff I don't even think about.' Cullen died not long after, alone and pitiful.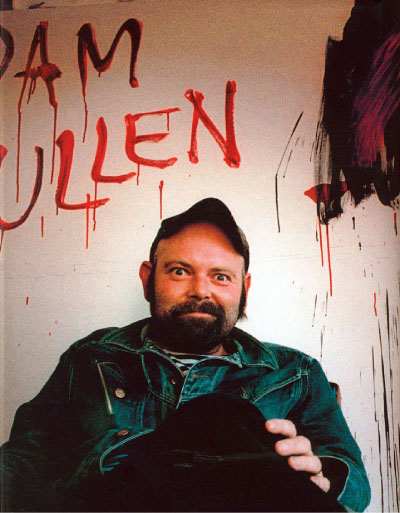 Adam Cullen (detail from a photograph by Tamara Dean)
Coyly perhaps, the book invites speculation about the nature of this relationship. Cullen, who fixated on people, bombarded the young man with importunate and scatty emails (one ends 'I need you !! ..ad"x'). On the first night Jensen stayed at Wentworth Falls, Cullen ordered him to shower for him. Jensen, interestingly, did not know how to move. Twice that week he woke to find Cullen standing over his bed (in a room with a shotgun and a crossbow).
Jensen realised – belatedly, he claims – that he had been 'incurious about Adam's sexuality. Certainly, I had been incurious about him romantically and I had never properly considered our relationship. Suddenly, it is all there: the showers, the nudity, the elegiac emails, the lingering touches … Sitting opposite him, I finally twig. Adam is in love with me.'
So, back in the Tardis, what of Jensen's motives? What has he done for his wilful desperado? Many will find Cullen repellent. (Perhaps we would be more forgiving if the art was better.) Feminists of both sexes will despise his contempt for, and seeming terror of, the opposite sex. Cullen says to Jensen, 'If it's got tits, wheels or fur, you're fucked.' He talks about his former girlfriends ad nauseam and with uniform contempt. 'Women are like polar bears: beautiful at a distance, but stay away from them. They will kill you. They will eat you.'
Ultimately, Jensen finds his subject 'difficult to be around'. For Jensen, 'he had become the broken men of his paintings'. Yet when he learns of Cullen's death, Jensen is 'rattled' by how upset he is. Fittingly, he draws a bath, pours himself a scotch, and unambiguously weeps.