Hard Choices by Hillary Rodham Clinton
Simon & Schuster, $39.99 hb, 639 pp, 9781476751443
HRC: State Secrets and the rebirth of Hillary Clinton
by Jonathan Allen and Amie Parnes
Hutchinson, $34.99 pb, 440 pp, 9780091954499
Politics
Hard Choices
by Hillary Rodham Clinton

&

HRC: State Secrets and the rebirth of Hillary Clinton

by Jonathan Allen and Amie Parnes
It takes a village to run the world, and Hillary knows how to do it. These are the main lessons from Hillary Clinton's new memoir, Hard Choices. The book traces the finality of her presidential campaign bid in 2008 and her four years as secretary of state. Her analysis of this period provides insights into current international conflicts from Russia to China, the lingering controversy of Benghazi, and encourages the reader to look ever closer for insights into Clinton's potential pursuit of the Presidency.
To read the subtext of this book, two observations may be helpful. I have met and respect Secretary Clinton. She is a rare politician, both a heavyweight and approachable. At a book signing for then Senator Clinton's last book, Living History (2003), in Washington, DC, the store was closing when I arrived. Clinton was sitting on a small stage: it was just the two of us, and her security detail. She asked me what I did for work; I told her I was a lobbyist for gays in the military. She said, 'Well I'm going to come around and shake your hand'. She walked around the table to speak to me. 'That's very important work,' she said. This is illustrative not simply that she is friendly, but also that she didn't have to be. The law to repeal her husband's policy of 'Don't ask, don't tell' would not be amended for another seven years. Yet she was making a pointed peace offering.
This leads to the second point about reading Washington, which is to say that everything is a sign. I am fond of summarising DC by saying, 'In Washington, you are either punching or being punched. And if you aren't sure which one is happening, then you are being punched.' Hard Choices by Hillary Clinton offers blow after blow. Indeed, while she refers to the middle ground in international relations theory between 'soft power' and 'hard power' as 'smart power', I cannot help but see this as a series of 'smart punches'.
'Hard Choices by Hillary Clinton offers blow after blow'
Clinton stresses her role as someone who has managed global events, is capable of being president, and indeed should be encouraged to run for the presidency. (She notes that she was 'at the White House more than seven hundred times' over her four years.) I cannot believe for a moment that the book is not intended to support such a run. Whether she will do so may be an open question, but the purpose of this memoir is clear. Indeed, one downside of Hard Choices is the formulaic way in which it serves as a platform for a future campaign. Nearly every chapter provides a history that begins with Clinton's experience on an issue or in meeting a leader as First Lady in the 1990s. This is followed by a historical policy description that locates the role of the Clinton administration in advancing this issue or making history. Then it turns to the contemporary issues at hand and her role as secretary of state. This is followed by her smart-power solution and the text of her remarks from a State Department speech. This is not a riveting work of passion, but a calculated policy document that shows Clinton at the centre of a changing global world, addresses critiques of the media, cleans up old messes (such as claims of racism against President Bill Clinton and her notorious 2002 vote supporting the war in Iraq), and lays out a case for the future. Therefore, it is important to step back and examine how the choices in structure and emphasis also tell a story.
More obvious critiques are consistently aimed at the White House staff, though not at President Obama. Indeed, Clinton highlights their teamwork as a strength. She writes, 'Our rivalry, once fierce, was over. Now we were partners.' Yet, while the wounds of the 2008 campaign have healed, the animosity toward the Obama staff evidently still runs deep. Clinton repeatedly highlights poor decisions or amateur tactics by the Obama campaign and White House staff. She notes that campaign staff in 2008 thought she was 'hiding something' by not sharing her nominating speech for Obama in advance. When the Obama campaign staff 'issued a dismissive statement' against then Governor Sarah Palin and asked Clinton to do the same, she advised against it and they reversed course. At the State Department she was challenged by the White House over staff appointments, including Capricia Marshall as Chief of Protocol and Richard Holbrooke as Special Envoy to Afghanistan. On North Korea's detention of Americans, Clinton notes, 'more than a few people in the White House argued against the trip' in which Bill Clinton was dispatched to try and bring them home. On the State Department's work to protect the blind Chinese human rights activist Chen Guangcheng, the White House was concerned that it would hurt United States–China relations. Clinton writes about pushing against barriers to prioritise a digital revolution at the State Department as well as delayed support for a Center for Strategic Counterterrorism Communications. She also recounts how White House staff were concerned about having the raid on Osama bin Laden's compound the same day as the president's comedic remarks at the White House Correspondents dinner. Clinton writes: 'I've sat through a lot of absurd conversations, but this was just too much.'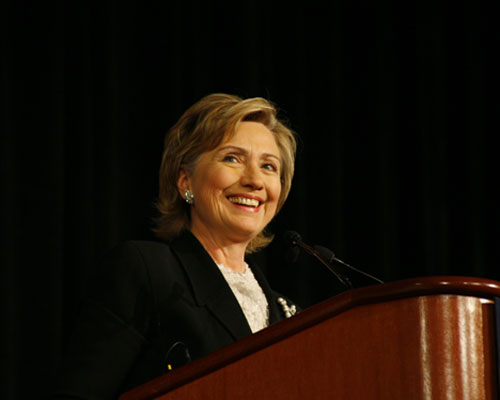 Hillary Clinton delivering her Chicago Speech, 2006
Perhaps the most important foreign policy assertion comes as Clinton claims ownership of the Asia Pivot. While many pundits wonder about Clinton's 'big idea' or lasting legacy in foreign policy, she gives a sense of it here. Clinton notes that her first trip abroad was to Japan ('I thought we ought to broaden our engagement with China and put the Asia-Pacific at the top of our diplomatic agenda'). Here Clinton identifies the success of the Clinton administration's policy of engagement in the 1990s and links this to her new strategic focus on Asia. Directing another jab at the White House, she notes that, 'The President shared my determination to make Asia a focal point of the administration's foreign policy.' In this, Australia's role is seen as crucial; Clinton highlights her positive relationships with Kevin Rudd and Julia Gillard.
Clinton also sets out a path to contain imbalances in the global order, or disorder. She highlights the need for realignment around civil society organisations as a way to offset the power of larger countries over smaller ones around the world. One example of this is the ASEAN organisation as a counterbalance to the rise of China. Here, she illustrates how it takes a village to run the world. This new world order also includes the inclusion of LGBT rights as human rights and climate change as an issue of the poor. In all, Clinton writes that she considers herself an 'idealist realist' for the twenty-first century.
Clinton also describes some behind-the-scenes dramas. She recalls that Obama asked her several times to become secretary of state following her initial post-defeat refusal. On Inauguration Day in 2009 there was a fear that terrorists would try to cross the border with Canada and assassinate Obama; this came to nothing. Clinton offers a poignant description of the final hours and diplomatic legacy of Richard Holbrooke and the raid on Osama bin Laden's compound. Clinton also notes that President Obama asked her to stay on for his second administration. This time, as we know, she declined.
These details are supported in Jonathan Allen and Amie Parnes's book HRC. Clinton's selective but potent jabs are noted in her dealing with other departments and agencies as she expanded the funding and reach of the State Department. The authors recount a turf war with the Treasury Department that Hillary won. One official recounted, 'That was kind of an early sign to everyone in the administration that Hillary Clinton was not your average cabinet official and was going to get her way on a lot of things.' Her battles with the White House staff, her push for technological innovation in twenty-first-century statecraft, and her loyalty to aides (notably the controversial Holbrooke), echo through this thoughtful book.
'What do these two books tell us about Clinton's political future? They tell us that when Clinton takes a political punch she repositions herself to fight back ''harder'''
What do these two books tell us about Clinton's political future? They tell us that when Clinton takes a political punch she repositions herself to fight back 'harder'. She did it when healthcare failed in 1994, after the Lewinsky affair in 1998, and after losing the presidential contest in 2008. She has positioned herself better for 2016 as one of the leading stateswomen of our time. Regardless of whether she runs and she wins, Hillary Clinton has defined the terms of her future, which in Washington, DC, is as close to victory as anyone gets.