Fiction
THE GOLDEN AGE
by Joan London
When the polio epidemics at the hinge of the twentieth century were catching hundreds of Australian children and adults in their web of pathogens, a pub in suburban Perth called 'The Golden Age' was converted – with its name unchanged – into a convalescent home for children who were recovering from polio but still unready to go back into the world. Joan London has used this fact as the starting point for her new novel, sticking with the allusive and luminous name of the real-life institution.
Every one of London's previous books of fiction has won at least one major Australian literary prize. Winning one prize is not necessarily a certificate of literary merit or a guarantee of a wide readership, but winning prizes for all of your previous books is a fair indication that your next one is going to be pretty good. The Golden Age is a great deal better than simply pretty good, though it is hard to pin down exactly why this might be so. Perhaps it is the way that London maintains a delicate balance of substance with style, of dramatic subject matter with understated narrative, of one character's point of view with another's, even simply of fact with fiction. What this produces is a book that is historically evocative without being fact-laden and moving without being sentimental; the pattern of imagery alternating light and darkness maintains this sense of balance and is one of the several things that make this novel beautiful.
Frank Gold, born in wartime Hungary and christened Ferenc, has come with his parents to Australia, where he contracts polio at the age of twelve and is sent to The Golden Age to recover. There he meets two fellow patients who will direct, albeit indirectly, the course of his life: the critically ill Sullivan, who introduces him to the writing of poetry, and the beautiful Elsa, with whom he falls in love. It is a simple blueprint for a complex novel, in which second and third readings of individual sentences and paragraphs keep revealing additional layers of meaning.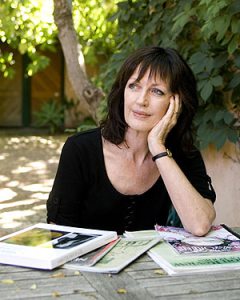 Joan London (photograph by Tony Ashby, 2008)
Among this book's many excellent qualities, its depth of characterisation stands out: of the supporting cast, Elsa's mother (Margaret), Frank's father (Meyer), and most of all Frank's mother (Ida) are minutely detailed and complex characters. Meyer, the patient, affectionate, astonishingly strong survivor of the salt mines, feels himself to be a failure: 'As if a curse had pursued them from the Old World … It completed his sense of failure, powerlessness that he had not protected his boy.' The curse of the Old World is invoked in flashbacks; although the word 'Jewish' appears in this book only once, attached to the name of the heroic Jonas Salk, a handful of scenes from wartime Europe tell us all we need to know in this respect:
She was taking him to her old piano teacher, Julia Marai, who lived in Buda, on the other side of the river. At the last minute she'd decided it would be safer for them if he was dressed as a girl. If they were stopped he wouldn't be given the physical check that would betray them both.
London avoids the usual clichés and stereotypes of character and plot, which produces some refreshing surprises. The tale of young love takes not just one unexpected twist, but two. The sexual spark between two of the other characters is allowed to die, both of them being old enough and honourable enough to know that fanning it will lead to disaster. Ida, a proud and bitter woman and a gifted pianist, a professional European musician, playing for a charity audience of assorted Perth citizens, does not despise them as one might expect: 'This was the land in which her life would take place. In which her music must grow. This was her audience … She must do her very best.'
Most of all, the name of the institution, and of the novel, might be assumed to be ironic, but are not: the home itself is a place where the staff are mostly kind and cheerful, and the children feel mostly loved and secure. One night when an electrical storm causes a power failure, Frank fears for the patients in iron lungs:
In the next lightning flash he saw a flock of white shapes like ghosts advancing through the driving rain. He made out female figures and recognised nurses, all in soaking shortie pajamas, running from their quarters to the iron lung ward, where, he found out the next morning, for three hours they'd hand-pumped the bellows.
Like all the best coming-of-age novels, London's tale of one adolescent boy discovering his vocation and embracing his first love expands way beyond that catch-all generic label to explore the idea of liminality itself, which marks so much of human life: the moves not just from childhood to adulthood but from one hemisphere to the other, from sickness to health, from protective semi-custody to the outside world, with the halfway house of The Golden Age as an extraordinarily rich symbol of transition:
The sunset faded and the first star appeared. Like children everywhere on summer nights, they became free spirits … The verandah was a half-way existence, half-inside, half-out. It took them one step closer to normal life. They felt themselves lighten … They were on their way back into the world.