Of Shakespeare's tragedies, Macbeth seems the most prescient, apposite to a species rapidly running out of world. Upon hearing of the Witches' prophecy, and resolving her course with chilling alacrity, Lady Macbeth invokes the nether realm of her potentialities:
Come, you spirits
That tend on mortal thoughts, unsex me here,
And fill me, from the crown to the toe, top-full
Of direst cruelty.
Early in the second act, Macbeth witnesses the apparition of a dagger which bloodies in accord with the slant of his imagining. Even as he declares its unreality, the image yawns into a vision of darkness visible:
Now o'er the one half-world
Nature seems dead, and wicked dreams abuse
The curtained sleep
He imagines a loping wolf, and follows it to his own prey.
Shakespeare was an actor, and knew theatrical process intimately. During rehearsals and before performances, actors use games, exercises, and meditations of various kinds to loosen the habit of perceived reality. It is tempting to picture Shakespeare dreaming these scenes, watching actors preparing to play Marlowe's tyrants, or his own Richard of Gloucester, recognising evil within their own possibility. To become murderers, Lord and Lady Macbeth enact comparable rituals of visualisation and invocation; learning bloody instruction from imagination.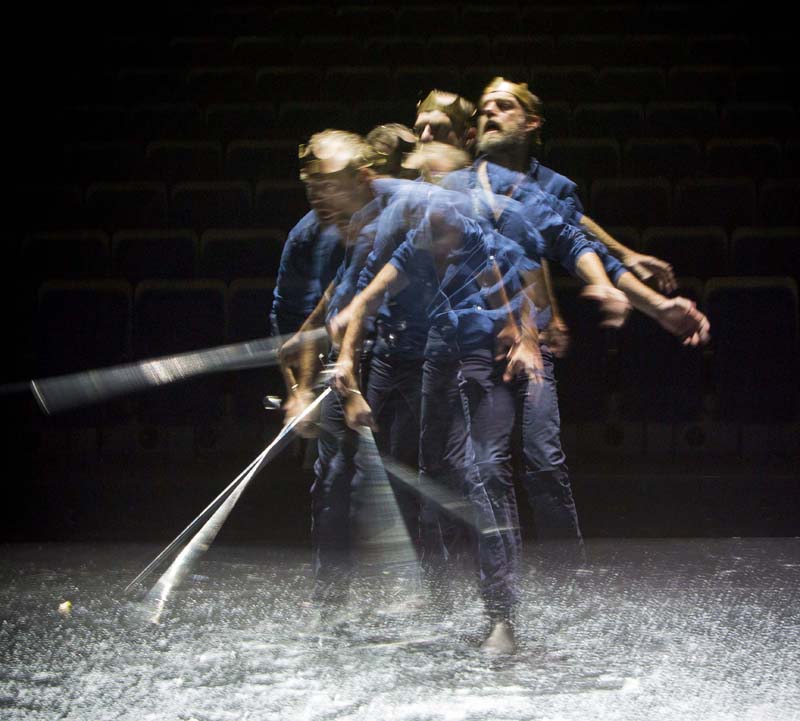 Hugo Weaving in Sydney Theatre Company's Macbeth (photograph by Brett Boardman)
The dread of the piece stems from the growing apprehension of the porous and flimsy barrier between a vast and watchful hunger resident in nature, and the human self. However flimsy their mooring, dislodging the artefacts of identity is perilous. Iago and Richard, villains of more conventional stamp, are consummate actors. In uttering 'I am not what I am', Iago inverts the divine syllogism of the name of God, and in his nightmare before the battle of Bosworth Field, Richard follows this negation to the depth of its conclusion: 'Richard loves Richard; that is, I am I … I am a villain: yet I lie, I am not.'
Macbeth's villainy is less elemental and more complexly human, but the scope of his negation is equally large. He yearns to erase both Duncan and the consequences of his murder in one blow, yet realises that in so doing, 'We'd jump the life to come'; they would slip, as it were, through the language of space-time. His prediction is terrifyingly astute. After Duncan's murder, we enter a desolate interior landscape animated by its own laws. After only three acts, he has grown old in thought: 'I have lived long enough. My way of life / Is fall'n into the sere, the yellow leaf.'
In one respect he was mistaken: Lord and Lady Macbeth pass into separate maladies. She fades into nightmare, while he retains sufficient belief to fashion himself into a king. Critics like Bradley attribute Lady Macbeth's quicker descent to an imagination less sanguine, but her role in the first acts is decisive, and her negation fully cognisant, unlike Macbeth's hypnotic nightmare.
'Macbeth's villainy is less elemental and more complexly human, but the scope of his negation is equally large'
While Sydney Theatre Company's Macbeth is significantly flawed, director Kip Williams' concept is a thrilling response to the relationship between performance and negation in the text. Williams's spatial concept, executed by designer Alice Babidge, crowds the audience into a row of bleachers on stage, while the auditorium looms above and behind the performance. This set inverts the symbolic ontology of the proscenium, and foregrounds a vision of the world not as a stage, but as a vacantly expectant theatre. At moments throughout, the dimensions of this space emphasise both the psychological theatricality of the tragedy, and the cosmic emptiness against which Macbeth struts and frets.
During the last acts, the air drifts with luminous scintilla, which becomes variously rain, sleet, ash, and distant stars. This melancholy firmament is the truer context of the play's final acts, against which Malcolm's politicking is absurdly quaint, a dissonance further emphasised by Eden Falk's increasingly antique costume.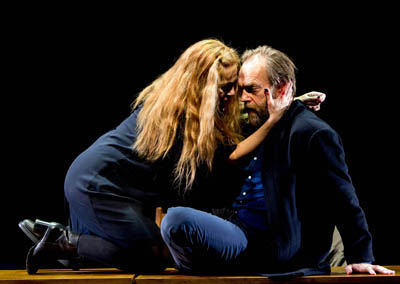 Melita Jurisic as Lady Macbeth and Hugo Weaving as Macbeth in Sydney Theatre Company's Macbeth (photograph by Brett Boardman)
Hugo Weaving is an actor of presence. His Macbeth is mercurial, coldly assertive, and rippling with sudden violence. While a solidly compelling performance, however, it lacks nuance, and feels inapposite to the visual universe of the play. In two hours' traffic, sans interval, there is barely a moment in which we see Macbeth think. He acts, and reacts to visual stimuli, with little between. Even 'Tomorrow, and Tomorrow' is spat through clenched teeth.
Melita Jurisic's Lady Macbeth is simply bad. Her every line is breathily hysterical, like a Judi Dench impersonator in a Ben Elton comedy. The direction is also at fault. In an attempt to avoid femme fatale clichés, Williamson has Jurisic deliver the chilling analogy 'I have given suck' as a grief-stricken collapse. This understanding of Lady Macbeth is weak, with injurious effects upon the tension and causal structure of the first two acts.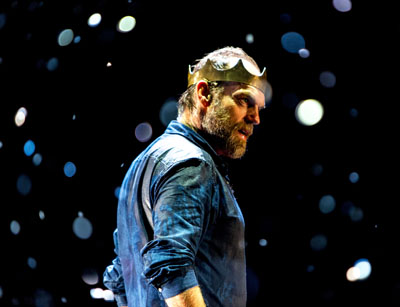 Hugo Weaving as Macbeth in Sydney Theatre Company's Macbeth (photograph by Brett Boardman)
The supporting cast perform well, but with a sense of anomie. Paula Arundel's Banquo, barely pausing for breath, whirs through iambs. The presence of Robert Menzies, John Gaden, and Eden Falk, combined with a number of borrowed design features, induces vivid recollections of Benedict Andrews's epic The War of the Roses (STC, 2009). Were they articulately framed, these allusions might constitute a subtle parenthesis to the theatricality of this production. As it stands, they invite unfortunate comparison with that monument of aesthesis and intellect.
The dissonance among this production's parts is curious. It suggests insufficient rehearsal time, or that Williams had difficulty heeling his star to his concept. Or it might suggest the complacency natural to a production that sold out months before it opened. Macbeth is vividly memorable, and I am convinced of Williams's talent, but this play has not achieved itself.
The last few scenes raise a Brechtian eyebrow at the audience, as though chiding us for belief, prematurely.
Macbeth was directed by Kip Williams for Sydney Theatre Company. Performances run from the 21 July to 27 September at Sydney Theatre.