Art
Christopher Menz visits the 'Mid-Century Modern' exhibition at NGV
The last time the National Gallery of Victoria devoted an exhibition to furniture was in 1988 (Featherston Chairs), and only the most dedicated design aficionados will remember the gallery's most recent group show of furniture design: One Hundred Chairs, back in 1974. Mid-Century Modern, broad in its ambition, covers Australian furniture design in the thirty-year immediate postwar period. It forms an interesting comparison to the recent touring exhibition from the Los Angeles County Museum, California Design, 1930–65, shown at Gallery of Modern Art, Brisbane last summer and reviewed here in December 2013–January 2014.
While essentially a furniture exhibition, Mid-Century Modern explores other avenues of interior design and architecture, and includes furnishing textiles and lighting. It commences with a chair by Douglas Snelling created in 1946 and ends with one by Grant Featherston (1974). In between we see the development of Australian furniture through the work of twenty designers, several of whom are already well known, largely through their representation in public collections and the prices realised in auction houses. Others, who deserve to be better known, are only now receiving due public recognition.
For designers working just after the war, sourcing supplies of materials demanded ingenuity. Originally, the webbing for the interwoven seat and back support in Douglas Snelling's first chairs had been created for parachutes in the war; the plywood in Roger McLay's Kone chairs (1948) was left over from the production of wartime air craft. Similarly, the technology available in Australia to designers was limited. This is reflected in the simplicity of construction in furniture from the immediate postwar period until the early 1950s.
As the economy recovered and the building industry boomed, demand for furnishings increased dramatically. Local furniture designers, greatly aided by the high tariffs on imported furniture, were in an ideal position to create new designs and expand their business. Some furniture makers, notably Schulim Krimper in Melbourne, continued the tradition of fine bespoke cabinet making, albeit in a modern idiom. However, the period really belongs to the designer who worked with manufacturers to supply mass-produced furniture for a large audience at an affordable price. Here, the relationship between the designer and the manufacturer was an important one. Designers needed to accept technical possibilities, while manufactures had to fulfil the designers' aim. Indeed, many of the innovations made by designers led to technical advances by sympathetic manufacturers.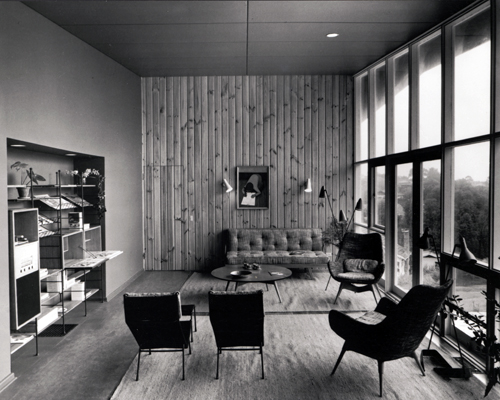 Wolfgang Sievers: Age Dream Home, Union Road, Balwyn, 1955 (demolished). (State Library of Victoria, Melbourne)
The most renowned designer of the period was Grant Featherston, whose work spans 1947 to 1974. In addition to his furniture designs, he also worked on several large commissions, many with his wife, Mary, from 1965. These included numerous prestigious commissions, such as the Expo '67 Talking Chairs (with concealed speakers) for the Australian Pavilion at the Montreal Expo '67 and furnishings for Roy Grounds's National Gallery of Victoria (1968). It is interesting to observe the evolution of Featherston's art as he strived to produce ever simpler forms and adapted his designs to more informal ways of sitting and lounging in chairs. From the beginning, Featherston conceived a chair as a form in space readily adaptable to the shape of the sitter. The chair legs almost become invisible, being merely support for the body of the chair. From the late 1960s the legs disappeared altogether or were reduced to one, such as in the Stem dining chair (1967) – similar in concept to Eero Saarinen's mid-1950s Tulip chair. In the Featherstons' final series of seating furniture, being fully upholstered, legs are dispensed with entirely. Featherston's last chair, designed in 1974, is indeed the simplest of forms: an upholstered sphere.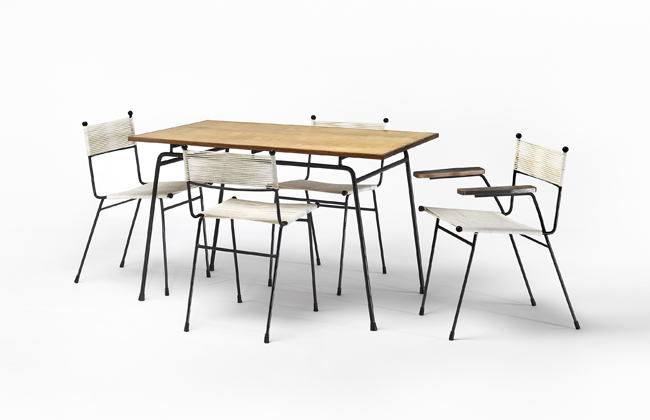 Clement Meadmore: Dining suite 1952 (National Gallery of Victoria, Melbourne)
Other designers represented in the exhibition include Gordon Andrews, Michael Hirst, Fred Lowen, Clement Meadmore, and Fred Ward. Andrews also designed Australia's first decimal currency banknotes; Hirst worked for a time with Meadmore and also created wire-framed chairs; Fred Lowen started the well-known furniture business Fler in 1946; Meadmore's design work in Melbourne preceded his career as a sculptor, and his best-known furniture are the cord chairs made of black tubular steel and woven cord; Ward's furniture relies on traditional cabinet making and the beauty of timber, and his most prominent commissions include furniture for University House, Canberra (1954) and for the National Library of Australia (1968) – both still in use. Several other designers are represented; there is even furniture by artists Janet Dawson and Robert Klippel.
The exhibition is displayed most sympathetically, an understated design that allows the chronological display to flow coherently and give a real sense of changing styles and fashions in furniture and furnishings over thirty years. Works are displayed singly, in groups, or period settings that give a refreshing variety to the presentation. The focus is on furniture, with essential context given by the addition of original designs, vintage photographs of interiors and buildings, magazine coverage, and a range of furnishing textiles. The richness of colour and textural variety so important in twentieth-century modernist interiors, and so evident in the furnishings on display, form a strong counterpoint to the earnest monochromatic quality of modernism implied in the elegant black-and-white photographs.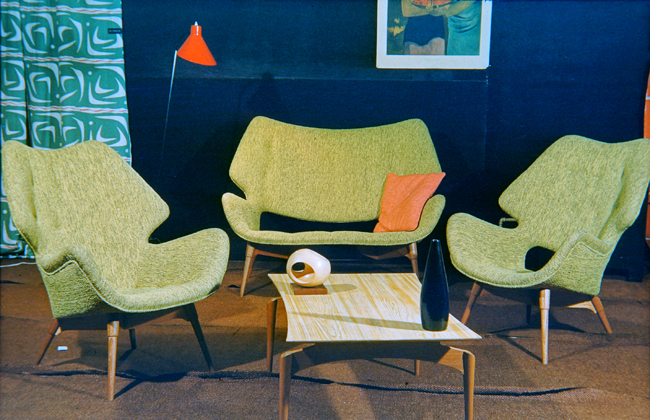 Grant Featherston: Living room setting at Hotel Federal exhibition 1953 (Featherston Archive, Melbourne)
Mid-Century Modern is accompanied by a book of the same name (NGV, $39.95 hb, 216 pp, 9780724103874), edited by exhibition curator Kirsty Grant, who deftly covers the period in an informative text that provides new insights and information. The book is enriched with contributions by a range of diverse authors, including two of the period's leading figures, designer Mary Featherston and architect Neil Clerehan. Other authors provide focus essays on key designers, architecture, collecting Australian modernist furniture, and conservation. This is a most elegantly designed production, beautifully photographed and abundantly illustrated.
Mid-Century Modern is well worth a visit to the NGV. The publication is the best general text available on the subject.
Mid-Century Modern: Australian Furniture Design is on display at The Ian Potter Centre: NGV Australia at Federation Square until 19 October 2014.