Hobart is the ideal place in which to have a festival. Big enough to have other attractions but small enough so that the festival becomes a major event rather than just another diversion. A walk through Battery Point, followed by a long lunch at Salamanca Place with congenial fellow festival goers, or a trip out to MONA to wander through the psyche of David Walsh are exceptional ways to spend the day before the next performance.
Post-election, the feeling seems to be one of wary acceptance and, certainly among the people I was speaking to, an awareness that old battles will have to be fought again.
On a cool Tasmanian evening in the exquisite Theatre Royal, Leo Schofield's second Hobart Baroque festival made a cool start. Handel's Orlando (1733) is a transitional work more loved by scholars than by audiences. Attempting to break through the rigid conventions of opera seria, Handel cuts back on the bravura arias that were a staple of the form and introduces more ensemble singing. This results in a muted work that has none of the dash and passion of Vivaldi's take on the same story, Orlando Furioso (1532).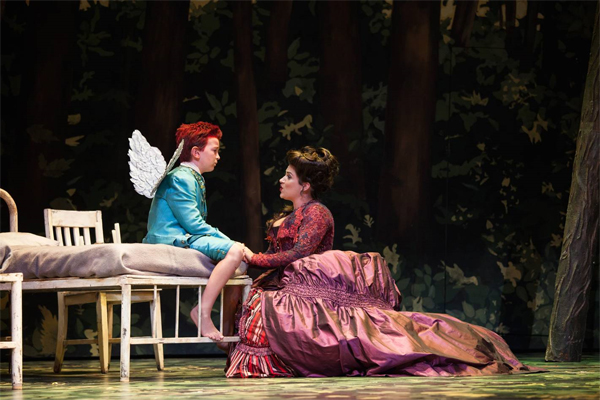 Tom Hawkey and Kathryn Lewek
(photographed by Rosie Hastie)
Chas Rader-Shieber's production keeps the piece moving, easier said than done with these static operas, and is inventive without falling into the trap of swamping the work with directorial concepts. But as one slow lament followed another the evening began to drag. It might have worked better with a more dynamic cast, however, with one exception, the mix of well-practiced Handelians and promising young singers proved competent rather than exciting. The exception was the very young and more than promising soprano, Kathryn Lewek, whose commanding performance culminated in a magnificent rendition of her third act aria. Hers is a name to watch.
'If the Sabata concert was a success, the next night's performance was a triumph.'
The following evening the stark but efficient Federation Concert Hall witnessed the Australian début performance of the Spanish countertenor Xavier Sabata. Sabata was originally trained as an instrumentalist and an actor and this showed both in his musicianship and his ability to command a stage. His is a smooth rich sound with none of the hootiness that affects so many singers of his type. If he had a tendency to croon the slower arias, his singing in the more flamboyant ones was forceful, acrobatic, and accurate. His rapport with the conductor, Erin Helyard, and the Orchestra of the Antipodes was clear and, although his first aria was a little tentative, once he relaxed he was in complete command.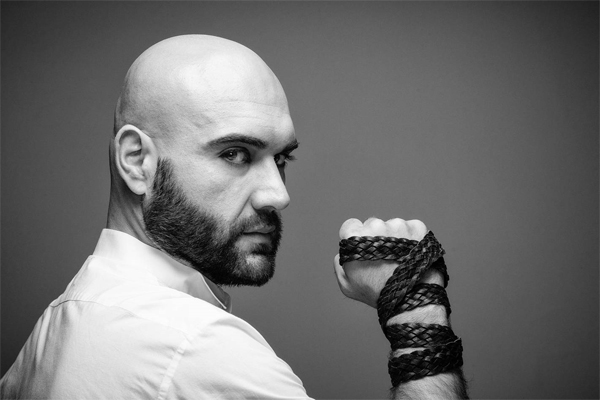 Xavier Sabata (photograph supplied)
If the Sabata concert was a success, the next night's performance was a triumph. The Russian coloratura, Julia Lezhneva, at the tender age of twenty-three, has created the sort of waves in the classical music world that have not been seen since the arrival on the scene of Cecilia Bartoli and on Sunday March 30 at the Hobart Federation Hall she showed us why. Apple cheeked, diminutive, and looking even younger than her actual age, Lezhneva fields a full rich lyric voice somewhere between high mezzo and soprano. Extraordinary vocal flexibility combined with a technique that apparently makes it unnecessary for her to breathe at all enabled her to spin out endless lines of decorative music. Also, wonder of wonders, unlike most of her contemporaries, she has a trill as solid as Sutherland's. Marvellous as her flamboyant singing was, the highlights of the evening were the lyrical arias which showed off her beautiful, forward projected sound and interpretive ability. Most endearing of all was her clear enjoyment in the act of singing.
'Also, wonder of wonders, unlike most of her contemporaries, she has a trill as solid as Sutherland's.'
In the interval the talk was all about the excitement of seeing a major artist at the beginning of her career and at the end of the recital the ovation was long and enthusiastic.
In the two earlier performances all three counter tenors and the conductor had glistening shaven heads so when Lezhneva's conductor, Oliver Gooch, appeared it was a relief finally to have a man with a mane on stage but it turned out he had not much else to recommend him. His conducting was perfunctory at best and there were moments when coordination between orchestra and singer almost went astray. But such was the talent and charisma of Lezhneva that none of this mattered.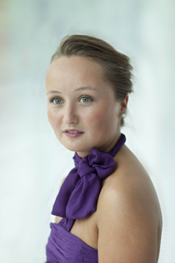 Julia Lezhneva (photograph supplied)
These three performances are merely the start of a week of recitals which will continue in Hobart's grandiose Town Hall. Leo Schofield, like the magician Zoroastro in Orlando, has conjured up a feast of music. We must hope that Tasmania's new government realises what has been achieved and will continue to support the Festival's growth into the future.
Tasmania's Hobart Baroque festival is running until April 5. Chas Rader-Shieber's production of Orlando features at the Theatre Royal until April 4. Find further information here.