Orson Welles once described himself as a 'king' actor. Ralph Fiennes seems born to play dukes: nearly all his screen characters, even the crooks and madmen, share an imperious quality that goes with a kind of stony reticence. It felt natural that he should make his film directorial début with an adaptation of Coriolanus (2011), one of Shakespeare's most misanthropic tragedies, in which he played the lead role of a Roman general with a frank contempt for the mob.
His follow-up, The Invisible Woman, scripted by Abi Morgan from a biography by Claire Tomalin (1990), initially seems an exception to the rule: Fiennes has cast himself as Charles Dickens, a writer who has never been accused of lacking the common touch. But this is not quite the received notion of Dickens, the robustly extroverted Victorian patriarch: from the outset there is a hint of impatience, even neurosis, in Fiennes's preoccupied stare.
We first meet this Dickens in a Manchester theatre, where he is directing and starring in an amateur production of his friend Wilkie Collins's melodrama The Frozen Deep (1856). We see him scuttling crabwise across a stage, beaming wolfishly as he makes introductions, darting about like Mr Punch: a man in constant, frenetic motion, suggesting not just high spirits but a need for control. We gather that he lives to please his public but also fears it. Not without reason: in the most alarming scene, he is engulfed by a crowd of admirers, each desperate for a word, a handshake, anything at all from the great man.
The Invisible Woman is about Dickens's relationship with one admirer in particular: the actress Ellen Ternan (Felicity Jones), known as Nelly, whom he met when she played a small part in The Frozen Deep (she was eighteen, he forty-five). What these two meant to each other is a matter for the imagination: Dickens went to enormous lengths to maintain a respectable façade, and Tomalin's book, a remarkable piece of detective work, finally has to fall back on conjecture. But in all probability Ellen was his mistress, and certainly he supported her financially until his death in 1870.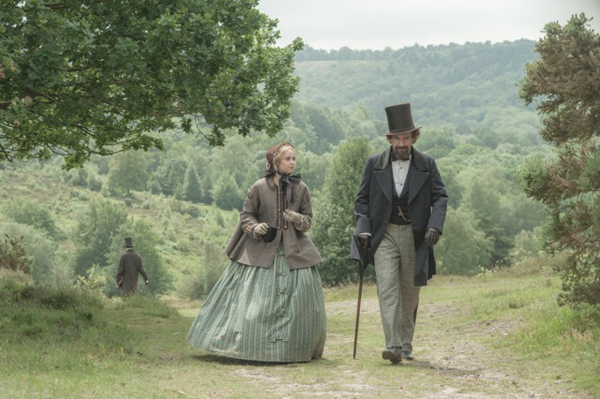 Still from The Invisible Woman
(photograph supplied)
As played by Jones, Nelly seems attractively intelligent and self-possessed: not at all like the flibbertigibbets Dickens tended to coo over in his novels, but still the kind of earnest young fan who might catch the attention of a middle-age celebrity bored with his wife. If the character remains a little pallid, it is simply because biography rarely provides the narrative satisfactions of fiction. Sticking as far as possible to the facts on record, the film gives Nelly little opportunity, if any, to break out of the box Dickens puts her in. As she herself admits – talking to a clergyman (John Kavanagh) in a clunky framing device – she has lived in the shadows, rather than shaping a story of her own.
There are a good many things missing from The Invisible Woman, including any glimmer of Dickens's genius for comedy (for this, it might be better to turn to Wes Anderson's The Grand Budapest Hotel (2014), with Fiennes as an eccentric poetry-spouting concierge who could be imagined as a distant descendant of Mr Micawber). The strength of the film lies in the sense that Fiennes has set out to capitalise on these absences, using Tucker's prosaic, BBC-style screenplay as the basis for something more experimental and oblique.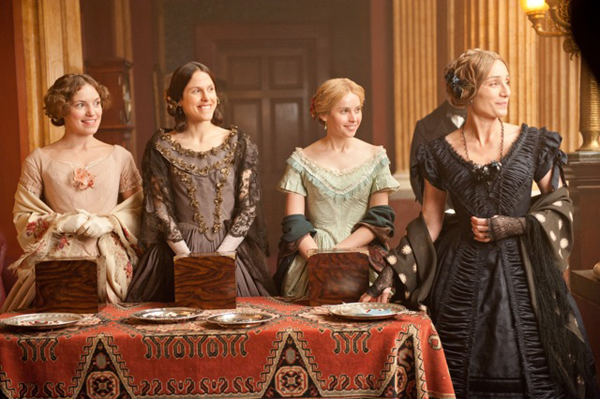 Still from The Invisible Woman
(photograph supplied)
This is, above all, a film about the barriers between people – the barrier which prevents Dickens and Nelly from fully loving each other, and equally the barrier that separates us from the past. Throughout The Invisible Woman, this idea is conveyed visually by the simplest means imaginable: getting the actors to turn their backs to the camera. The device is used a little too insistently, but Fiennes has other tricks as well for creating a feeling of estrangement: dim lighting, extreme long shots, jarring cuts from one scene to the next, and occasional passages of hand-held camerawork, as if he were struggling to keep the characters in view.
For Fiennes, it seems, every man is an island. 'Marriage can be the loneliest state of all,' Nelly's mother, Frances (Kristin Scott Thomas), warns. The relationship between Dickens and his wife Catherine (Joanna Scanlan) shows the truth of this – which does not stop Catherine from breaking down in animal sobs when she finds herself deserted. Can we understand what might have been going on in her mind, or anyone's? Fiennes's seeming detachment could also be described as a respect for the unknowable, as expressed in the line from A Tale of Two Cities that serves as the film's epigraph: 'A wonderful fact to reflect upon, that every human creature is constituted to be that profound secret and mystery to every other.'
The Invisible Woman (M), directed by Ralph Fiennes and based on the book by Claire Tomalin. 111 minutes. Released in Australia on April 17.