Letters
Never Mind about the Bourgeoisie: The Correspondence between Iris Murdoch and Brian Medlin 1976–1995
edited by Gillian Dooley and Graham Nerlich
If you're a bookish type of a certain age, chances are you went through your Iris Murdoch period. You binged on novels such as The Black Prince (1973) and The Sea, The Sea (1978); you immersed yourself in her world of perplexed, agonised souls searching for meaning, falling disastrously in love with absurdly wrong people, consoling themselves with a swim or a madrigal singalong. It's less likely that you will have read any of her philosophical writings, but you were in awe of her mind, and her eventual eclipse by Alzheimer's seemed like a particularly cruel blow. Your impression of her is probably of a brilliant, absent-minded professor who looked like Judi Dench.
It was with this acquaintance that I turned eagerly to Never Mind about the Bourgeoisie, a book of letters between Murdoch and Brian Medlin, the late professor of philosophy at Flinders University. They met when Medlin was a research fellow with Murdoch's husband, John Bayley, at New College, Oxford. Murdoch and Bayley stayed with Medlin during a visit to Australia six years later, in 1967. Those were the only times they came face to face; but they wrote to each other with great warmth for nineteen years.
I began reading these letters without any strong interest in Medlin; I wanted to rediscover my delight in Murdoch's writing, and was confident I would find much to illuminate my memories.
Murdoch's letters to Medlin are not long – sometimes very brief. They are full of a friend's spontaneous affection and wide-eyed wonder at his tales of Australia: 'What a country, what chaps.' They are nervous about living in Britain, violence, art, and Derrida, and sometimes they ignite or return to a debate about politics (Medlin was a Marxist, Murdoch was more conservative). But on the work, they are almost silent.
Occasionally, we get a glimpse: 'Creation of character is (in my view of it) much concerned with showing how contradictory, muddled, incomplete and basically mysterious people are,' Murdoch writes in a critique of some of Medlin's short stories. And later, on the uncomfortable process of beginning a novel: 'a lot of bad ideas rush in, & have to be thrown out (indeed destroyed).' As Murdoch says, she doesn't usually comment on her work unless she's asked.
So did this book disappoint me? Not at all. Once I had adjusted my expectations, I began to enjoy it as a portrait of a friendship, lopsided, as such portraits often are. As the editors point out, there are more intimate and sensational letters of Murdoch's on record, but nothing quite like this exchange. Murdoch usually destroyed any correspondence she received, but we are lucky that Medlin was an early adaptor of word processing and kept electronic copies of his own letters.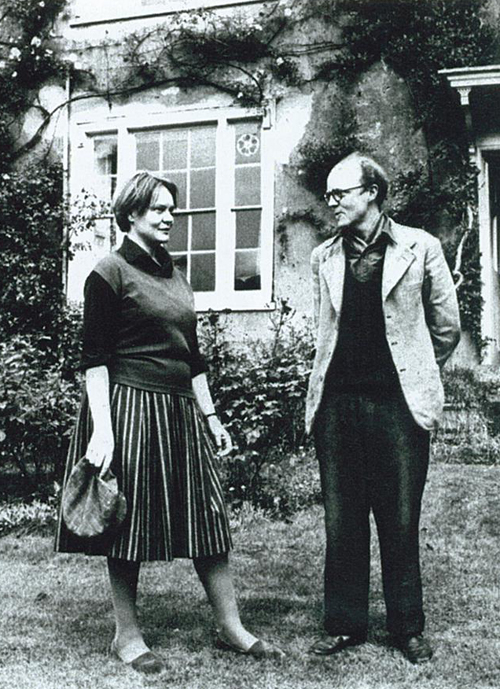 Iris Murdoch and John Bayley
(Kingston University Archives)
If the finer recesses of Murdoch's mind remain elusive, we find out over and over again what Medlin thinks. His persona is charming ratbag, or possibly gasbag, a Crocodile Dundee of the academy. I soon felt glad that Murdoch had introduced him to me.
Without a doubt, Medlin is wooing Murdoch through his letters. He wants to dazzle her with his droll, ocker turns of phrase and his love of country, especially the remoter parts, where he escapes from the trials of academic life. Many of his long, rambling letters begin with a 'Bugger' at some petty or not-so-petty annoyance. He is an eco-warrior ahead of his time who rhapsodises about the local flora and fauna with a scientific and bushman's knowledge. He expounds, sometimes at exhaustive length, about butterflies, fishing, cricket, and falling off a horse.
'He wants to dazzle her with his droll, ocker turns of phrase and his love of country, especially the remoter parts, where he escapes from the trials of academic life.'
Murdoch offered to show some of his short stories to her publisher, Carmen Callil. Apparently nothing came of that, and judging from his letters it's a shame we don't have Medlin's fiction in print, because he is a nifty phrase-maker. Witness 'Out came a large betweeded, square-built 70-ish woman with a solid leg in each corner like a sturdy, two-legged table.' Or this dingo sighting:
A golden, lucent animal! The life glowed from inside it. Its gaze was intense, brilliantly young, but ancient. Not old. Ancient. The inhabitant of every desert ever. Then it turned and became mere dog again.
Of course Murdoch is seduced. She is 'imbibing rays from your wonderful Antipodean ENERGY'. She asks for some vernacular expressions for an Australian character in a novel and they embark on a tit for tat exchange on 'flat out like a lizard drinking'. Poor Murdoch can't quite get it right, neither the expression nor what it means. 'Oh, my dear Iris, what are we going to do with you' writes Medlin, with sixteen exclamation marks.
As the correspondence draws to a close, there is a sense of gathering poignancy, with both writers in ill health (Murdoch died in 1999, Medlin in 2005). I finished the book feeling sad but privileged, and grateful that the editors had done such a diligent job (there is a helpful introduction, and for the first time the full text of a review that Murdoch wrote of Medlin's monograph Human Nature, Human Survival [1992] published in a shorter form in The Age in 1993.)
'Australia needs you to tell about her,' Murdoch wrote to her friend; and she was right. We do.