Military History
Anzac Memories: Living with the Legend, Second Edition
by Alistair Thomson
Be warned! The commemorative tsunami is on its way. As James Brown put it recently in Anzac's Long Shadow (2014), we are now witnessing an Anzac 'arms race', as Australians compete to find 'bigger and better ways to commemorate our sacrificed soldiers'. The bill to the Australian state and federal taxpayers, Brown calculates, will be nearly $325 million. With a further $300 million projected to be raised in private donations, the commemoration of World War I might ultimately cost some two-thirds of a billion dollars.
Of course, many of the activities planned for 2015 are fitting. Anzac Day is so central to the national political culture that no one would deny that there should be a dawn service on 25 April 2015 at the site of the Gallipoli landing. The refurbishment of the World War I gallery at the Australian War Memorial is also overdue, though whether it should cost $32.5 million (excluding GST) is another matter.
Beyond this, however, much of the commemorative activity planned for the next four years risks being commodified or trivialised. Poppies already adorn everything from neckties to oven mitts. It is possible to buy a pre-recorded Minute of Silence for $2.26. Cruise ships promise 'moving and heartfelt experiences' offshore for those Australians who have failed to win a ticket in the national ballot for the Gallipoli dawn service. And there is even talk of a surfboat race across the Dardanelles.
'... much of the commemorative activity planned for the next four years risks being commodified or trivialised.'
In all this, one thing is certain: how we remember World War I will not be the way that Australians remembered it a century ago. This should not surprise us. Memory is not history. Rather, it is a changing, dynamic process in which individuals and communities select, interpret, and revise the past according to their current values and priorities.
Alistair Thomson was one of the first Australian historians to recognise this complexity of memory when he published Anzac Memories: Living with the Legend (1994). This important book not only traced the processes whereby the Anzac legend became the dominant narrative of war memory over the twentieth century. Thomson also demonstrated – and this was what earned him such critical acclaim – how the veterans of World War I negotiated their own memories and identities with reference to the dominant public narrative. His 'memory biographies' of three elderly Anzacs – Percy Bird, Bill Langham, and Fred Farrell – revealed that these men aligned their personal stories with those elements of the Anzac legend that affirmed and gave meaning to their experiences. In turn, they rejected public interpretations that unsettled or troubled their private memories. In essence, what Thomson showed, and what has been reinforced by much of the scholarship on memory studies since, is that individual memory is not developed and maintained in isolation. Rather, it is in a constant dialogue with collective and national memory – with conversations repeated and reshaped at battalion reunions, with the 'high diction' invoked at remembrance rituals, and with the representation of war in popular media, including film and television.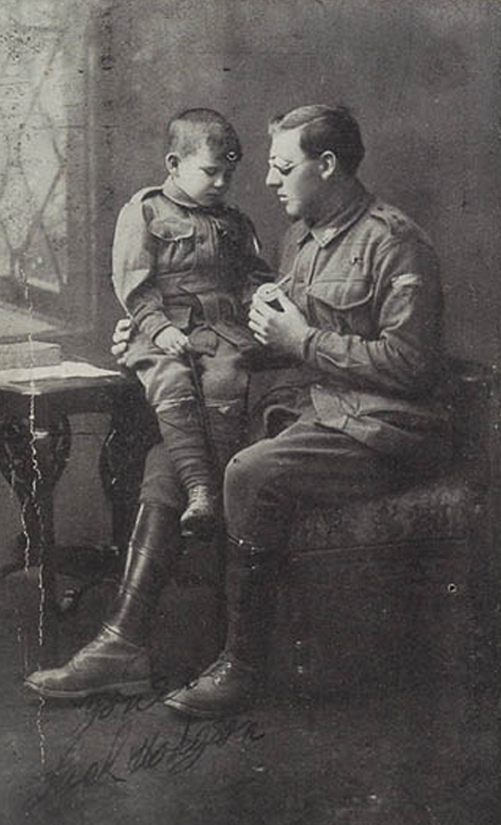 Jack Hodgson, blinded at Gallipoli, shows a medal to his son (photograph from State Library of New South Wales collection)
This new edition of Anzac Memories leaves unchanged the 1994 text. Thomson has added two new chapters and a postscript. Firstly, he reflects on how his own life experience in the past thirty years has changed his understanding of the interviews he conducted with the veterans in the 1980s. This makes for an unusually interesting reading. As the renowned historian of memory, Jay Winter, notes in the foreword to the book, oral history is normally a 'three-way conversation': between the historian who poses the questions; the interviewee as he or she is at the time of the interview; and the interviewee as he or she was at the point in the past on which the interview focuses. To this triangulation, Thomson has added a fourth party: himself, as an author, some decades later returning to his sources, adding new ones, and rethinking his conclusions with considerable subtlety and self-awareness.
Secondly, Thomson draws on archival material that was recently released by the National Archives of Australia, the postwar medical files of veterans collated by the Department of Repatriation. It is hard to overstate the importance of these records. Tragically, the wartime medical records of the Anzacs, when they were fighting and incurring the wounds and illnesses that would haunt them for life, were accidentally destroyed in London in 1919. But these Repatriation records at least document in great detail the veterans' postwar illnesses. They also track the decades-long negotiations between veterans and government authorities about pensions and compensation for war-related injuries. Given the loss of the wartime records, and the fact that many soldiers were so keen to be discharged in 1919 that they minimised their health problems, it was often difficult to prove a direct nexus between war trauma and illnesses later in life. Some doctors within the Repatriation Department were also inclined, as they had been during the war, to see mental illness as a personal or genetic failing, or were under pressure to contain the exploding costs of pensions and medical care.
Using these records, Thomson is able to revisit and enhance his 'memory biographies' of Bird, Langham, and Farrall, comparing their actual negotiations with Repatriation with the way they remembered these in the 1980s. In the most compelling chapter of the new edition, Thomson follows the postwar life of his grandfather Hector Thomson. When the first edition of Anzac Memories was published, Thomson, in deference to his father's sensitivities, changed the reference to Hector's being admitted to a mental hospital in the postwar years. But the medical records confirm Hector's desperate struggles to cope with civilian life and his ongoing disputes with Repatriation about his wartime diagnosis of malarial encephalitis. To Thomson's surprise, the records also reveal a new, powerful character in the form of Hector's wife, Nell. Like thousands of women who married damaged veterans on their return, she not only took the lead in Hector's battles with the authorities, but paid the huge personal price of managing a dysfunctional family – only to die young of a gall bladder operation conducted by a surgeon whose main recommendation seems to have been that he was an ex-serviceman.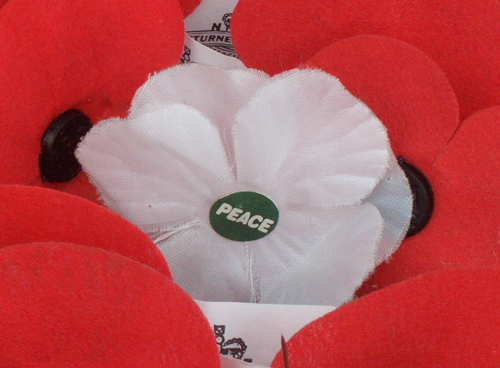 Artificial poppies (photograph by Nankai)
This retelling of Hector Thomson's story is deeply poignant, particularly when Thomson describes how his own father, now a victim of Alzheimer's, consented 'in a lucid, fragile moment' to its being published. Thomson recounts how his father spent hours slowly reading each page, with an intensity of concentration that he could rarely manage. His eyes narrowed and creased with pain as he recalled his own troubled childhood, and came to a new understanding of his father's suffering. This is masterly writing on Thomson's part and shows what can be achieved when scholars are willing to position their own voice in historical writing. It also confirms how a willingness to confront awkward and troubling details about the war and its aftermath can both 'disrupt simplistic national narratives' and transform family remembrance.
'In the postscript, Thomson grapples with the question that is central to Anzac commemoration today: how does the nature of historical remembrance change when the last surviving witnesses have died?'
In the postscript, Thomson grapples with the question that is central to Anzac commemoration today: how does the nature of historical remembrance change when the last surviving witnesses have died? Australia entered this strange state of 'post memory', so far as World War I is concerned, some years ago. Yet remarkably the interest in the war has only grown. What explains this? Thomson's take on this question is that, as the cohorts of veterans from the two world wars diminished, their voice and that of the powerful Returned and Services League became less influential in commemoration. But to offset this, the level of public investment in Anzac remembrance and its overt political usage has manifestly increased. Simultaneously, family history connections have come to loom even larger in remembrance. Facilitated by the growth of online data bases which allow Australians to locate with two or three mouse clicks the site of a relative's grave in, say, Villers-Bretonneux, genealogy has fuelled the public's interest in individual soldier life stories.
Finally, Thomson argues that the Anzac legend has survived and continues to thrive because it has maintained a plasticity. This has allowed it to be invested with multiple meanings that shift with the times and continue to garner public support. Whether that plasticity, which is mirrored in the mélange of centenary activities now in the offing, will ultimately prove to strengthen the Anzac legend, or rather dilute it to the point of triteness, remains to be seen.