Short Stories
The Promise
by Tony Birch
Publisher's superlatives aside, Tony Birch's return to short-form writing is an event to be celebrated. Following on from his Miles Franklin short-listed Blood (2011) and his two earlier collections, Shadowboxing (2006) and Father's Day (2009), The Promise is a collection of twelve short stories united by Birch's characteristic wit, matter-of-factness, and charm. In many respects, each of the stories in The Promise is an exploration of how the processes of age, attrition, and heartbreak wear away the rougher edges of his characters, though clearly it is what remains that interests Birch: that ember of humanity impermeable to cynicism and the vagaries of fate.
Throughout the stories, Birch writes with an assuredness that conceals the evident craft of the pieces, from the beguiling opening lines, to the often acute descriptive language, for example in 'The Ghost of Hank Williams', where the 'scratches of white-hot lightning' that mark the sky are linked to the second story in the collection that might also be read as a ghost story, 'The Promise', where a 'death-rattle wind' contributes to the piece's air of hypnagogic reverie. Because of the economy of Birch's style, images are crucial to the success of his writing. Often they suggest moments of absurdity or unexpected turns, such as the sensual pleasure experienced while eating a 'fat olive', or the image of two men, a cat, and a dog floating in a car on a river. They act as grace notes or suggest deeper mysteries, or indeed function as turning points. And yet, even in their absurdity, such images appear familiar to the point of intimacy, lingering in the reader's mind.
It is Birch's obvious affection for his characters that comes through most strongly in this collection. While it is true that the main impetus of these stories rarely involves the dramatics of a sudden transformation, brought about by a violent event, or even a moment of sudden insight, one central tension common to many of the characters, particularly where a failed relationship is at the story's emotional core, is that more is demanded of them than they are able to give, and it is this deficit that brings change into their world. Birch's younger male characters, immediately recognisable and authentic with their clipped voices and quick wit, are knocked off balance by the inevitable and casual mistakes of youth. With his adult male characters, who generally appear to yearn for the pleasant equilibrium of inertia, it is precisely the desire to live a good and simple life that makes them paradoxically vulnerable to the decisions made by others. It is women who perceive the male characters more clearly than they do themselves, wise to their various weaknesses and clear in their knowledge that, despite their age, these men are still boys at heart. Notwithstanding the pressures of life, what is endearing about all of Birch's male characters is that they haven't had the life squashed out of them.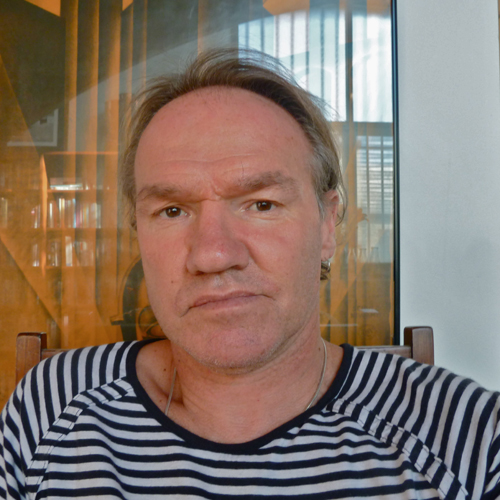 Tony Birch (photo supplied)
'Birch's younger male characters, immediately recognisable and authentic with their clipped voices and quick wit, are knocked off balance by the inevitable and casual mistakes of youth.'
Dealing by turns with heartbreak, grief, the mysteries of adolescence, anger, and loneliness, these are lives of quiet desperation illuminated by resilience, resourcefulness, but particularly humour and pathos. The strong sense begins to accumulate that some characters' lack of awareness is in fact an understandable shield against the harsher realities of life. 'Your life lacks perception,' the worldly waitress in 'The Lovers' tells the young protagonist, who stubbornly chooses to believe in the possibility of romantic love. The narrator of 'China', Cal, a tough young man made vulnerable by love, searches for the imagined traces of his runaway girlfriend in the tracks by the side of a road. Similarly, in 'Refuge of Sinners', a grieving father, reading for traces in the world around him of his dead child, 'examines a smudged Vegemite fingerprint on a kitchen door' and wonders if it belongs to his son. This beautiful story reads like a prayer for absolution for an unnamed guilt, which is nothing other than taking on the ordinary but enormous responsibility of being a father. In the absence of the loved one, the world left behind is charged and mysterious, and when he sits, the narrator feels 'the full weight of [his] body'.
In 'After Rachel', the narrator, bereft after his lover has abandoned him and alone in a house whose 'loneliness' can be physically heard, attempts to retrace the symptoms of his lover's redacted reasoning, to little effect. This character's honesty is endearing. After a confrontation, he 'skulked away, embarrassed, and didn't stop walking the streets until I suddenly realised that I'd managed to get myself lost'. He finds solace, not in the bottle, or in his cigarettes, but in the gifts of an odd stranger. 'I unscrewed the top of the jar, reached in, took out an olive and rested it on my tongue. It tasted warm and fresh. I bit into it. The olive contained many flavours. But most of all it tasted – not like the sea – but of the sea. I ate a second olive, followed quickly by a third.' It's a small and quiet moment in the story, but what ensues conforms to the perfect and peculiar logic that illuminates so many of the stories in this terrific collection.