What is it about Great Expectations (1861) that makes it seem indispensable? Can it be its hero, Pip's, search for a liveable identity? The small, terrified, often bullied child gets a glimpse of 'the quality' albeit in desuetude, becomes dissatisfied with being a blacksmith, receives the eponymous expectations, and tries to become a gentleman before settling for a more modest role and coming to a truer sense of what matters about human beings. Is it also a question of marvelling at how lives can be manipulated? When the child Pip, out of terror rather than altruism, helps a runaway convict on the Kentish marshes, his life is upheaved by Magwitch's gratitude. The child Estella, whose origin is unknown until late in the book, is raised by the embittered, jilted Miss Havisham to wreak revenge on the male sex. Structurally and thematically, this may be Dickens's most potent work, with everything seeming to bear on these central concerns.
The record of film versions – there are nearly twenty on screens large and small – suggests that its hold on audiences shows no sign of slackening. In fact, its very name has provided the title for umpteen episodes of television series. People know the title as they know that Oliver Twist 'asked for more', even if they don't know the novel. Among the new film's predecessors, the shadow of David Lean's 1946 version has loomed large; it is claimed that he made a classic film from a classic novel. But its prestige has tended to make critics reluctant to concede virtues in subsequent adaptations, such as the 1998 film that relocates the action to contemporary Manhattan or the excellent 1999 miniseries with Charlotte Rampling as a younger than usual Miss Havisham.
Now, barely a year after the last miniseries, comes Mike Newell's handsome, compelling version of Great Expectations. Newell's eclectic filmography includes Dance with a Stranger (1985), the harsh story of Ruth Ellis; the sleekly witty romantic comedy Four Weddings and a Funeral (1994); a Harry Potter entry (2005); and a mixed bag of US titles. He is not the first director one would associate with Dickens: he is versatile enough but maybe lacking the strongly personal style that might make something radically new of so individual a novelist as Dickens. He does not make the daring choices that recent adaptations of Wuthering Heights (2012) and Anna Karenina (2013) have made. If his film is less inventive than those, it is persistently intelligent and on several key occasions surprisingly moving.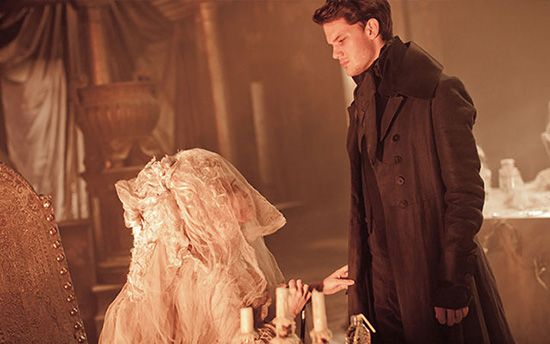 Helena Bonham Carter as Miss Havisham and Jeremy Irvine as Pip in Great Expectations
Unlike in, say, the Lean version, in Newell's film it is not the actors who seem most distinctive, but some of the other collaborators. The opening scene of grey, shifting fog, giving way to a soft full moon, with the boy Pip running through the marshlands to the graveyard by the church, past grazing cows, has a perfect bleak look that instils confidence from the start in cinematographer John Mathieson's grasp of his material. And this is borne out again and again in the subtly dim lighting of Miss Havisham's crumbling mansion and the crowded London streets and the failed rescue of Magwitch on the river. Then there is a new kind of serenity in the parklands where Pip and Estella are walking at the end. But it is not just the photography that so creates a palpable sense of place and time. Jim Clay's superb production design – whether it is the Gargery kitchen, the interior of a panelled gentlemen's club, or any of the other skilfully realised settings – and Beatrix Pasztor's costumes, which so vividly key us in to character (whether Miss Havisham's bridal tatters or the gowns that launch Estella into society), are major contributions.
As to the actors, Jeremy Irvine is an agreeable but rather bland Pip, who looks and sounds more suited to a modern romantic comedy, whereas Holliday Grainger is wholly convincing as Estella, whose 'heart' has been educated out of her but who retains awareness of this. Helena Bonham Carter, given a great build-up by some cunningly contrived editing, suggests the cruelty of Miss Havisham's project for Estella, and quite movingly comes to realise what she has done. Ralph Fiennes is a realistically threatening Magwitch, truly alarming but also affecting when explaining what Pip has meant to him and the loss of his own child.
Sometimes the film's pace, often effective in holding attention, means that some key incidents need more narrative time to make their importance and the connections between them clear. However, the use of some strangely lit flashback moments seemed a wholly appropriate way for the screen to provide information that the novel gives in a long spoken account, while Dickens's own voice resonates in the dialogue. If never greatly daring, the film certainly doesn't dishonour its great antecedent.
Great Expectations (M), directed by Mike Newell, based on the novel by Charles Dickens. 128 minutes. Released in Australia on 7 March.