Stephen Sewell's sixth play, Hate, first performed in 1988 and written with a bicentennial commission, is a monster of ambition. It is a play that seems to swallow whole the Australian story since 1788 and represent a family tragedy, one steeped in the ritual violence of an Ancient Greek myth or a perverted Easter drama.
It is Maundy Thursday, the day commemorating the Last Supper, and the Gleasons are gathering at the family's country house for a rare reunion. As the last of them arrives family conspiracies are brought to a head and rivalries exposed. Tomorrow is Good Friday and someone needs to be crucified.
The plutocratic patriarch, John Gleason, is both a wealthy businessman and right-wing politician with a yen to be prime minister. His eldest son, Raymond, a stock-broker and a more pragmatic conservative than his fascistic father, wants to topple him as head of the family business. The mother, Eloise, strives for the bliss of ignorance, but is too clever despite herself. Crippled by conscience and drugs, Michael, the youngest of them, is on the edge of a breakdown, or a breakthrough, while his sister, Celia, feels herself inexorably falling under the spell of her father's mesmeric will.
Reissued only last year by the Australian Script Centre, Hate is among the more structurally coherent and formally satisfying of Sewell's twenty-odd plays, perhaps bettered only by the extraordinary Myth, Propaganda and Disaster in Nazi Germany and Contemporary America (2003) in the force of its formal dramatic argument. The unity of place and time, the focus on a single family and the relative simplicity of the narrative all work to concentrate Sewell's signature outrage and give poignancy to the theatrical intensity of his dialogue, an intensity that in his other work can feel clumsy or embarrassingly earnest.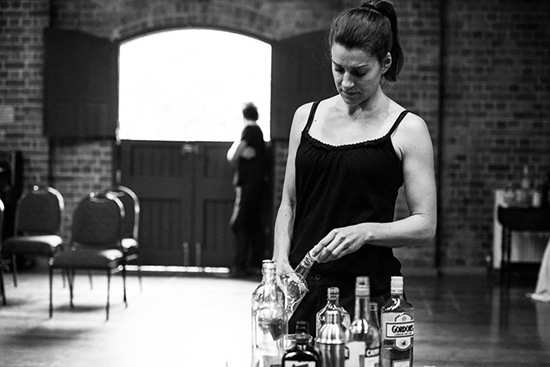 Sara Wiseman in rehearsal for Malthouse Theatre's production of Hate
(Photograph by Lachlan Woods)
The family home is situated on the site of a frontier massacre, and it is as though by that violent trespass their spirits have been contaminated. Hate is what holds this family together, even as it tears them apart. And so, too, hate is postulated as the defining life force of the country:
JOHN: You can! You will! I taught you everything!
CELIA: Deceit, treachery, fear, anger?
JOHN: Hatred! The hatred that flows through this country! The hatred that gives it its being!
This is Sewell at his exciting best, arms thrust deep in the mud and the muck, the lies and hypocrisy, tearing at the poisonous root of a blighted system, putting bold, provocative claims – hyperbolic, but not without eloquence – in the mouth of an uncompromising demagogue, the Christ-figure in a family where hate is a kind of love.
What is most interesting here is the way Sewell offers a strange kind of empathy for this demon-demagogue. Like Sewell – at least in his writing – Gleason abhors cowardice and inaction and is a keen student of the corrupting effects of power. Perhaps the intensity of Sewell's own political vision allows him to inhabit this rude, roaring hector of the right, to bring out something human in him – or at least something natural and sympathetic, something dignified, even while he has him spluttering vile complaints about an Indigenous population that sat on the land 'for forty thousand years without even figuring out how to make a clay pot'.
This Malthouse revival frames Sewell's dark metaphorical edifice in a wholly unsatisfying way. Marion Potts's direction is sluggish and impercipient, and the performances, particularly William Zappa as the ghastly patriarch, are grotesque parodies, the note of sympathy completely ground out. Potts's production appears bent on highlighting the residual stereotypes associated with Sewell's writing. His plays are often described as 'sprawling', so Potts directs in a rough kind of round with the drama spread haphazardly over the most expansive possible stage deck. He is called 'unsubtle' and 'simplistic', so a dimly lit portal to the netherworld is dropped centre stage, with Zappa looming over it like some sort of medieval demon in a mortality play. Alleged 'self-indulgence' has its dreadful realisation in direction that is slowed to a crawl as characters make their long and winding way about the stage during the play's many scene changes.
It is a fallacy that big plays need big stages. Hate might have worked better as a smaller, tighter production, like a Strindbergian chamber play, where the natural and the symbolic in Sewell's writing might have found a kind of dreamlike harmony, and his relentlessly engagé temperament not reduced to a cartoonish political propaganda.
Hate by Stephen Sewell, directed by Marion Potts, Malthouse Theatre, 20 February to 8 March. Performance attended 26 February 2013.