Media
Murdoch's Pirates: Before the Phone Hacking, There Was Rupert's Pay-TV Skullduggery
by Neil Chenoweth
Talk about unfortunate timing. On 10 December 2012, the New Yorker ran a lengthy profile on Elisabeth Murdoch, the older sister of Lachlan and James. Elisabeth, forty-four, lives in Britain, where – while her siblings have been marked down for everything from, in Lachlan's case, One.Tel to Ten Network and, in James's case, MySpace and phone hacking – she has quietly built a reputation as a savvy television producer and businesswoman. The profile is a public relations hosanna – unsurprising given that Elisabeth's husband, Sigmund Freud's great-grandson Matthew Freud, is a flack with his own PR firm – with the title declaring its subject to be, in capital letters, THE HEIRESS. The subheading simply states: 'The rise of Elisabeth Murdoch.'
Judging by the copy, the author of the profile, Ken Auletta, spent quality time with Murdoch and Freud, both of whom are quoted generously; he was even shown around the couple's 'Jacobean estate' in Burford, north-west of London. Elisabeth is characterised as the best of the three children Rupert Murdoch had with second wife, Anna; a dissenter with the heart of Lachlan and the brains of James who had to find her own way because the sons were given preferential treatment. The success of her television production company, Shine, responsible for hit shows such as American Idol and MasterChef and sold to News Corporation for US$670 million in 2011, is noted. The MacTaggart Lecture she gave in August 2012, during which she criticised News Corporation in general and brother James in particular, is quoted.
Murdoch and Freud had every right to be delighted with the New Yorker piece … if only the timing weren't so unfortunate. Unfortunate, because, around the time the edition went to the printers in New York, Elisabeth Murdoch's grandmother and namesake, Dame Elisabeth – aged 103, and a noted philanthropist – died in Melbourne. Murdochs flew in from around the globe. The funeral service was held the week before Christmas, in Melbourne. St Paul's Cathedral was packed with local luminaries. Rupert spoke, as did Jeff Kennett, a former premier. It was a grand occasion for a celebrated Melburnian. However, thanks to the New Yorker profile, more than one media report focused on the fissuring of the Murdoch clan, noting who wasn't sitting next to whom in the cathedral.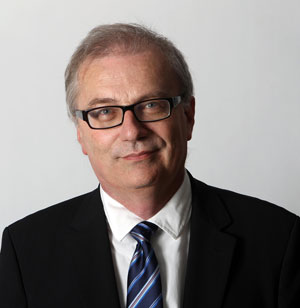 Author Neil ChenowethRupert Murdoch has been news for decades. Increasingly, though, as he wrestles with the phone-hacking scandal in Britain and a print media empire under siege from the creative destruction of digital technology, the story is what next? What happens when News Corporation divides into two entities – one the highly profitable entertainment arm, the other the marginal and scandalised print and news division? What happens when the man who defines a company – such as Steve Jobs, head of Apple – is no longer around? What happens after Rupert?
Neil Chenoweth's new book, Murdoch's Pirates, answers none of those questions. This is, unashamedly, a reporter's book, dealing in facts and innuendo, rather than hypotheticals. At the heart of it is a Byzantine story involving pay television, computer hackers, and a little-known Israel-based offshoot of the News Corporation empire, News Datacom or NDS. Ironically, given the title and the cartoon of Rupert on the cover, the News Corporation chairman and chief executive is a marginal figure – mentioned more for his romancing of Wendi Deng and divorce from Anna Murdoch than for any direct dealings with NDS.
Chenoweth, a multiple Walkley Award-winning journalist at the Australian Financial Review, knows the yarn well, having pursued it down rabbit holes for the past fifteen years. At the risk of oversimplification, here is the complicated story in a nutshell. In the late 1980s News Corporation became concerned that too many people were watching its BSkyB pay television broadcasts for free. Hackers were pirating the encrypted security cards designed to allow only paying customers to watch, among other things, Star Trek: The Next Generation.
In its efforts to stop the pay television pirates, NDS hired its own hackers. However, those NDS-backed hackers, run by a colourful array of former intelligence and law enforcement heavies from Israel, Britain, and the United States, ended up doing more than protect the NDS cards. They allegedly went rogue, facilitating piracy against News Corporation's pay television competitors. Years of corporate cloak-and-dagger and litigation ensued, with NDS winning its most recent battle in the US Appeals Court.
Chenoweth is, without doubt, a terrier of a reporter. His tenacity in chasing down just about everyone involved in this story is formidable, his knowledge of the NDS quagmire admirable. But he values his reporting more than his writing.
This may seem harsh,given the quality of Chenoweth's journalism, but Murdoch's Pirates is bogged down by too much background, too much techno-babble, and too little narrative drive. The book becomes a chore to read.
Chenoweth seems obsessed with nailing Rupert Murdoch for the dodgy dealings of NDS. It is a suspicion Chenoweth himself confirms in the concluding pages of Murdoch's Pirates:
The marker for a sick management culture is that multiple scandals erupt that are not tied to a particular business or a geographical location. They break out spontaneously across a business group, driven typically by head office's demand for results, without a governance structure to question the methods used to achieve that success. As a consequence, for the past decade I have been looking for other examples of trouble within the wider News Corporation empire. These examples were present, but remained invisible until after 2007 when telephone hacking in Britain and the News America Marketing anti-competitive behaviour began their slow public emergence. Taken together, the controversies of NDS, News International and News America Marketing paint a pattern of failed accountability within large segments of News Corporation.
Chenoweth makes a strong case, but I can't agree. Yes, the News Corporation executives who had oversight of NDS (including Lachlan and James Murdoch) should have known what was going on and, at least, should be held accountable for ineptitude. But, no, that does not mean News Corporation's management culture is 'sick'.
The truth is that News Corporation doesn't have a management culture – what it has is Rupert Murdoch. As I mentioned in my review of another Allen & Unwin publication, David McKnight's Rupert Murdoch: An Investigation of Political Power (2012), News Corporation's culture is blokey, anti-intellectual, arrogant, and cult-like (ABR, March 2012). And the cult that is slavishly followed is that of Rupert.
This corporate cult has worked, more or less, since the 1960s, but it remains to be seen whether it can outlive the setting of its sun king. Unless News Corporation decides to become something other than a Murdoch cult, it will need a new messiah. Who will it be? Rupert's eldest child, Prudence, is not an intimate player in the family business; Lachlanis losing money and viewers as chairman of  Ten Network; James is tarnished by the phone-hacking scandal, which will begin to wind its way through the criminal courts in 2013; Grace and Chloe, Rupert's children with Wendi Deng, are too young. Which leaves Elisabeth Murdoch.
Towards the end of the New Yorker profile, Elisabeth is asked whether she considers herself a contender for her father's job. 'In what?' she replies. 'The company is changing its shape so much. I think no one person will succeed him.' It is a deft parry, because it is based on an unimpeachable truth: News Corporation is changing, rapidly and radically. It stands to reason, therefore, that Elisabeth Murdoch cannot be a contender for a job that may not exist in five years. Make no mistake, though, she is a contender for something.