The last twelve months have seen some notable film reworkings of classic literary texts, with Anna Karenina set in a theatre, a black Heathcliff in Wuthering Heights, and a gorgeous Much Ado About Nothing enacted in monochrome contemporary California. Now we have a compelling version of Henry James's novel What Maisie Knew (1897), which reminds one of what a good run he has had with film adaptations. Hapless as he was as a stage dramatist, James would have been delighted with such potent film versions as The Heiress (ex-Washington Square, 1949) and The Wings of the Dove (1997).
These films most often came replete with turn-of-the-century costumes and décor, of a kind to which BBC serialisations had habituated us, but What Maisie Knew, directed by Scott McGehee and David Siegel, is having nothing of that. This new film is set in a world of takeaway pizza and potato crisps, of mobile phones and touring rock stars; but what remains true of the century between novel and film is James's depiction of the adult negligence, corruptions, and cruelties visited on the eponymous small girl ('the little feathered shuttlecock they could fiercely keep flying between them'). One doesn't doubt that there are just as many instances now of such egoistic parents tearing each other apart and exposing the child to the kinds of selfishness and solipsism of which those biologically closest to them are capable.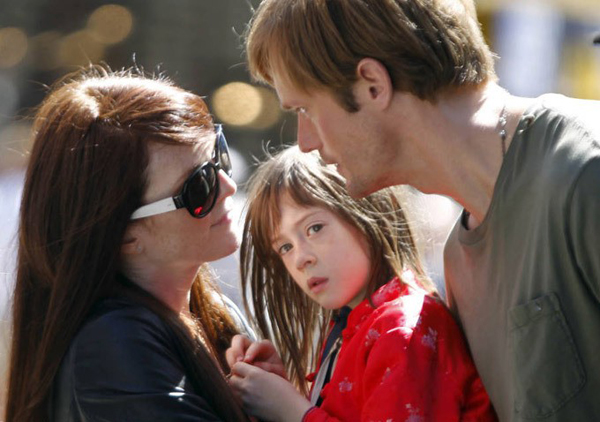 Julianne Moore, Onata Aprile, and Alexander Skarsgård in What Maisie Knew.

As Pip said of himself in Great Expectations, Maisie becomes a sort of 'connubial missile', if only metaphorically, between her warring parents: ageing rock star Susanna (Julianne Moore) and art wheeler-dealer Beale (Steve Coogan). The film opens on a black screen with the sound of footsteps on a wooden floor that prove to be caused by Susanna's preposterous stilettos. The image somehow alerts us to the rest of her, so that we aren't taken in by her saccharine singing of 'Rock-a-bye baby' to little Maisie. This phoney idyll is interrupted by Beale's banging on the apartment door and a slanging match witnessed and taken in by Maisie, quietly unnoticed. Throughout, she is made privy to adult vituperations that a child shouldn't have to bear but from which she learns to sort out what she can trust – and what she cannot.

What Maisie learns quite early in the film is that she can't expect full attention from either parent. Both are always offering compromised embraces, with one hand hugging her but the other more importantly engaged by their mobile phones (could there be a more resonant twenty-first-century symbol of preoccupation?). Maisie's best hope of steady affection is with the next partner of each of her divorcing parents, to whom she is a matter of litigation rather than primary concern. Susanna marries a hunky bartender called Lincoln (Alexander Skarsgård), and Beale takes up with Margo (Joanna Vanderham), who has been Susanna's 'help'. Margo seems at first like James's Mrs Wix with a good bleach, but Mrs Wix's function is now partly and jointly taken over by Lincoln and Margo. When the egregious Beale and irresponsible Susanna forget their parental obligations, as they habitually do, Lincoln and Margo are forced to fill the gaps and gradually come to feel for each other and for Maisie the kinds of love and affection that involve commitment to something beyond the self. Maisie, who has done a lot of peering through metal grilles and around corners, will learn to recognise where her best hopes for the future lie.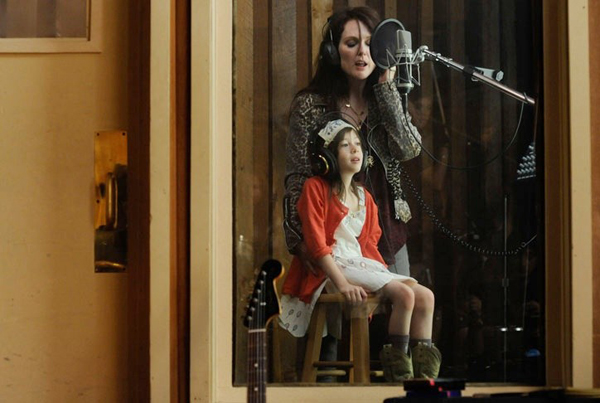 Julianne Moore and Onata Aprile in What Maisie Knew.

All this is written, directed, and acted with exemplary precision and assessment of the values inherent in the processes by which Maisie comes to 'know'. Henry James might perhaps have been shocked when Susanna tells Beale, in front of Maisie, 'She doesn't need you to tell her what I say is okay, asshole' (and don't imagine the profanity stops there), but I think he would have admired the coherently reimagined and stringent retelling of his painful satire. He might well have applauded such informing images as the lavishly creamy dessert that Susanna offers Maisie, as if this indulgence makes up for all that is missing in her mothering instincts, or of the insistent yellow cabs that are always dropping Maisie off at a place where she may or may not be collected by whichever parent is meant to be there.

James, as one who pined for theatrical success, would surely have admired the superb acting of the stars. Julianne Moore, one of the screen's best for the last twenty years, brilliantly incarnates Susanna's endless self-absorption as she seeks to keep the decades at bay with precarious shoes and vestigial skirts, and Steve Coogan's characteristic persona, honed in his 'Alan Partridge' series, adjusts perfectly to the self-deluding Beale. Perhaps most wonderful of all is Onata Aprile's Maisie, solemn-faced and unsentimental as she comes to know more than a child should be asked to know.

What Maisie Knew, directed by Scott McGehee and David Siegel, based on the novel by Henry James. 99 minutes. Released on 22 August.