Commentary
The Young Desire It
by Kenneth Mackenzie
The legend of Kenneth Mackenzie (1913–55) has always hovered around the corridors of Australian literature. From Western Australia, was he? Died young, didn't he? Trouble with drink, wasn't it? Or sexual identity, could it have been? They say he's worth reading but nobody much has, have they?
Well, the republication of The Young Desire It (1937) is likely to change all that. If all the pomp and circumstance of the Text Classics venture were in search of its vindication, this is it. The Young Desire It is an extraordinary novel, dazzling in its texture, wholly original in its vision, and heartbreaking in the power and freshness of the story it tells. If I had stumbled on this book when I was growing up because it came with the imprimatur of the kind of literary logo this country has never seen, if I had encountered it because it was on the shelf as a Penguin Modern Classic next to André Gide's La Symphonie Pastorale or Olivia by Dorothy Bussy, I would have been dazzled first by the power of the writing, then by the revelation of someone else knowing what it was like to be young, and, after that, far in the background, by the sort of amazement already kindled by Patrick White (differently, but comparably) that something this good could come out of Nazareth.
The Young Desire It (the title itself is like a Giotto's circle of what a book might be) is the story of a young boy panting for love in the hothouse of a boarding school and then finding it, like a revelation of the preciousness of what is bound to be lost, with a girl in the bush. The girl when she appears, comes as a surprise, not least because the opening of The Young Desire It, and long after it, is so dense with the steam and sweat of ancient and immemorial homoeroticism that it will have grandfathers gasping with recognition and relief that they somehow emerged from an exclusively male world and young girls wrinkling their noses in wonderment at this world that reeks of boys as if the smell of unwashed male clothes somehow encoded the memory of the world.
'The Young Desire It is an extraordinary novel, dazzling in its texture, wholly original in its vision, and heartbreaking in the power and freshness of the story it tells.'
The action sounds, on the face of it, simple enough. A young boy, mid-teens, who has grown up with his mother on a property in the country, is sent to a posh boarding school. Sensitive and all at sea, he finds himself exposed to the sardonic schadenfreude of more or less kindly masters and a fair amount of strip-him-rough-him-up-and-throw-him-in-the-washing-basket barbarism from his fellows. In the midst of all this, he becomes an object first of attention, later of infatuation, to a young school master, English born and cynically exquisite, who writes a beautiful Greek script and encourages our hero when he hits on Falstaff's reported death scene from Henry V. He talks mordantly to the boy, he talks beautifully to him, and at one point, with patent desire but ambiguous indecency, he touches him up. The teacher is somewhere on the dark side, with a sly ambivalent quality not without its traces of sympathy, like a young Hamlet condemned to toy with and maul a boy Ophelia.
The hero, in his dumbstruck, wondering way, is somewhat thrilled by the dark-hearted young master's willingness to clothe the mysteries of the soul in his efforts, thwarted in themselves, to bare the boy in the name of a lust that burns like the heart's destiny. And all this is done with a kind of luminous sophistication that is a hair's breadth from naïveté as the master quotes to himself the more ruthlessly erotic passages from Plato to justify the strangeness of his desire.
Meanwhile, the boy, who, in his blind way, fears physical humiliation more than anything else, succeeds in looking after himself pretty well in this world of half-grown thugs of men and overgrown boys. Then – like a revelation, like a road to Damascus – he's struck blind with love for a young girl, his own age, whom he meets back home, in the bush, sopping wet. The encounter is so unexpected in this world where socks and jocks and lewd Steerforth figures seem all the go that it takes on an apparitional quality, as if the girl were singing her own Magnificat and effecting her own Annunciation, as both angel and receiver of the seed of the Most High. God knows what the Hares and Hyenas crowd – the book currently fills the store's front window – make of the girl when she appears, but the writing that incarnates her has a ravishing quality, and it would be wrong to turn her into a Cocteauian equation (à la Proust, whom Cocteau was wrong about anyway), where every heaving bosom becomes a thrusting bottom.
It doesn't work like that, nor is it the case that the girl represents agape rescuing the girl from the pants-down implications writ predatory of his school world. She is a dream of Eros, as Plato enunciated it, but she is also a girl in the bush with whom our hero is smitten and who reciprocates just as intensely. It was that lover of boys, Marlowe, who asked, 'Who ever loved that loved not at first sight?'; but it was Shakespeare in Romeo and Juliet who gave us puppy love as something to be cut out in stars.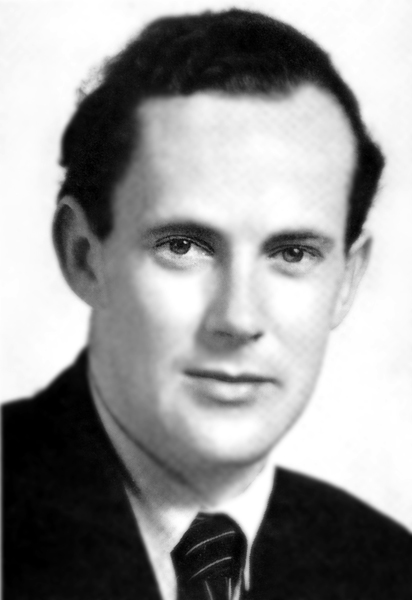 Kenneth Mackenzie. Photo: Jane Hicks
It would be wrong to give away too much of the plot of The Young Desire It, because it is one of the strange and towering things about this consistently startling novel, so pivoted on the familiar features of the boy–man–girl equation, that it has a real quality of suspense.
It also has a starkness and a thrill of plangency that constantly suggest the depths of anguish and the excitement, the premonition of something like tragedy at the very heart of the love that in all its rounded faces can seem, as Shakespeare says, to have the beauty of Eve's apple.
But The Young Desire It is an utterly remarkable work of art. Much of it has a breakneck, coltish quality, a lot of it is semi-symbolist in the gush and quaver of its impressionistic articulation, and it is also a book in which not much happens expositionally, though every so often the heavens fall (a kindly sympathetic figure suicides, a loved one goes contrary, characters swim in and out of focus like unknown fish). None of this matters, for we are clearly in the vicinity of a talent of extraordinary and extraordinarily precocious brilliance.
Kenneth Mackenzie wrote The Young Desire It at the age of twenty-three, and the book has a fierce but formally staggering intensity that makes you think of Rimbaud, though the vision is more humane. The novel starts out red raw and proves in the end remarkably tender though it is full of spectral intimations of every kind, including that dark one to the young mind that love is only the whispering of the ideal in the dark of the cave where all things are clay.
But this is a dazzling performance, more dazzling than anything I am aware of from Mackenzie's Australian contemporaries written at this period. With every possible rawness and gaucherie and trough of sexual ambivalence in sight, this is a lyrical novel that deserved to command the world's attention, a novel that belongs in the same company as the exercises in a comparable mode of Thomas Mann or Gide.
It is not the Patrick White of The Tree of Man or the Christina Stead of The Man Who Loved Children, but nor was it meant to be. If some visitor from a future world who could decode our language were to stumble on Webster's Duchess of Malfi or Marlowe's Hero and Leander, and were yet to encounter King Lear or The Winter's Tale, she would still know she had hit on an instance and probably a tradition of the richest thing in the world.
The Young Desire It is a classic by absolute not relative or parochial or opportunistic standards. It is not just a good book that deserved to be republished. Nor is it a nationalistic curiosity, though it is in its way a revelation of a lost continent of erotic and more than erotic feeling in long-ago Australia. No, it is a staggering piece of fiction and it belongs as surely as, say, Robert Musil's Young Törless, a savage work, or Katherine Mansfield's At the Bay, a rapturous one, to the permanent literature of the world. Here for once is a true classic, a work by which all others should be judged.