Politics
The Stalking of Julia Gillard: How the Media and Team Rudd Contrived to Bring down the Prime Minister
by Kerry-Anne Walsh
On 7 September 2010, seventeen days after the last federal election, the Australian Labor Party, led by Julia Gillard, just managed to crawl across the electoral line, thanks entirely to the support of independent MPs. In constitutional terms, the ALP had passed the only test needed to form government: a majority on the floor of the House of Representatives. But it soon became abundantly clear that for recently deposed Prime Minister Kevin Rudd, for Tony Abbott's Opposition, deprived of victory by such a narrow margin, and for Coalition supporters in the media and elsewhere, this fact would not be respected.
Former press gallery journalist Kerry-Anne Walsh has outlined how this played out over the next couple of years. With a title and subtitle aimed squarely at those voters who spent much of 2011, 2012, and 2013 in a state of serial outrage at the media treatment of Australia's first female prime minister, it is hardly surprising that her book has sold well. Beginning in June 2011 with the first so-called 'Sackiversary' of Rudd's replacement by Gillard, and ending early in 2013 after Rudd's third failed attempt to regain the leadership, Walsh kept notes and diaries and conducted interviews recording the undercurrents that constantly threatened Gillard's minority government.
It's all here: the Opposition sloganeering; the damaging comments from Rudd supporters inside Gillard's government; press gallery reporting that consistently ignored the government's policies and achievements in favour of speculation about leadership challenges; the rueful and self-serving sound bites from Rudd himself. Walsh even has a helpful appendix with the headings of more than 130 articles mainly by Canberra-based journalists, all variations on 'Gillard leadership terminal' and 'Rudd resurgence likely'.
According to Walsh, the press gallery had it in for the Gillard government almost from the beginning, and denigrated her at every possible opportunity, aided and abetted by Rudd's craven henchpeople inside and outside the media. As for Rudd himself, in Walsh's view he might as well have spent all that time in a black cloak and twirling a moustache. Walsh, in short, wears her angry heart upon her sleeve: that's the right place for it, too, according to many admirers of her approach. This is a forceful telling of an unedifying story, and it's good that she has gathered all the information together.
'As for Rudd himself, in Walsh's view he might as well have spent all that time in a black cloak and twirling a moustache.'
At the same time, the book has some significant drawbacks. A couple of these were no doubt caused by speed of production: Allen & Unwin brought publication forward by a few weeks to capitalise on Rudd's successful leadership challenge in late June. This must have been frustrating for Walsh, who was unable to conclude her story as she might have wished (presumably with the statement that the bad guys – and Dr Evil in particular – succeeded). Also annoying, though on a different level, is the book's lack of an index – again, probably because it was rushed into the bookshops.
Because Walsh kept a diary of events as they unfolded, she has adopted a very colloquial, present-tense as-it-happened voice: this, one assumes, is meant to give the book a spontaneous feel, like a daily blog. But sustaining this voice and maintaining interest over 300-odd pages is much harder than it looks, and in Walsh's case it doesn't always work. (A few more actual dates would have been useful, too.) This is partly because of Walsh's jauntiness – 'On her second anniversary as prime minister, we left the redhead strapped to the railway tracks as the Rudd engine hurtled down the line, Captain Kevin cheerily yelling "Choo-choo!"' is one example. This sort of thing gives the book a jokey air that occasionally grates.
Walsh's quick-summary style means that she has to describe events as they unfolded, and almost always she has gone for the easiest phrases. The Stalking of Julia Gillard has altogether too much white-anting and havoc-wreaking and convulsive twitching and pumping up and jaw-dropping and breathing of sighs of relief and journalists thundering. Walsh is also very ready to apply derogatory adjectives to most of the people in her story, and especially to her former press gallery colleagues. (She's probably unlikely to be invited to a Sunday barbecue chez Andrew Bolt, Peter Hartcher, Phillip Coorey, Michelle Grattan, or Mark Latham anytime soon.) There are even a few places where the text reads as if Walsh has written down verbatim the furious things she shouted at the television set.
When she is simply reporting what happened, the book is much the better for it. Walsh is good at quick and cogent explanations of what is at stake at any given time, and the points at issue. Some of the best parts are her thoughtful interviews with politicians and others, notably with Tony Windsor, who talks with feeling about the pressures he faced because of his role in keeping the Gillard government in office.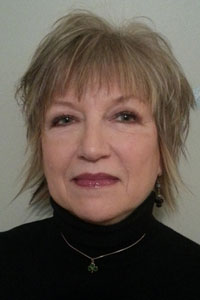 Kerry-Anne Walsh
Walsh says she did not interview Julia Gillard, and that's understandable: The Stalking of Julia Gillard is not a biography. However, the vehemence of her attack on the media and Team Rudd does tend to skew her account, making her paint Gillard consistently as the hapless victim of sinister forces. I don't think this strengthens her argument. At no time did Julia Gillard behave like a victim; nor did she ever regard herself as such.
Besides, in Walsh's eagerness to support Gillard, she has overlooked some of the prime minister's own goals. Certainly, Gillard was, and is, one of the most successful legislator–prime ministers Australia has seen, but though she was brilliant at negotiating with stakeholders and making sure her policies got through parliament, she consistently underestimated or ignored their political effects. She and her government often failed to prepare an increasingly jittery electorate for the changes they were putting in place, to adequately explain what they were doing and why. In a sound bite-conscious media world, where the political story of the day always trumps thoughtful discussion of policy, and where polls influence so much, this turned out to be disastrous for Gillard.
It would have been good if Walsh had addressed some of the questions raised by her account. Granted there was no surprise that News Corp and the Murdoch press did not endorse a Labor government, but why did journalists from other organisations follow suit in hostility? Walsh paints a picture of the press gallery as a place where journalists feed off each other and everybody has to be first with that day's story, but this does not adequately explain the group-think that was such a dispiriting feature of newspaper and other journalism over this period.
As well as delineating the failures of the media, I wish Walsh had delved into some of the reasons for the widespread hostility towards Gillard. Misogyny, though certainly part of the story, is not the whole of it, as Gillard recognised herself in her farewell speech. It is well known that she never made a point of duchessing the press gallery; unlike other prime ministers she did not play favourites or use certain journalists as privileged recipients of information. In short, she never treated the media as players in the business of government, and there is evidence that several prominent journalists resented this.
Again, what is the relationship between the press gallery and the polls? Why and how have they come to feed so consistently off each other? We know that polls are reliable at the time they are taken, but their predictive value is questionable, to say the least (look at the last poll before the 1993 election, which John Hewson was predicted to win, among many other examples). Why have they come to matter so much? And what does this whole issue of popularity tell us about our media and about our political representatives? Do we seriously think that our leaders should be voted off the island if we don't like them? And what does all this tell us about our own democracy? Some discussion of the poisonous atmosphere Gillard had to face during her prime ministership, not just from Rudd but from some of her colleagues, would also have been welcome.
It is frustrating that Walsh, who is in a better position than most of us to know how the system works, has not looked at some of these issues. As it is, The Stalking of Julia Gillard is a reminder of a time in our political life when sectional self-interest, incompetence and mendacity collided even more spectacularly than usual. It's a salutary lesson, but the book could have given us so much more.