Jean Genet's Les bonnes (The Maids, 1947) is inspired by a true story. Two maids, sisters, murder their wealthy mistress and are found by authorities soon after, huddled in the same bed. Incest as well? So it is odd to be confronted with a drama that essentially addresses the audience's intellect, spring-boarding out of a melodramatic re-enactment into a study of, indeed a homage to, transgression.
On paper we have the ideal ingredients: a fine play, if little known and psychologically complex; directed by Benedict Andrews, a highly skilled theatrical extremist; and in Cate Blanchett (Claire), Isabel Huppert (Solange), and newcomer Elizabeth Debicki (Madame), an ensemble more than capable of rising to any on-stage challenge put to them. In a production as visually dazzling as this, acknowledgment should also go to designer Alice Babidge (sets and costumes) and Nick Schlieper (lighting design).
If you know little about Genet, you are likely to enjoy this production. Jean was a naughty boy who emerged from a life of petty crime and numerous imprisonments to become the darling of Paris's 1950s artistic élite. Thus fêted, he ascended to the unlikely but deserving status as one of mid-century Europe's most daring writers. Just about every disruptive idea in the air around the 1968 Sorbonne student riots – engaging gender, race, and class divisions – Genet had already turned into novels, plays, essays, and more. On each frontier he took the side of the loser. When Genet compared spit to 'a necklace of diamonds', he meant it literally.
The Maids is a critique of class and enslavement; two workers relieve their degradation and suffering by acting out fantasy rituals while their employer is away from the house. They take it in turns to become Madame – to savour the power that goes with luxury. They also take turns playing each other, perversely enjoying the victim role as well. In this fictive world, the intended climax is the murder of Madame. On the evening when the play is set, the maids go one step further. In a state of confusion, their tower of fantasy collapses, with deadly repercussions across the floor of their real world.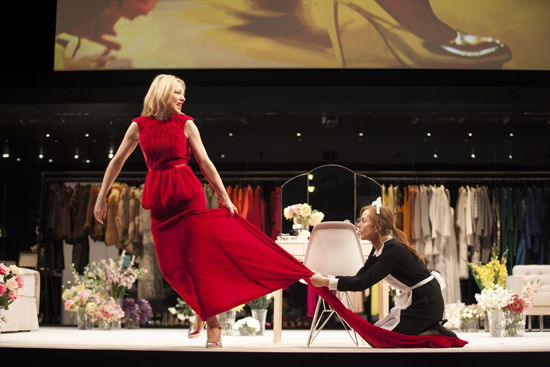 Cate Blanchett and Isabel Huppert in The Maids
(photograph by Lisa Tomasetti)
Genet initially wanted his three female characters to be played by men – not to celebrate the art of drag so much as to alert audiences to the performative quality holding together each character's sense of self. If the purpose is read this way – as a meta-theatrical gesture embodying the slipperiness of individual identity – it explains why the play is often performed with women. And successfully so, if they are able to push their performances beyond verisimilitude.
In Benedict Andrews's production for the Sydney Theatre Company, the casting of women mostly works. That said, I would have liked to see more artifice, more extremism. The set goes somewhat further, in the form of an excess of vases of flowers. Unfortunately, the overall effect of the staging is to celebrate, rather than critique, Madame's wealth.
Andrews is often accused of overdoing things, but this time he shows relative moderation: perhaps he picked the wrong play on which to hold back. Many in the audience found the set 'beautiful' and the story 'exciting', without noting the play's core theme: the disintegration of a sense of self under such extreme conditions of abuse.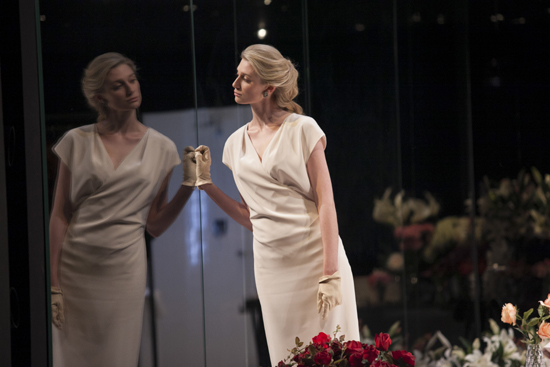 Elizabeth Debicki in The Maids
(photograph by Lisa Tomasetti)
Where Andrews does step beyond the realm of naturalism (however heightened) is in the use of live film footage. A huge screen hovers above the set and we get to watch long shots of Claire writhing erotically on Madame's bed; close-ups of Solange in make-up smeared states of distress; plus close-ups of the ubiquitous bouquets. To what purpose? Apart from taking audiences closer to the action in what is a rather large theatre. When I heard that Andrews was employing cameras again, I presumed we were in for an evening of 'surveillance', with Madame keeping an eye on her staff when she is not in the room. This would have encouraged the audience more easily to read the play as one (in part) of ideas.
Mainstream negative comment has been directed at the thickness of Huppert's English accent, which, at the pace she delivers, is often hard to understand. I would go one step further: why do we need Huppert at all? With Blanchett on the bill, the box office hardly needed more pulling power. As with the unsuccessful casting of William Hurt in the STC's Long Day's Journey into Night (2012), here we have casting presumably arranged at a social event during one of Upton and Blanchett's overseas trips. Tourists usually come with baggage, and again it shows.
Among the positives is Upton and Andrews' free-wheeling translation/adaptation. It clears up a lot of the confusing blathering in the standard Bernard Frechtman 1953 translation. That said, what inspires them to include so many profanities. In being so high school, it takes our mind off the main thrust, which is Genet's lifelong struggle as an outsider and an artist to further the struggle for a better deal for society's underlings.
The Sydney Theatre Company's production of The Maids runs until 20 July at the Sydney Theatre. Performance attended 8 June 2013.