One should approach a new film with an open mind, but it's very hard to do so when it has been preceded by the sort of hype that has accompanied The Great Gatsby. And it's not just the hype but the other threats to the open mind which include the famous source novel (one that people know about even if they haven't read it), the previous film versions, and the reputation of the new film's director.
As one who believes that an adaptation should say something new about the antecedent fiction, I'm set a serious challenge by Baz Luhrmann's Gatsby. I admired his relocation of Romeo and Juliet (1996) to Venice Beach, California, for its daring in relation to time and place while maintaining a strict adherence to Shakespeare's play; and I enjoyed the wild eclecticism of Moulin Rouge (2001), while drawing the line at the bloated idiocies of Australia (2008). So what's new about his Gatsby?
The main innovation here is to place F. Scott Fitzgerald's narrator, Nick Carraway, in a sanatorium, where he is being treated for alcoholism and several other disorders. As part of the therapy urged by his doctor (Jack Thompson), he is writing about his experiences, then typing them up as 'Gatsby', amending this at the end to 'The Great Gatsby', believing him to be worth the whole 'rotten crowd'. This device allows Nick to read aloud passages of commentary on the action. It doesn't work, very often seeming redundant in the light of what we've seen, and in case we've missed the point it will sometimes appear in handwriting or typing sprawled across the screen. Further, Toby Maguire's blank-faced Nick never suggests the insights of one who 'wanted the world to be … at a sort of moral attention forever'. And no amount of quoting Fitzgerald's words will guarantee that the film will mean the same thing – if that's what Luhrmann intended.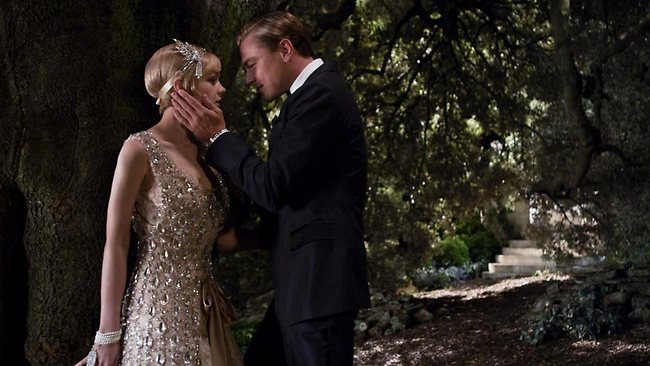 Carey Mulligan and Leonardo DiCaprio as Daisy Buchanan and Jay Gatsby in The Great Gatsby

The film's visual style, and sometimes its aural (the jazz age is suggested by rapper Jay-Z), is often wildly overblown. At best it evokes a superficial society, epitomised by Gatsby's lavish parties at which neither invitation nor host's presence is essential. Again, at best, it is not just that the treatment is excessive but that it is about excess, although there is a great deal more lingering over the fabulous sets and costumes (brilliant work from Catherine Martin) than we need to understand what makes Gatsby tick. Gatsby's palatial spread evokes Disneyland rather than Long Island. Too often Luhrmann has opted for a merely frantic montage of cars and clothes and décor.
In fleeting contrast with all this are a couple of wonderful long shots of the impoverished farm of Gatsby's childhood and the sepia-tinted glimpses of Gatsby at war and during his wartime romance with Daisy, which give a touch of poignancy to Gatsby's certainty that the past can be repeated. On other occasions, Luhrmann has allowed Simon Duggan's camera to fasten on such symbols as the green light across the bay (beckoning like the receding past) and the valley of ashes presided over by the 'eyes of Doctor T.J. Eckleburg' on a great billboard. What, I wonder, would anyone not familiar with the novel be expected to make of such insistences?
As for the main characters, and what they embody, there appears to be a curious disparity in the ages of Gatsby and Daisy, as played by Leonardo DiCaprio and Carey Mulligan. Individually, each creates a compelling resonance. DiCaprio, blandly inscrutable for much of the film, can quickly suggest a life of necessary subterfuge and hidden possibilities – or that his surface vacuity masks a deeper emptiness. The exquisite Mulligan, so good in An Education (2009), incarnates Daisy's tinkling superficiality to perfection: like Fitzgerald's Daisy, she manages to reek of money and opportunism and self-preservation without quite losing her hold on us. It is as a pair that these two pose a threat to credibility. There is an eleven-year gap in their ages, and in some shots DiCaprio looks almost like her father. This matters if we are to be persuaded of their love affair five years earlier. In other key roles, Joel Edgerton offers a compelling study in snobbish old-money brutality as Tom Buchanan, Elizabeth Dubecki makes her every moment count as the languorous Jordan Baker, and Isla Fisher's sluttish Myrtle, in red fishnet stockings which precede her first entrance down stairs, resonates with a coarser world.
Luhrmann has taken a slim, elegant book and made a fat film from it. Some of Fitzgerald's more ornate prose may invite the film's stylistic hyperbolae, and the film has a certain blockbuster appeal, but as for what it's all about, who knows? It looks great, but at heart this is not a great Gatsby.
The Great Gatsby (M), directed by Baz Luhrmann, based on the novel by F. Scott Fitzgerald. 142 mins. Released in Australia on 30 May.