To begin at the beginning. 'When the first Pakeha ship came,' Te Horeta told the explorer Charles Heaphy, 'I was a lad … [about twelve years old].' Watching the 'white people' row ashore, 'paddling with their backs to the way they were going', the boy and his companions 'thought they must have eyes behind their heads'.
Conquering his fear, Te Horeta goes on board and meets Captain Cook, who puts his hand on the boy's head and gives him a gift, a 'spike nail'. The encounter turns sour when Marutu-ahu – one of the Maoris trading with the crew of the Endeavour and, according to Te Horeta's testimony, 'a great thief' – cheats the Pakeha, who then fire on his departing canoe and kill him. Soon after, Te Horeta reports, 'Captain Cook and the white people landed … as if nothing had happened.'
'I was a man when the next ship came,' Te Horeta says; '… we heard that Captain Cook and his Pakehas went ashore … After this we saw no more of Cook.' With this blunt conclusiveness the first extract ends and the anthology is launched on its massive journey.
It makes narrative sense that the very next extract is from Cook's log. 'At noon I observed the Suns Meridian Zenith distance by the Astronomical Quadrant which gave the latitude 36º 47'43"s'. This picks up the same story, Rashomon-like, from the Pakeha point of view. Te Horeta arrives, as we know he will: 'Two [natives] came on board … to each I gave a piece of English Cloth and some Spike nails'; Marutu-ahu, the 'great thief', absconds with his prize and is punished. 'Mr Gore fired a musquet at them and from what I can learn kill'd the man who tooke the Cloth,' Cook records. His concluding remarks on an incident we have now seen from both sides is mildly ironic and, for that reason, slightly chilling: 'I thought the punishment a little too severe for the Crime, and we had now been long enough acquainted with these People to know how to chastise trifling faults like this without taking away their lives.'
These opening moves signal an ambivalence which this anthology does not resolve: interesting though they are in themselves and the more so for being neatly twinned, neither Te Horeta's story nor Cook's tangential relationship to it is describable as 'literature'. The interest in this case is broadly historical. In their lengthy introduction, the editors explain:
This book contains a history of literature in English in this country since contact, which begins in sailors' chants as well as scientific record, and which is continually visited by external influence – cockney slang, Scottish dialect, Australian vernacular, American hipster cool, Pasifika inflections. Māori and English conjoin, fly apart, and progressively insinuate themselves each into the other. The languages of commerce and technology compete with those of the educated, the self-educated and the altogether uneducated. We include work constructed out of the language of money machine messages, of racing slang and the aberrantly creative names of race horses, of the idioms of Māori factory workers, and the bickerings of a married couple in an Indian corner dairy. Conversely, and to mark the most commonly owned books in New Zealand households of the late nineteenth and early twentieth centuries, we include as 'found poems' a recipe from The 'Sure to Rise' Cookery Book and an exposition on the quality of soil from the Yates' Gardening Guide. There are romantic treatments of sublime nature and gothic versions of suburban life. The domestic world is excoriated in the 1950s and 60s by James K. Baxter and Louis Johnson and subject, by Jenny Bornholdt in the 1990s and 2000s to an almost reverential contemplation …
This is, as Sir Humphrey Appleby might have remarked, courageous. Such thoroughgoing inclusiveness seems to defy the selection disciplines of even the most voluminous anthology and, while it is proposed with a certain authority and panache – 'Our purpose is not to present a canonical view of New Zealand literature' – this free-wheeling all-in-together sweep of the editorial arm blurs some boundaries. The Cookery Book and Yates' Gardening Guide extracts, for example, may be 'found', but they are not poems. The 'language of money machine messages' in James Brown's 'Cashpoint: A Pantoum' is mildly amusing but the poem is more concerned with the oddness and daring of its version of the Malaysian folk form (pantun) than with the rhythms of the satire deeply embedded to the point of inaudibility in its flat utterance:
Welcome to Cashpoint
Open 7 days
Please insert your card
To begin transaction.
Then there are 'narratives' – 'of emigration and arrival', 'of settlement and encounter', 'of conquest': among others, Edward Gibbon Wakefield's A Letter from Sydney (1829); the Declaration of Independence of New Zealand; The Treaty of Waitangi. But these are not, to use the editors' phrase, a registering of 'the work in its time'. These register only the time, or the times – what was happening, what was being decided, theorised, suggested, what was going on: history in short, or one of its manifestations, not works of the literary imagination. To be fair, though, some official 'narratives' burst out of their bureaucratic ambience and achieve their own momentum and individuality. Such, for example, is the Letter to His Excellency the Governor from the Runanga assembled at Ngaruawahia, in which Wiremu Tamihana Tarapipipi Te Waharoa's highly individual, quirky language – 'Friend the Governor, Salutations to you. This is a word … from the Maori Runanga. Hearken!' – does not conceal its tough realism and a naturally poetic ring. '[Warfare] is a bad road, a short path; our days will not be many while engaged with the edge of the sword … Let not you and me be committed to the short path; let us take the circuitous one; though circuitous, its windings are upon firm ground.'
The generous inclusiveness of this selection may account for the irritation of some of the writers who are left out. Novelist Chris Else begins his review of the anthology in the autumn 2013 edition of New Zealand Books by noting that, as 'one of those writers with a substantial body of published work who is not included in this anthology', he must declare 'a conflict of interest'. He then goes on to name nineteen other writers similarly overlooked, ramifying his personal conflict in the process because one of them, Barbara Else, is his wife.
this free-wheeling all-in-together sweep of the editorial arm blurs some boundaries
It is not at all unusual for an anthology to be contentious because of its inclusions and exclusions. The Auckland University Press Anthology of New Zealand Literature, however, hones contentiousness to a bright edge by noting the absence of work by two of the giants of the New Zealand literary world, Janet Frame and Vincent O'Sullivan. In a brief addendum to their introduction, the editors, English literature academics at Wellington's Victoria University, explain that they 'were unable to reach agreement with the Janet Frame Literary Trust as to how to represent Frame's work', and that 'Vincent O'Sullivan declined permission to use [his] work in this book'. Quizzed about this reluctance, O'Sullivan explained that he did not wish 'to be in the crowd scenes for the spectacle of the new tablets brought down from Mount Kelburn'. Mount Kelburn is the site of Victoria University.
Nevertheless, as O'Sullivan rightly remarks before entering his acerbic caveat, 'There are some wonderful things in this anthology', and, as we would expect of such a gathering together of New Zealand's literary past and present, much of it is exciting, stimulating, brilliant, evocative. Allen Curnow's 'You Will Know When You Get There', for example, is a marvel of fluid movement, a joyful yet measured celebration of sea and light haunted by an ever-present if suppressed awareness of the obscurely sinister:
Nobody comes up from the sea as late as this
in the day and the season, nobody else goes down

the last steep kilometre, wet-metalled where
a shower passed shredding the light which keeps
pouring out of its tank in the sky, through summits,
trees, vapours thickening and thinning.
[…]
one hour's light to be left and there's the excrescent
moon sponging off the last of it. A door
slams, a heavy wave, a door, the sea-floor shudders.
Down you go alone, so late, into the surge-black fissure.
Lauris Edmond conjures with a different version of the sinister in a poem where elegant formulation and delicate imagery control an incredulous, underlying horror at the prospect of nuclear apocalypse:
I do not know how else
the dream of any man on earth can be
'destroy all life, leaving
buildings whole …'
Let us weep for these men, for
ourselves, let us cry out as they bend
over their illustrious equations […
…] let these men breathe
the green fragrance of the leaves, here
in this gentle darkness let them convince me,
here explain their preposterous imaginings.


('Latter Day Lysistrata')
It is impossible to generalise usefully across such a rich, vast, and varied literary terrain. There are certain strains, though – reprised notes. One of them is elegiac, evident in the poems already quoted and again in the moving lyrics of Ursula Bethell. Each poem is not much more than an aperçu, but deftly turned, without 'irritable reaching after fact and reason' and implicitly, irresistibly nostalgic.
I write in waning May and it is autumn
And I am glad that my chrysanthemums
Are tied up fast to strong posts,
So that the south winds cannot beat them down.
I am glad that they are tawny coloured,
And fiery in the low west evening light.
And I am glad that one bush warbler
Still sings in the honey-scented wattle ---
But oh, we have remembering hearts,
And we say, 'How green it was in such and such an April,'
And 'Such and such an autumn was very golden,'
And, 'Everything is for a very short time'.


('Response')
Another recurring note is irony, an antipodean strength. The excerpt from Maurice Shadbolt's 'Once on Chunuk Bair', one of the anthology's rare excursions into drama, is a corrosive, entertaining attack on ill-informed World War I British generals safely distant from the action.
Bassett: [General Sir Ian Hamilton] wishes to remind you that today God is bearing keen witness above.
Connolly: God?
Bassett: G-O-D, sir. He says to remember God is about His celestial spring cleaning, and is now scrubbing our star bright with the blood of His bravest and best …
Connolly: With a poet for a general, who needs colonels?
In John Male's 'Girl With Her Hair Cut Short' and R.A.K. Mason's 'Sonnet to MacArthur's Eyes', an originally ironic impulse is transformed by anger and grief into a quality of emotion so raw as to challenge the poetic conventions controlling it. This is war poetry as good as it gets. Male's prose piece 'Sangro in Flood', about a World War II incident during the advance through Italy, is reminiscent in its calm but atmospherically charged narrative style of Hemingway's Nick Adams stories. 'I think I shall always remember the scene, the groups of trucks in the middle of the Sangro, the loud murmur of the flood, the moon in a patch of sky between black clouds, and over us, in the moonlight, the mountains … high, inaccessible, glittering white with snow, cold and austere.'
Lauris Edmond (photograph courtesy of Auckland University Press)In this same section of the book, the extract from John Mulgan's Report on Experience (1947) is simply stunning, a measured anatomising of New Zealand and New Zealanders, taking its momentum from, but growing far beyond, his memories of the desert campaign in 'the summer of 1942' and assuming a kind of modern fairy-tale nostalgia, the sense of impossible happy endings. 'All this happened a long time ago and New Zealand is a far country now …'
As well as Report on Experience, there are three extracts from Mulgan's great novel, Man Alone (1939), a work which regrettably remained the sole novel in Mulgan's oeuvre. As his biographer Vincent O'Sullivan explains in Long Journey to The Border: A Life of John Mulgan (2003), 'It was as if the book was necessary to express a certain mood, and concluding it dispelled his interest in the form.' Mulgan moved on, but the novel remains a masterwork of New Zealand prose fiction.
As in Australia, the short story seemed to come naturally and inevitably to New Zealand writers, both Maori and Pakeha. There are Witi Ihimaera's 'A Game of Cards', nicely balanced to depict the eccentricities of age with humorous respect; Patricia Grace's 'Parade', brilliantly observed and, in the end, inspirational; Frank Sargeson's deceptively laconic, probing sketches with their frequently black undertones and, of course, a selection of the stories of Katherine Mansfield.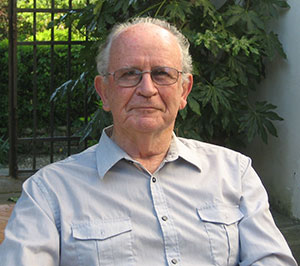 Vincent O'Sullivan, 2013
In a country of vertiginous, cloud-topped mountains challenged by home-grown, famous, and indefatigable mountaineers – including the first conqueror of Everest – it is noticeable that mountains and mountaineering scarcely figure. Edmund Hillary's High Adventure (1955) and View from the Summit (2000) might have been worth a look. Indeed, given the exploits of various New Zealand sporting teams, individuals, and race horses, the comparative absence of sport in this collection is odd, though the extract from Lloyd Jones's The Book of Fame (2000) – re-imagining the 55–4 victory over Devon by the then unknown, amateur All Blacks (as they came to be styled on that tour for the first time) in 1905 – is so good that perhaps it makes up for other sporting lacunae.
The Anthology is a substantial and important achievement, the more so because we may not see its like again as expense, alternative technologies and modes of communication overrun and make obsolete the traditional gatherings together of vast collections on fine paper between two sturdy covers at some considerable cost to the reader and financial risk to the publisher. The editors have worked hard at realising their philosophy of selection within arguably manageable limits – 'not to present a canonical view' but to construct 'a history of literature in English' in New Zealand from colonial times to more or less the present, which is represented in the final section, 'Last Words', by James Brown's 'The Language of the Future' (1999), Michele Leggott's 'Mirabile Dictu' (2009), Bill Manhire's 'Without Form' (2005), and the latest inclusion, Andrew Johnston's 'Sol' (2007).
Such a diversity and quantity of material is potentially unwieldy. The editors' organising manoeuvres nevertheless strike me as overwrought. Eleven major sections are broken down into some eighty sub-topics. Writers sometimes fit nicely into these, but occasionally the fit seems strained or at least open to question. More importantly, this arrangement separates work by particular writers widely through the book. So if, for example, you want to read all of Manhire's seven fine poems together, you have to grapple your way from page 664 – via the 700s, the 800s, the 900s, and serial visits to the index – to page 1068, no small task with a volume that, as Chris Else remorselessly records, weighs 2.035 kgs.
To end at the end: no doubt there was little the editors could do about the problem with the Janet Frame Literary Trust, and even less about Vincent O'Sullivan's refusal to take part. In the latter case, however, did this refusal wipe him entirely from the slate? He is not only one of New Zealand's greatest living writers – poet, playwright, novelist, short-story writer, biographer, anthologist, and editor – he is also a judicious, insightful, and witty literary critic. No permissions or payments would have been necessary for 'fair usage' quotations from any of his numerous critical pieces on New Zealand writing, but his name sits in the index solely to draw our attention to his absence.
Like the 'ditch' of vernacular metaphor that separates us, these are deep waters and dangerously murky for a trans-Tasman reviewer. These things are happening now and New Zealand is a far country …
---