Those Brontës. If they'd only had a decent agent with foresight, they could have escaped that dank parsonage on the gloomy moors of windswept Yorkshire and set up on the French Riviera in comfort. Since 1910 there have been at least forty film or television versions of Jane Eyre, most recently in 2011. Now it is Emily's turn for the latest (seventeenth) go at Wuthering Heights (1847), that extraordinary work sui generis that so memorably sites wild Gothic strangeness in a solidly realised world of landscapes both benign and forbidding.
Whereas Cary Fukunaga's Jane Eyre caught brilliantly the polemic at the heart of Charlotte Brontë's novel, the new Wuthering Heights understands fully that the passionate intensity between Heathcliff and Cathy grows in a tough, beautiful physical world in which matters of property and inheritance, of opportunism and vengeance, also make claims on our attention. The most famous film version, directed by William Wyler in 1939 and starring Laurence Olivier and Merle Oberon, has a spruced-up look, as though neither stars nor set design could be allowed to look quite as mucky as was, in realist terms, likely to be the case.
Andrea Arnold, director of the new film, was unlikely to be seduced by glossy possibilities. A striking new talent in recent British cinema, she cast a judicious eye on the shabby edges of modern life in Red Road (2006) and Fish Tank (2009). If hers is not the first name one would expect to find on the credits of Wuthering Heights, it is certainly one to give promise of a long, hard look at a revered classic. And that is what we get.
The passion at the heart of Brontë's novel is evoked here with such violence that the film can never be mistaken for 'a beautiful love story'. On Penistone Crags, where the young Heathcliff and Cathy make unspoken declaration of their feelings for each other, a fierce gale whistles around them, instinct with the threat of the natural world of which their passion is another manifestation. They smear each other with mud, behaving as the wayward children they still are. The passion is not just a matter of persuasive visual imagery; Arnold and her co-screenwriter, Olivia Hetreed, have retained some of the soaring rhetoric of the original, as when Cathy claims of her love for Heathcliff, 'He's more myself than I am.' Arnold has sought – or, at any rate, found – her own ways of striking at the central paradox of a love so poetically conceived finding its home in a world so palpably realist.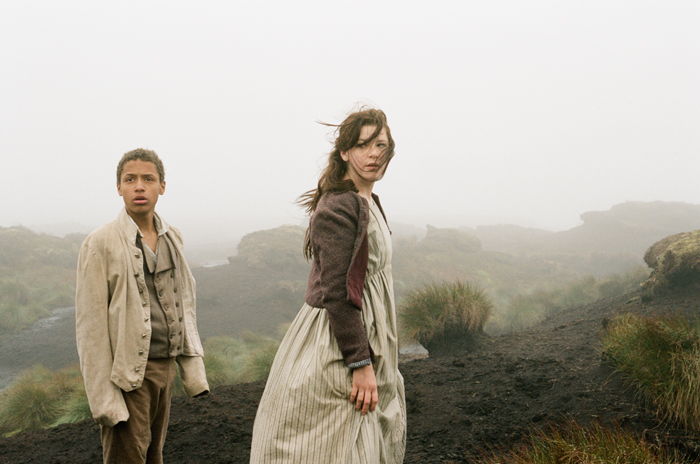 Young Heathcliff (Solomon Glave) and young Cathy (Shannon Beer)

Not that Arnold has set out to make a slavishly reverent adaptation. In at least three crucial ways she has broken with the novel's procedures. First, we are brought face to face with the reality of both passion and place without their being filtered through Brontë's two narrators: the superficial tenant Lockwood and housekeeper Nelly Dean. (A clever touch of Brontë's to have given Nelly access to Mr Linton's library so that she could acquire Standard English; imagine reading it in the dialect of the canting old servant Joseph.) What the film loses in commentary it gains in immediacy. Second, Arnold, like Wyler, has chosen not to take on board the second generation of the Wuthering Heights and Thrushcross Grange families. As Heathcliff has said, 'I have almost found my heaven.' The film eschews the reassurances of family continuities, except for the largely mute appearances of little Hareton Earnshaw, a child who scarcely knows what is happening.
But the third departure is perhaps the most striking. Arnold has given us a black Heathcliff, played by Solomon Glave when he is first brought to Wuthering Heights by Mr Earnshaw, and very powerfully, in his first screen role, by James Howson as an adult. Making Heathcliff black accentuates his outsider status in the household and in the more genteel purlieus of Thrushcross Grange. Possibly there is also a touch of historical verisimilitude at issue here. Liverpool, where Earnshaw finds the boy on the streets, had one of the oldest black communities in Europe, such children as Heathcliff in some cases being the human detritus of the slave trade.
Whatever Arnold had in mind, Glave and Howson have incarnated a genuine strangeness that is matched by Shannon Best and Kaya Scodelario as the young and older Cathy. Best has a wonderful look of spirited country girl's ardour that seems to soften into something more conventional when the older Cathy (Scodelario) marries Edgar for his wealth and position, thus flying in the face of her own nature.
This new Wuthering Heights may not be as popular as the old Hollywood classic, but it could arguably be said to go more directly to the heart of Brontë's dark vision.
Wuthering Heights (MA), written by Andrea Arnold and Olivia Hetreed, directed by Andrea Arnold, based on the book by Emily Brontë. 129 minutes. Released in Australia on 11 October.