Choosing to set a screen adaptation of Tess of the d'Urbervilles (1891) in contemporary India might seem like an almost perverse shift, or an over-determining decision. But for British film-maker Michael Winterbottom, there is consistency and history of a sort. It is his third Thomas Hardy adaptation, and his fourth feature shot on the subcontinent. In re-imagining and relocating Tess, he has adhered closely to certain key elements and incidents of the novel, and dispensed with others – notably questions of religion, faith, and fate. Yet, in the end, the most significant transformation is not about geography or culture or time: it is the condensation of two main characters into one. Alec d'Urberville, the wayward idler who seduces Tess, and Angel Clare, the compulsively virtuous youngman she loves, 'the earnestest man in Wessex', have been distilled into a single, somewhat problematic figure.
In Winterbottom's vision Tess has become Trishna (Freida Pinto), a young woman of nineteen, living in a village in Rajasthan with her family. Trishna has had some education and can speak English, but her existence is tightly circumscribed: modernity might have come to India, but not to Osian. Trishna's family ekes out a living and cannot afford further study for her: they cannot even pay for her siblings' school fees. Into her life comes Jay (Riz Ahmed), son of a wealthy Indian family, raised in England, who is on holiday, travelling with male college friends. When they stop to visit a temple, he catches sight of Trishna: later in the evening he sees her again, dancing in a spectacle designed for tourists. He is drawn to her, with what seems at first the best of intentions. Jay's father is in the hotel business, and the son uses his connections to find Trishna a job in a luxury hotel in Jaipur. Finally, she has prospects, and money to send back to her family.
Jay, incarnating Angel and Alec, embodies both succour and seduction. Winterbottom has said that he felt that Angel and Alec represent two starkly drawn extremes of the spiritual and the sensual, and that it was more interesting to combine the two tendencies into a single character. Yet Hardy himself brought them together into one person – the rake Alec becomes, for a time at least, a religious convert.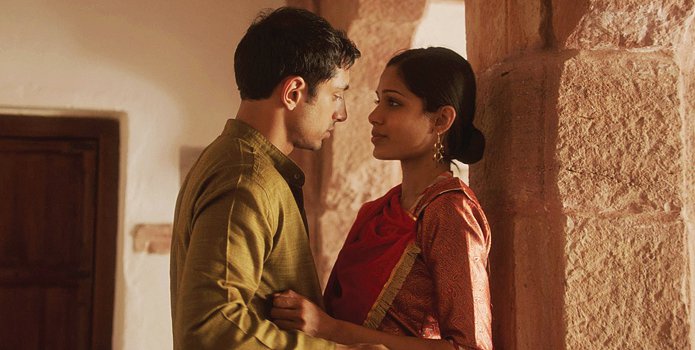 Jay might seem to have all the choices, compared to Trishna. Yet he is also shown as hemmed in. He is not interested in the hotel business that his father has pushed him towards. He prefers Mumbai, and investment opportunities; he would like to be a film producer. When he returns to Rajasthan, compelled to look after another of the family hotels, his resentment soon turns into dissolution. He becomes a diminished figure, holed up in his room, with drugs and a copy of the Kama Sutra, waiting for Trishna to bring him meals and sex.
Hardy's Tess is a tragic character, but not a passive one: she is vivid, active, engaged. Winterbottom's Trishna is less expressive, less able to articulate how she feels or what she wants. Pinto (Slumdog Millionaire) gives a poignant, defined performance, but there are times when it seems that there is a stronger emphasis, within the narrative, on Jay and his downward spiral.
Winterbottom's locations depict a society of extremes and contrasts, a world in the process of transformation: a place of village poverty and urban expansion, of idyllic rural scenes and high-rises on the fringe of the beach.
In an often lyrical vision of a bleak individual trajectory, Winterbottom uses music aptly and deftly: the soundtrack ranges from Bollywood pop to Portishead, and Shigeru Umebayashi's graceful, artful strings provide, as they did in Wong Kar-wai's In the Mood for Love (2000), the atmospheric ache of longing. The image of the dance is one of the strongest motifs of the film, and it, in its own way, brings together the sensual and the spiritual.
There are the ancient statues of dancing girls at the temple, linking women and worship. There is the connection with Hardy's novel, with the scene in which Angel Clare first sees Tess, dancing in the village, but does not approach her. Then there are the Bollywood video clips that Trishna and her friends watch in the village, gathered around small television screens; contemplating them and imitating their moves inolves a kind of aspiration, a moment of rapt absorption and expression, a dream of possibilities, a fantasy of love. Later, in Mumbai, where she goes behind the scenes, it is more clearly a commodification of desire.
In Trishna's half-articulated wish to be part of it, there is more than a hint that she could easily have been exploited, once again by a man who appears to be offering to help her. Finally, we have the dance of death. In Mumbai, Jay did not want Trishna to become a performer on screen, and she deferred to him. By the end of the film, when he is treating her as a servant and a sexual slave, he orders her to act out for him a kind of lap dance, wearing one of the dresses he has bought for her. It is the bleakest confirmation of what she has lost, the final affirmation of despair.
Trishna (MA), written and directed by Michael Winterbottom. 113 minutes. Released in Australia on 10 May.