'Dreams and Artefacts', a new poem by Lisa Gorton
Dreams and Artefacts
after the Titanic Artefact Exhibition
Read the rest of this article by subscribing to ABR Online for as little as $10 a month. We offer a range of subscription options, including print, which can be found by clicking here. If you are already a subscriber, enter your username and password in the 'Log In' section in the top right-hand corner of the screen. If you require assistance, contact us or consult the Frequently Asked Questions page.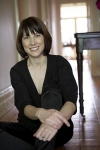 Lisa Gorton, who lives in Melbourne, is a poet, novelist, and critic, and a former Poetry Editor of ABR. She studied at the Universities of Melbourne and Oxford. A Rhodes Scholar, she completed a Masters in Renaissance Literature and a Doctorate on John Donne at Oxford University, and was awarded the John Donne Society Award for Distinguished Publication in Donne Studies. Her first poetry collection, Press Release (2007), won the Victorian Premier's Prize for Poetry. She has also been awarded the Vincent Buckley Poetry Prize. A second poetry collection followed in 2013: Hotel Hyperion (also Giramondo). Lisa has also written a children's novel, Cloudland (2008). Her novel The Life of Houses (2015) shared the 2016 Prime Minister's Award for fiction. She is the editor of The Best Australian Poems 2013 (Black Inc.).
By this contributor
Leave a comment
Please note that all comments must be approved by ABR and comply with our Terms & Conditions.
NB: If you are an ABR Online subscriber or contributor, you will need to login to ABR Online in order to post a comment. If you have forgotten your login details, or if you receive an error message when trying to submit your comment, please email your comment (and the name of the article to which it relates) to ABR Comments. We will review your comment and, subject to approval, we will post it under your name.