Mary Poppins, She Wrote: The true story of Australian writer P. L. Travers, creator of the quintessentially English nanny by Valerie Lawson
Hachette, $24.99 pb, 396 pp
Biography
Mary Poppins, She Wrote: The true story of Australian writer P. L. Travers, creator of the quintessentially English nanny
by Valerie Lawson
'Where were you born?'
'Oh, we're onto that kind of question are we?'
'You wouldn't believe in writing an autobiography?'
'No, being born, going to school, having measles, being married or not wouldn't really be an autobiography for me. An autobiography would be an inner statement, how one grew within, the hopes, the difficulties, the aims. But as I never do want to write anything about myself, no autobiography.'
'You wouldn't read a biography of a writer, you would read the work?'
'Yes, that's a beautiful question Robert, because the work is the biography.'
How complex a task it is to write the biography of a writer. For writers, whose daily business is making things up, the truest experience may be one they have imagined. All biographers need to be storytellers and private detectives, but the biographer of a writer must also be a literary critic, must account for how the work relates to the life and escapes the life; beyond this, how the experience of writing it might change how the author apprehends those other parts of experience, called facts.
The author of Mary Poppins (1934), P.L. Travers, consistently resisted questions about her life. As she declared to a group of students, 'the work is the biography'. However, early on in this new edition of her biography, Valerie Lawson declares that her chief interest is in the life and not the work: 'For me, Travers became more fascinating the more I learned of her mystery. That was what intrigued me most, not her subject matter, although I liked Mary Poppins as a child …' Her statement in the preface suggests the character of this biography: crowded, lively, brisk, opinionated, personable and slightly at odds with its subject.
Certainly, Travers led a various and adventurous life. Born in Queensland in 1899, she worked briefly as a journalist and toured Australia and New Zealand with a Shakespearean acting troupe. In 1924 she travelled to England. For years she made a living there as a columnist, poet and drama critic. In Britain, George Russell ('AE') published her poems and became her 'literary father', introducing her to Irish and English literary sets: days, wrote Travers, 'full of poets, full of poems, full of talk and argument and legend-telling and delight'. Lawson's account of Travers's friendship with AE is one of the book's most intriguing and evocative elements. Through AE, Travers met her idol, Yeats; once, she sang him her setting of his poems to music. He responded, 'Beautiful, beautiful, I couldn't have imagined anything more like them.' Later, AE confided to her, 'Yeats is tone deaf'. 'Oddly enough,' writes Lawson, 'so was Pamela.'
Travers found a different sort of mentor in the bizarre and fascinating mystic Gurdjieff – a sort of impresario of self-improvement, who influenced artists including Georgia O'Keeffe, T.S. Eliot and Frank Lloyd Wright. Katherine Mansfield, ill with tuberculosis, bled to death at Gurdjieff's Institute for the Harmonious Development of Man at Prieure des Basses Loges, near Fontainebleau. Travers wrote biographical notes on Gurdjieff for Man, Myth and Magic: Encyclopedia of the Supernatural (1970–71). If these suggest the atmosphere that Gurdjieff fostered, they also illuminate some of Travers's preoccupations: her interest in myth and in the creative value of masks:
It is a fact that Gurdjieff died in 1949, but since he gave his age differently at different times, the date of birth given here can only be approximate. This was all part of his enigma, of the sense he gave of deliberately playing a role … His whole life, for the biographers, has the air of an authentic myth, in the sense of something heroic and significant but not to be apprehended except in so far as he could, by these very disguises, mediate it to the general understanding.
Travers's life changed with the Disney film of Mary Poppins (1964). Lawson details how Travers fought Walt Disney over his adaptation of her book. With characteristic feistiness, and limited success, she protested the idea of a romance between Mary Poppins and Bert, the poshness of the Banks' house, the sugary nature of the songs, the loss of irony and subtlety, and the general sweetening of Mary Poppins. She told her London publisher that the film was 'Disney through and through, spectacular, gorgeous but all wrapped around mediocrity of thought, poor glimmerings of understanding'. Her arguments with Disney suggest how precisely she imagined the world of her books; how, beyond money or success, she wanted them respected as literature. But she did like Julie Andrews – announcing, when she met her, 'Well, you've got the nose for it'.
This biography spends comparatively little time on the experience and character of Travers's adopted son, Camillus. Lawson is also fairly discreet about how this marvellous children's writer related to her own child. Travers never told Camillus that he was adopted. By chance, supposedly, Camillus came across his twin in an English pub. In the preface, Lawson records how Camillus allowed her access to Travers's desk: 'tidying as I went, combing through each drawer, pulling out yellowing photos … I was all alone. Camillus left early and came home after I had gone.' The anecdote suggests a combination of generosity and reticence in Camillus's attitude to the biography.
However, the biography gives full expression to Travers's own intriguing childhood. This has involved Lawson in some careful sorting of claims from facts. Travers wrote extensively and memorably about childhood, both in magazine articles and semi-autobiographical novels, but she was a disciple of Yeats and AE, as well as Gurdjieff. She believed in masks and in the inwardly true story. She even changed her name: Travers was born Helen Lyndon Goff. As a consequence, Lawson at once draws on Travers's childhood stories and discredits them.
Lawson attributes Travers's embellishments and misrepresentations to snobbery, but perhaps there is something more than a moral question here. Travers said, 'When I was in Hollywood the script writers said, surely Mary Poppins symbolises the magic that lies behind everyday life. I said no, of course not, she is everyday life, which is composed of the concrete and the magic.' Travers's embellishments and misrepresentations suggest how her imagination worked upon experience in what could well be called a writerly fashion: she made the past more effective as a story.
Lawson's account of the parents takes its life from what Travers wrote. Travers's characterisations are unforgettable. In that sense, perhaps, Travers was right: her stories have more energy than the bare facts do. Take these two anecdotes about her mother, Margaret. One hot Sunday afternoon, the blinds half-down in the bedroom, Margaret sat reading the story of the Crucifixion from a collection of Bible stories. 'Lyndon began weeping uncontrollably for Jesus … Her mother said, "I take the trouble to read to you and all you do is cry and feel sorry … Dry your eyes, it was a long time ago."' Another time, weary of tidying up the children's toys, Margaret seized Lyndon's favourite doll and threw it across the room, telling Lyndon to put it away herself. The doll's china face struck the bedstead and broke. 'Mother, you've killed her!' cried Lyndon. At once, Margaret picked up the pieces and sat weeping on the bed: 'Forgive me.'
Of her father, Travers wrote, 'He had Ireland round him like a cloak'; 'Whenever he had taken a glass he would grieve over the sack of Drogheda in 1649 until everyone around him felt personally guilty.' The father, born in England of Irish stock, left England young and worked on a tea plantation in Ceylon; then, probably, a sugar plantation in Queensland. Upon marrying, he took up work in a bank. A charismatic alcoholic, he died in his forties, bequeathing to his daughter his romantic dream of Ireland. She took his name as her surname. Travers wrote:
I had been brought up by a father who was a very poetic Irishman. It seemed nothing but Ireland would do … if we had a horse it had an Irish name, and an Irish pedigree … I grew up and was nurtured on the Celtic Twilight, Yeats and all. Therefore Australia never seemed to be the place where I wanted to be. My body ran around in the southern sunlight but my inner world had subtler colours.
When Travers Goff died, Great-Aunt Ellie cared for the family, just as she had cared for Margaret after Margaret's father's early death. Lawson describes Great-Aunt Ellie as 'the prototype of Mary Poppins'. Gruff but generous, Ellie wore a hat with two pigeon wings and carried an ebony and ivory walking stick.
All the same, we are interested in Travers's life because of her writing. Spare, impassive, fantastical and fascinating in their combination of magic and tough-mindedness, the Mary Poppins books survive Disney and Cameron Mackintosh. Travers said that her great interest was 'the small perfection of the fairy tales, which had been ground down by centuries until only the essential remained. These were not entertainments for children, but the last remnants of myths.' She wrote that fairy tales had 'great things to teach us … [They are] carriers of a very old teaching, a religion, a way of life, a chart for man's journey'. They 'live in us, endlessly growing, repeating their themes, ringing like great bells. If we forget them, still they are not lost. They go underground, like secret rivers, and emerge the brighter for their dark journey.'
Travers understood her own work in such terms. In fact, she consistently resisted the label 'children's writer'. The treatment afforded children's literature infuriated Travers: 'It's never respected as literature, it's never given a high place in that sense.' Probably, she should have accepted T.S. Eliot's offer to have Faber and Faber take over the publishing of Mary Poppins; it might have raised the ambition of her interviewers. As it was, they repeatedly asked her, 'Where does Mary Poppins come from?' Once, Travers answered, 'She never explains, that is her chief characteristic, and I think it must be mine … I don't not explain because I'm too proud to explain, but because if I did explain, where would we be?' Lawson characterises this answer as 'arch and infuriating', a 'piece of Alice-in-Wonderland-like nonsense'. Why? The books take their energy from this mystery. What sort of answer could Travers have given?
Recently, a column in The Age's Melbourne Magazine gave one example of what an explanation might sound like:
Verity Hunt-Ballard, who plays Poppins in the blockbuster Disney musical opening at Her Majesty's Theatre this month, has an interesting theory. Maybe Poppins, an ageless extraterrestrial, was once Bert's nanny: he's in love but for her it's strictly business. 'My feeling is there is definitely a deep love between Bert and Mary but it's not of this world,' she says.
Originally published in 1999, as Out of the Sky She Came, this biography has recently been republished – presumably, as the thinking person's merchandise for Mackintosh's 'blockbuster'. Hunt-Ballard offers the sort of interpretation Travers fought against all her life. Small wonder it made Travers difficult to interview.
Surely there is something admirable about such principled stubbornness. Lawson writes that Travers 'fell into Walt's embrace like a lovesick fool'; 'Like a forgotten lover whose heart jumps at every ring of the phone, Pamela waited for an invitation from Walt Disney to attend the premiere.' In fact, it appears that Travers stood up to Disney. When he did not invite her to the film's première, she sent him a telegram declaring that she was in America and coming to Hollywood for it. 'She was sure somebody would find a seat for her. Would he let her know details, time and place.' Then she got her publishers to pay for her flight to Los Angeles.
Perhaps it is natural for biographers to lose patience with their subjects. Apart from anything else, they lead such detailed lives. Books, however, need a structure. Lawson breaks the biography into three parts, corresponding to the roles Travers thought a woman plays in her life: Nymph, Mother, Crone. Her main theme is that Travers sought male gurus and allowed them a profound influence over her life. She writes that Travers 'spent her life searching for Mr Banks'. On the other hand, Travers supported herself, toured Australia and New Zealand as an actress, travelled to Russia in 1932, lived with women, probably as lovers, adopted a child, fought with Walt Disney, summered on 'Indian reservations in Santa Fe', and, in her nineties, liked talking to the punks on Kings Road.
Intriguingly, this emphasis on male gurus shapes Lawson's reading of the novels, as well as the life. Barely speaking of the children in these books, Lawson makes the distracted, erratic, likeable Mr Banks a major character. 'Mary Poppins's impact on men and appreciation by Mr Banks is an expression of Pamela's own desires'; 'Mr Banks fulfilled many roles. He was the father, and lover, Lyndon wished she had'; 'Lyndon's father's experiences, combined with bank problems involving her mother's family, remained in her mind for life. Both spilled over into her portrait of George Banks, whose personality was as ambivalent as her father's.'
This richly enjoyable and lively biography has this weak thread through it: it treats writing as therapeutic wish fulfilment. Yet how fantasy works in life is different from how it works in writing. Art has its own demands, its own formal quality and logic. Lawson's Freudian interpretation of the Mary Poppins books misses the control and artistry of the writing. Travers had enormous respect for Beatrix Potter, praising 'her understatement, her bareness, her surrealism, her non-explaining'. Lawson herself characterises the Potter books as 'sweet little animal tales'. In a rare account of her writing process, Travers said that she 'wrote very little, very slowly, had to grapple with the text, wanted to "bring much to little. I whittle and whittle, until there is only a spindle, a sliver". The first draft was torture, the second not so easy, but the third "a wonderful experience".'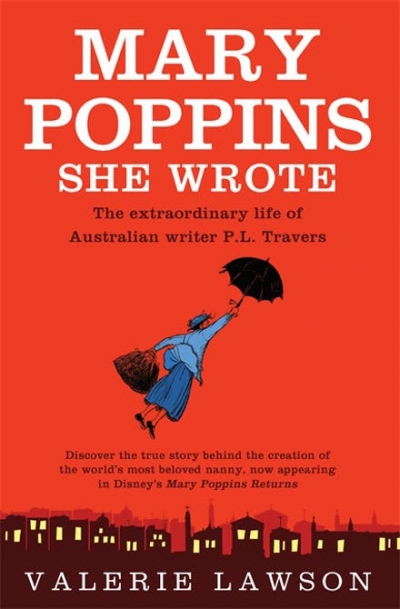 Mary Poppins, She Wrote: The true story of Australian writer P. L. Travers, creator of the quintessentially English nanny
by Valerie Lawson
Hachette, $24.99 pb, 396 pp