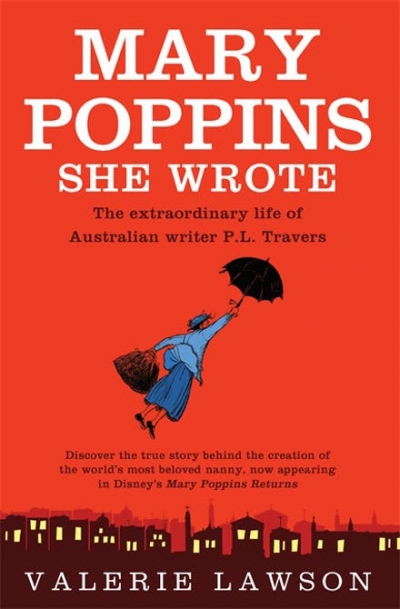 Mary Poppins, She Wrote: The true story of Australian writer P. L. Travers, creator of the quintessentially English nanny
by Valerie Lawson
Hachette, $24.99 pb, 396 pp
Biography
Mary Poppins, She Wrote: The true story of Australian writer P. L. Travers, creator of the quintessentially English nanny
by Valerie Lawson
'Where were you born?'
'Oh, we're onto that kind of question are we?'
'You wouldn't believe in writing an autobiography?'
'No, being born, going to school, having measles, being married or not wouldn't really be an autobiography for me. An autobiography would be an inner statement, how one grew within, the hopes, the difficulties, the aims. But as I never do want to write anything about myself, no autobiography.'
'You wouldn't read a biography of a writer, you would read the work?'
'Yes, that's a beautiful question Robert, because the work is the biography.'
How complex a task it is to write the biography of a writer. For writers, whose daily business is making things up, the truest experience may be one they have imagined. All biographers need to be storytellers and private detectives, but the biographer of a writer must also be a literary critic, must account for how the work relates to the life and escapes the life; beyond this, how the experience of writing it might change how the author apprehends those other parts of experience, called facts.
The author of Mary Poppins (1934), P.L. Travers, consistently resisted questions about her life. As she declared to a group of students, 'the work is the biography'. However, early on in this new edition of her biography, Valerie Lawson declares that her chief interest is in the life and not the work: 'For me, Travers became more fascinating the more I learned of her mystery. That was what intrigued me most, not her subject matter, although I liked Mary Poppins as a child …' Her statement in the preface suggests the character of this biography: crowded, lively, brisk, opinionated, personable and slightly at odds with its subject.
---
Already a subscriber?
Sign in
to continue reading. If you need assistance, feel free to
contact us
.