Tribute
'Littoral Truth: Peter Porter (1929-2010)' by Peter Steele
In an essay on the poetry of George Crabbe, Peter Porter wrote, 'It is a great pleasure to me, a man for the littoral any day, to read Crabbe's description of the East Anglian coast.' Happily, there is by now a substantial and various array of writings about Porter's work, and I would like simply to add that his being, metaphorically, 'a man for the littoral', with all its interfusions, is one of his distinguishing qualities, and something to rejoice in. Coastlands, and marshes, are essential to his intellect and to his imagination. He may never have had one foot in Eden, but he did rejoice in a plurality of territories.
With a hallmark ruefulness, Porter would joke that the principal use of poetry was to supply novelists and filmmakers with titles for what they produced: but he was himself a constant crosser of borders between prose and poetry, music and verse, the most sumptuous of visual works in Western civilisation and poems which might revere, chasten or ironise them. He could mount a commanding array of insights while offering in the same breath a disarming modesty about their power. If ever there was a case of someone writing poems to see what happened, Peter Porter was the man – 'for the littoral any day'.
'The model for art remains that of metamorphosis: imaginations, great events, are all transformation scenes.' This was Porter's project, and it was besides his passion. He usually wrote poetry as, in my experience, he always spoke – rapidly, as if somehow to offer the trace of what was escaping, while the curiosity of what was emerging became apparent. In a zestfully mordant early poem, 'Farewell to Theophrastus', he reports that 'Overdoing It's lost a carnation but has / two rosebuds in his right lapel; / he offers the table the name of an hotel / in Amalfi and spends a minute on his knees / retrieving the Chairman's pen top'. This is like Swift singing – a startling spectacle, but one which wins assent through the blend of farce and calculation with which it is carried off. Porter wrote, later, 'Satire I hold to be only another version of pastoral, a way poets have of managing to relish what they dislike. They have cause to bless their enemies for existing.' This too is to be 'a man for the littoral', and it means that no day need be wasted.
Like the Auden who was one of his exemplars, Porter could exult in a variety of modes, each of which had a mutable face. A handful of his poems' titles insinuates a repertoire: 'A Great Reckoning in a Little Room', 'The Lion of Antonello da Messina', 'The Pines of Rome', 'The Cocks of Campagnatico', 'Mutant Proverbs', 'Leafing Through the Latin Dictionary', 'Whereof We Cannot Speak', 'At the Reunion of the Answers'. Variously, the demeanour could be that of applauder, of busker, of bear-leader, of someone being put to silence eloquently, of wary enquirer, of a hailer of love in the presence of death, of a commander whose troops are prone, unpredictably, to desert him, and then to return.
'No poet can be great,' he wrote, 'who is not memorable, unmistakeable and a virtuoso.' He did not establish a priority between these endowments, but he certainly did not think that to be a virtuoso was to be an also ran. He had from first to last a certain innocence, an openness, about a new poem's coming to be. The poem could not be wrenched from the realm of the unknown: it could only be had where surprise and expertise were both allowed their due. The many expressions of surprise in the poems are not ornamental or strategic: they are, as we say, telling.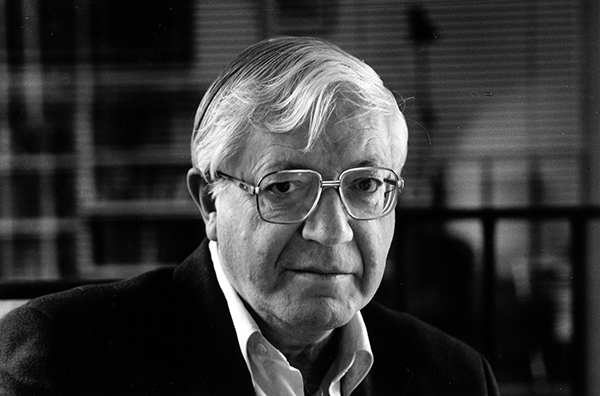 Peter PorterLike many poets, and in spite of a brightly polished scepticism, Peter Porter had a number of talismanic predecessors. Pope was emphatically of their company, and so was Browning. Porter wrote that, 'In his copious and generous output, Browning satisfies the unquenchable haranguer which is in each of us. We are born, we talk and we die. But chiefly we talk, and when we meet a good talker we listen. Browning is the talker non pareil.' Any acquaintance of Peter Porter's will smile instinctively at this, because his own diurnal talking was itself a part of his own 'copious and generous output'.
Beyond that, though, the whole of his poetry may be seen as a deliberate talking-through of his way in the world. A rending poem after his first wife's death is called 'Talking to You Afterwards', and some modification of that title could be used of the poems late and early. Answering questions after a poetry reading in Australia some years ago, he said when asked whether he had an ideal reader, 'Yes, and it's me'. He meant by this that if the poem could not evade strictures which rose in his own mind, then it lost credibility. But even though he was sometimes charged with writing esoterically, he was disinclined, whether by temperament or by choice, to write poems which stood clear of the ruck of affairs, or which aspired to do so. If you missed the talking-through, you missed an important dimension of the poem.
Porter, who delighted to bestow and to modify characterisations in his poems, called Browning 'The Father of Us All', in that he 'changed the coordinates by which poetry is recognized ... The chief gain was poetry's escape from a ghetto of appropriateness. The poet ate further down the table from the salt, but he ate more voraciously.' Porter saw this as a common indebtedness to Browning, but that way of putting it applies with special force to his own work. Many excellent poets work most happily within particular thickets in their own cultures: Peter Porter wanted a forest, and his poems keep on expanding its borders.
'The Father of Us All', himself a man for the littoral, might well be pleased with the degree to which Porter embraced the new opportunities. No doubt his deep and lasting fidelity to music taught him much about intellectual decorum and its range of possibilities, but his poetry still escaped the 'ghetto of appropriateness' with a zest of its own. Once again, titles give the cue: 'Syrup of Figs Will Cast Out Fear', 'Who Gets the Pope's Nose?', 'Inspector Christopher Smart Calls', 'In the Giving Vein', 'Exit, Pursued by a Bear', 'What I Have Written I Have Written', 'The Pantoum of the Opera'. Juan Ramón Jiménez advises, in a notebook: 'If they give you lined paper, write the other way', which applies very well to Porter, provided it is remembered that 'the other way' thereupon becomes a new way, with both new opportunities and new requirements.
'The poet ate further down the table from the salt, but he ate more voraciously.' Nobody reading through the Porter ensemble could doubt the voracity. When it came to poetical reputation, he regretted that he was not nearer the salt, but where political affairs were at issue, the whole disposition of the table was up, at best, for critique. I am writing as it happens on the day of the British elections, which is also Porter's funeral-day. In a letter written shortly after the elections of 1997, he wrote,
It struck me suddenly the other day that I suffer from the paranoia of not being political. If I were political I would see ways of changing things for the better – as it is, I can concentrate only on the appallingness of ruling classes and what might be called the transferable iniquity whereby their opposing Tribunes and Radical Replacements are forced to copy the sins of their office.
Camus, in a notebook, wrote, 'I am not made for politics, since I am incapable of desiring the death of my opponent'. Porter, a constant scrutiniser of mortality's ways, might not have desired the death of the powerful, but he thought that the least that should be given them was a hell of a good talking to, though he did not suppose that they would do much listening.
Donald Hall remarks that 'Poetry weds the unweddable and embodies the conditions we live under: nest of pleasure, twigs of dread.' It might be a coda to Porter's
For a poet his hope and his benison will usually be his energy. What he has to say is often possessed by gloom, but he becomes of the party of hope if he pronounces it with energy and art. How he does so is a great and unexplained mystery.
Far more pages of his poetry than not bear witness to the attempt implied here, though the mystery, to me at least, remains as great as ever. Porter used to quote the exchange between Mozart and a (presumably unthinking) enquirer, who asked him why he wrote so much. Mozart replied, 'Because it fatigues me less than not writing.' That says a good deal about Porter at the desk, whose hankerings were always beyond the present poem or the next, and included the hope to understand 'the mystery'.
'All the poetry I love', he said, 'is potential energy come to rest.' This lapidary phrasing, which for Porter could point to Herbert as to Rochester, to Shakespeare the sane and Smart the mad, to Pope and to Auden, is of a piece with his constant rethinking of the relationship between poetry and music. Dennis O'Driscoll's view that 'poetry is music set to words' would have been his own, though he would instinctively have nuanced the proposition, saying perhaps (as he did) that poets 'are musicians by other means'. Porter also wrote, 'I consider Pope to be the most musical poet in English, though he may not have cared for a note of formal music ... music teaches us to relate words by their adjacency or their sympathy and not merely by overt meaning. It further reminds us that syntax is the most important element in poetry, the poetical equivalent of harmonic construction.'
There would be plenty of blinking at that last sentence from various schools of poetry – some hedgeschools, some around Harvard Yard – about which Porter was so thoroughly informed: but for my money it is exactly right. The mind is more than intellection but is nothing without it, and so it goes with poetry and syntax, without whose good offices the potential energy can never come to rest. Thinking of Rochester and of Martial, he remarks that 'Classicism means keeping technique in the foreground', and he had strong allegiances in that direction, whether in the most or the least quippish of his poetry. He was accustomed to say that music was his first love, and as such it had things to show to later loves, including poetry. (One night, in Melbourne, in a small, well-fuelled company, he proclaimed that we should all go down on our knees and thank God for creating Mozart: but the idea did not quite catch on.)
'A man for the littoral': I have tried to suggest a few of the ways in which Porter bore out this wittily conceived condition or agenda. His transactions with the mind, its words and the world in its custody were versatile, pluriform and constantly open to revision. In another early poem, 'Waking Home on St Cecilia's Day', unhappiness exacts its tribute, but 'There is a practice of music which befriends / The ear – useless, impartial as rain on desert – // And conjures the listener for a time to be happy, / Making from this love of limits what he can, / Saddled with Eden's gift, living in the reins / Of music's huge light irresponsibility.' The conjuration went on occurring, and so did its fruits. I last spoke to Peter Porter, by phone, a couple of weeks before his death. The conversation ended with my being drawn to say, 'You've been a very easy man to love, Peter.' So he was: and so he is.
All quotations from Peter Porter's prose are taken from Saving from the Wreck: Essays on poetry (2001).