Calvin by Bruce Gordon
Yale University Press, $79.95 hb, 416 pp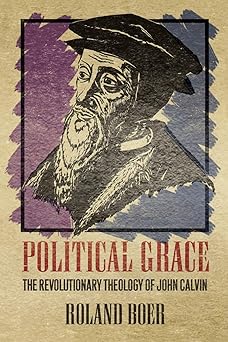 Political Grace: The revolutionary theology Of John Calvin by Roland Boer
Westminster John Knox Press, US$24.95 pb, 148 pp
Biography
Calvin in a dappled light
New perspectives in his quincentenary year
John Calvin has not had a good press among the general or even the educated public. Marilynne Robinson caricatures the popular view: 'an eighteenth-century Scotsman, a prude and obscurantist with a buckle on his hat, possibly a burner of witches, certainly the very spirit of capitalism.' Even Les Murray, who of course knows a lot of 'religious stuff', in a recent poem ('Visiting Geneva'), addresses 'John Calvin, unforgiver / in your Taliban hat'. The reasons are, no doubt, complex. Calvin has mistakenly been given sole responsibility for the fate of Michael Servetus. His relationship with Geneva has been misunderstood. Predestination has been seen as the centrepiece of his theological system, when it is questionable whether one can speak of a 'system' at all.
Calvin (1509–64) is a difficult subject for a biographer. Deliberately reticent about himself, he saw the turning points in his life – his conversion to the Protestant gospel, his commitment to Geneva – as acts of providence. There is no table-talk of the kind that makes Luther so engaging a character. If serious scholarship is agreed on one thing, it is that Calvin was a Renaissance humanist. But, unlike others of his kind, he did not, in that first age of the recognition of personality, project himself personally. Erasmus and Thomas More appear to us as distinctive and recognisable personalities. Calvin stands, by contrast, in dappled light. At the end he was buried in an unmarked grave, according to his wish.
Continue reading for only $10 per month. Subscribe and gain full access to Australian Book Review. Already a subscriber? Sign in. If you need assistance, feel free to contact us.