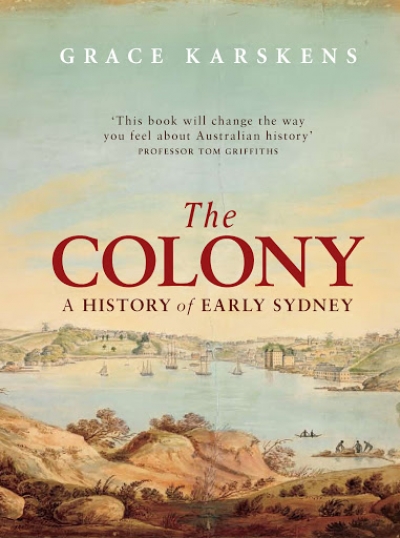 The Colony: A history of early Sydney
by Grace Karskens
Allen & Unwin, $59.99 hb, 692 pp
Australian History
The Colony: A history of early Sydney
by Grace Karskens
This is not so much a history of Sydney as a tour with a sensitive and alert guide who knows her history. The site is modern Sydney. Although Sydney was only just beginning to develop suburbs when the book ends – in the 1820s – Karskens tours the whole of the Cumberland Plain, the area that metropolitan Sydney now covers. For the modern suburbs, as everywhere else, Karskens describes the land and how it was used when occupied by the Aborigines and the first Europeans. She points to what remains from earlier times in the routes of roads, remnant vegetation, the built environment and place names. The first settlement on the Hawkesbury was known as Green Hills, established by convicts and ex-convicts who found this good soil and settled without official approval. When Macquarie tidied up the river towns, Green Hills became Windsor, but the naming of the first settlers has survived along the river in less formal and more expressive terms: Halfmoon Reach, One Tree Reach and Foul Weather Reach. Public farming under direct government control with convict labour did not last long, but the government's control of these lands meant that they survived and were turned to other public uses. Castle Hill farm had a convict barracks before Sydney; when the farm closed it became a church; when the church was demolished the stone went into a Gothic parsonage, which survives. In recent times, there has been greater concern with 'heritage', but this often means only that the houses of the rich, shorn of their outbuildings and workers' huts, get preserved. By her eloquent evocations, Karskens wants to remind us of much more.
---
Sign in
to continue reading this article.Not a subscriber?
Subscribe
to
ABR
for as little as $10 per month. If you need assistance, feel free to
contact us
.