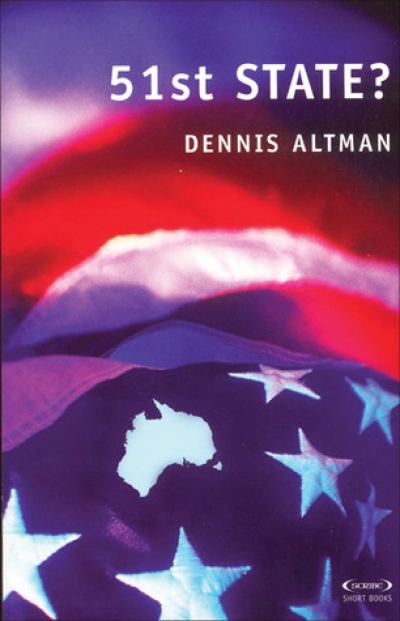 51st State?
by Dennis Altman
Scribe, $22 pb, 137 pp
Politics
51st State?
by Dennis Altman
That quintessential Australian–American, Rupert Murdoch, recently counselled Australians against 'the facile, reflexive, unthinking anti-Americanism that has gripped much of Europe'. While I confess to a certain Schadenfreude when the chief propagandist for the second Iraqi war, which has contributed mightily to that European alienation, seeks to come to grips with the war's consequences, I think it unlikely that Australia will go down the European path. For Australians, the American relationship looms much larger than it does for Europeans. As Dennis Altman shows in his elegant and argumentative essay 51st State?, the relationship is deep-rooted in our history, psyche, and culture. We were, after all, one by-product of the American War of Independence. For him, the danger is not so much anti-Americanism but that, in 'a world dominated by the American imaginary', we, like Rupert's News Corporation, might lose our national identity.

To continue reading, sign in or subscribe to ABR.Subscriptions start from as little as $10 per month. If you need assistance, feel free to contact us.