Facts and Other Lies: Welcome to the disinformation age by Ed Coper
Allen & Unwin, $32.99 pb, 400 pp
Politics
Irreversibly complicated
Explaining the 'information ecosystem'
On 9 March 2022, Russian forces at war in Ukraine bombed a maternity hospital in the city of Mariupol, killing three and injuring seventeen. In a confused response to international condemnation, Russia denied responsibility, designating these denunciations 'information terrorism' and 'fake news'.
Russia does not accept that its military incursion into Ukraine is a war. The West, according to Russia, is operating a coordinated economic and information war against it. Facing this scourge of 'disinformation', Russia amends its law, criminalising 'fake news' about the war in Ukraine under penalty of up to fifteen years in prison. On 3 March, Russia commenced mandatory national lessons for schoolchildren, teaching them to distinguish between true, Russian news, and fake news. The line between disinformation and fact is blurred.
Continue reading for only $2.50 per week. Subscribe and gain full access to Australian Book Review. Already a subscriber? Sign in. If you need assistance, feel free to contact us.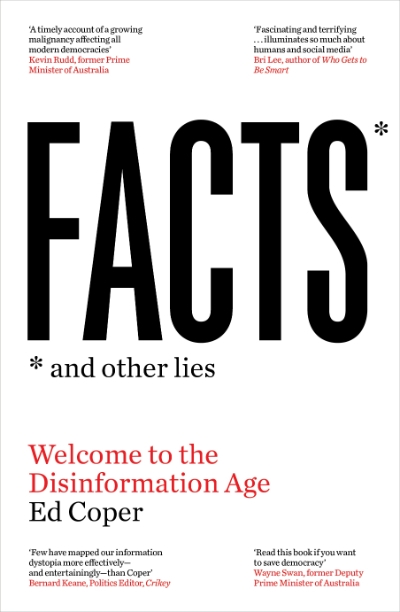 Facts and Other Lies: Welcome to the disinformation age
by Ed Coper
Allen & Unwin, $32.99 pb, 400 pp