Fiction
The Easy Way Out
by Steven Amsterdam
For a novel about death – assisted dying, more specifically – The Easy Way Out is incredibly funny. Steven Amsterdam has a wry sense of humour, which is always at work throughout the book, and his sardonic narrator, Evan, is perfectly pitched to offset the darkness of, and the discomfort around, the novel's subject matter.
The book opens at the bedside of a 'builder who didn't believe in sunscreen' and is now riddled with melanoma. This man has decided to end his life using the newly introduced 'Measure 961', which has legalised the use of the euthanasia drug Nembutal for patients with incurable and terminal illnesses. It is Evan's job to assist this man, and Amsterdam outlines the process, and its bureaucratic checks and balances, in great detail. And yet, after the shock of this procedure – and Evan's almost farcical bungling – Evan walks outside and observes his surroundings, noting a 'summer heat' that 'wraps both its legs around me and begins to hump', and healthy women pushing prams who are 'flushed, not from the weather, but from their own successfully executed hormonal purpose'. These kinds of disjunctions, between Evan's theatrical and droll descriptions of his world, and his emotional and ethical wrangling with the work that he does in the aptly named Mercy Hospital, are the main energetic forces operating in The Easy Way Out, and also what make it such a striking and unsettling book.
Evan is a new recruit to the assisted dying program at the hospital, but he is no stranger to death or degenerative disease: his depressive father died in a car wreck when Evan was young, and his mother, Viv, has Parkinson's disease. Evan has moved cities in order to be close to Viv, who currently lives, grudgingly, in the nursing home directly across the road from the Mercy. An experimental treatment gives Viv a new – if inevitably temporary – lease on life, and her new-found energy and imperiousness wreak havoc on Evan's tightly controlled, emotionally distant life.
Amsterdam has a deft hand with dialogue, and Viv's voice in particular – cheeky but mannered, occasionally grandiose – is delightful and charming. This is a skilful move: the reader can't help but be invested, both in the complex relationship between Evan and Viv, and in Viv herself, who is heading towards a death that will likely be both wretched and protracted. It is with Viv's imminent death always in the background that Evan begins to encounter the moral and ethical ambiguities of his work.
In a sense, Evan is always aware of these ambiguities. He does not tell his closest friends (and occasional lovers) Lon and Simon the details of his job, saying only that he is working on a research project into suicidality. 'Even that shocked Simon,' Evan narrates, 'who couldn't imagine regularly talking to the suicidal (and he designs open-plan offices).' He makes mistakes and is criticised for his 'heightened empathy' and 'need for control'; eventually, he leaves the hospital program to moonlight for a shadowy and dubious organisation, Jasper's Way, which assists people who are not eligible for Measure 961 to end their lives. The conditions from which these people are suffering, and the reasons they wish to die, are varied and more ambiguous than the cases Evan sees at the hospital; there is also an exchange of money involved. These cases allow Amsterdam to explore a number of different sides to, and a range of implications of, the euthanasia debate, and to do so without moralising, or even offering a clear standpoint or opinion on the matter. This refusal to take sides is evident in the different ways that the patients Evan encounters use the phrase 'the easy way out': for some of them, assisted dying is the easier option; for others, waiting for a natural death seems less difficult than choosing to end their lives more quickly. For Evan, who must balance both Viv's wishes for a dignified death with his own emotional and practical needs, the distinction is not so clear.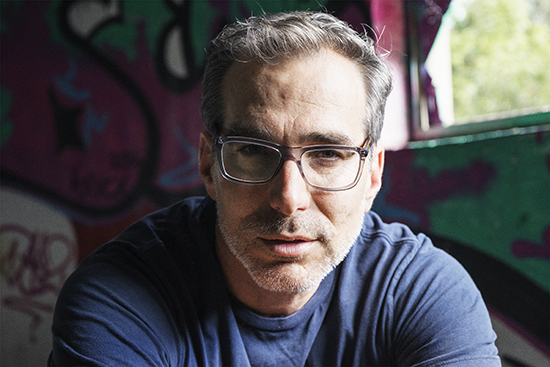 Steven Amsterdam
The Easy Way Out is an highly empathetic novel, especially in its descriptions of family relationships, and the unconventional but caring relationship between Evan, Simon, and Lon. Some of Amsterdam's descriptions of the sick and dying are startling in their intimacy. One woman is described as having tumours like 'bits of fried bread' on her torso and limbs; another patient has 'post-chemo chicken fuzz' for hair. Amsterdam's insight here perhaps stems from his work as a palliative care nurse, but this blending of tenderness and arresting or surprising detail is also one of the strengths of his writing as a whole – it is evident in the fraught relationships barely holding together in the post-apocalyptic world of Things We Didn't See Coming (2009), as well as in the interactions between the members of the family – all with superpowers – whose stories make up What the Family Needed (2011).
The Easy Way Out is a finely poised book that deals with a difficult – and also critically important – subject matter with remarkable tenderness, humour, and nuance. It is constantly surprising, and very often confronting; but it is also a story about love and about living properly, notwithstanding Evan's knowledge, from an age, that 'death wins. Every single game.'