Music
Maxim Vengerov (Musica Viva)
In a program spanning two hundred years of violin playing – from Bach to Ravel via Beethoven, Ernst, Paganini, and Ysaÿe, with encores by Brahms and Massenet – Maxim Vengerov enthralled his Melbourne audience with incomparable musicianship and an often dazzling technique. Demonstrating his command of the repertoire with an engaging program, he played with stylistic appropriateness that showed he was equally at home in the baroque or classical as in the romantic – much of it in the virtuosic stratosphere – and the twentieth century.
Arts Update was present at Vengerov's sensational Melbourne début in October 1999. The Russian violinist was twenty-five at the time, but had already been performing for more than a decade. Vengerov went on his first international tour at the age of ten and won the International Carl Fleisch Competition in 1990. Much has happened to Vengerov since 1999. A professional crise and a serious shoulder injury, due to weight lifting, prompted his withdrawal from performances and a focus on conducting. Five years later he returned to the stage.
Bach's Chaconne from the D minor partita, which opened the program, was performed with elegance and space, allowing this majestic utterance to speak directly and to unfold logically in an interpretation that avoided excesses. Vengerov's ex-Kreutzer Stradivari filled Hamer Hall with a rich bloom. Vengerov then played Beethoven's Violin sonata no. 7, as he did in 1999. This sonata, from 1801–02, is typical of of Beethoven's piano sonatas of the same period, with grand passages more characteristic of a concerto.
The second half was devoted to works from the nineteenth and twentieth centuries. Apart from Ravel's Sonata no. 2, with its bluesy second movement, it celebrated the great violinist –composers. Eugène Ysaÿe's 1923 Sonata no. 6 for solo violin, a homage to Bach, was followed by two works of pyrotechnics. Heinrich Wilhelm Ernst's extraordinarily difficult 1864 Etude no. 6 (The Last Rose of Summer), for solo violin, explores every conceivable technical challenge. Vengerov is no stranger to this showpiece, having recorded it when he was only twelve.
Niccolò Paganini's sweet Cantabile op. 17 in D major formed a lyrical introduction to the I Palpiti variations, arranged by Kreisler. Vengerov managed to give works that could descend into mere technical wizardly real musicality; he produced some extraordinarily beautiful sounds. In one of the Paganini variations, entirely played on harmonics, the violin seemed to produce the enigmatic sound of the glass harmonica.
'Maxim Vengerov enthralled his Melbourne audience with incomparable musicianship and an often dazzling technique'
In 1999 Vengerov was accompanied by Vag Papian. This time it was Roustem Saitkoulov, making his Melbourne début. A compatriot of the violinist, Roustem has an international career as a recital artist and performs regularly with Vengerov. It was clear from the perfect rapport between soloist and accompanist that this is one of the great performing duos, with both artists on stage as equals. Like Vengerov, Roustem adapts his performing style to the period of the composer. He negotiated the most fiendish passages without apparent difficulty or a false note or ungainly sound. Let us hope he returns to Australia soon as a recital artist.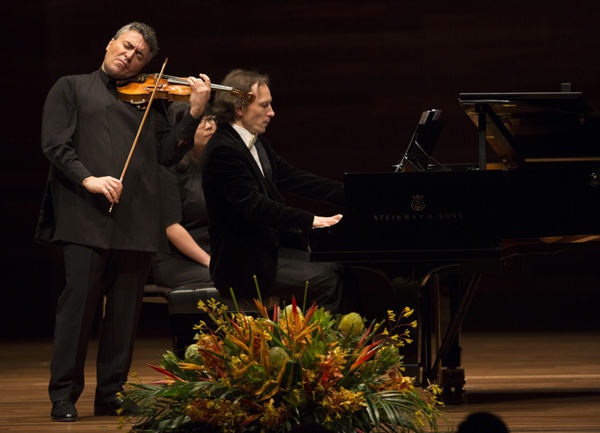 Maxim Vengerov and Roustem Saitkoulov (photograph by Fiona Hamilton)
This concert marked Musica Viva's seventieth birthday: not often has 'Happy Birthday' been performed by such musicians in a Melbourne recital. Dexterous aficionados pelted the performers with streamers, then a huge sack of red and white balloons let loose from the ceiling descended on the stalls. Vengerov gave us three encores, including two Hungarian dances by Brahms and the Meditation from Massenet's opera, Thaïs, which stilled the excited audience. His charming address to the audience stressed the importance of music education among the disadvantaged and the young.
Maxim Vengerov and Roustem Saitkoulov performed in Hamer Hall, Arts Centre Melbourne after similar recitals in Adelaide, Brisbane, and Perth. This Musica Viva concert will be repeated in Sydney on 10 December 2015.
Arts Update is generously supported by The Ian Potter Foundation.