Many good books are published about Australian art, but few change the way we see and understand it. When Andrew Sayers' ​Aboriginal Artists of the Nineteenth Century appeared in August 1994, it immediately did that, as the critic Bruce James was quick to recognise. In his arts round-up for the year, published in The Age, James observed that 'a whole new field was created at a stroke' by Sayers' book. A little over twenty years later, its impact reverberates through general histories of Australian art, museum displays and exhibitions, and artistic practice. Unusually for Australian art history, the effects of this book have also been deeply personal. A careful, considered, study of drawings, rich in ideas, information and images, Aboriginal Artists retains its freshness and power.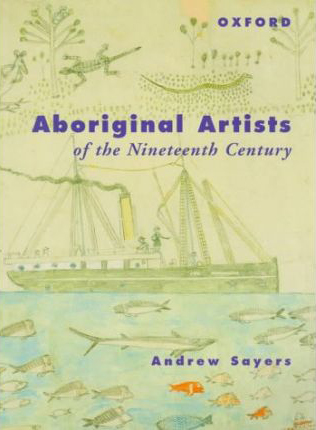 Aboriginal Artists of the Nineteenth Century, Oxford University Press, 1997
When Sayers began his research in the wake of Drawing in Australia, his bicentennial book and exhibition at the National Gallery of Australia, two nineteenth-century Aboriginal artists, William Barak and Tommy McRae, had featured in local, national and international exhibitions and been subjects of significant writing. Much remained unknown and unexplored, as Carol Cooper observed in the catalogue of the landmark 1981 exhibition Aboriginal Australia. Having given Barak and McRae more attention than ever before, Cooper concluded: 'It is a sad comment that these two figures from the nineteenth century, with their slim portfolio of drawings, still remain as the only recognised individual Aboriginal artists of southeast Australia.'
Sayers took up this implicit challenge in Aboriginal Artists, where he revealed that the 'portfolios' of Barak and McRae were much more substantial, diverse, and interesting than previously recognized. He also introduced Mickey of Ulladulla as a third major nineteenth-century Aboriginal artist, and underlined Mickey's new status by putting one of his drawings on the book jacket. Not least, Sayers uncovered many other nineteenth-century Aboriginal artists and, in doing so, revealed an art form almost national in scope, found not just in the continental south-east but in Queensland and the Northern Territory and Tasmania; everywhere except for Western Australia.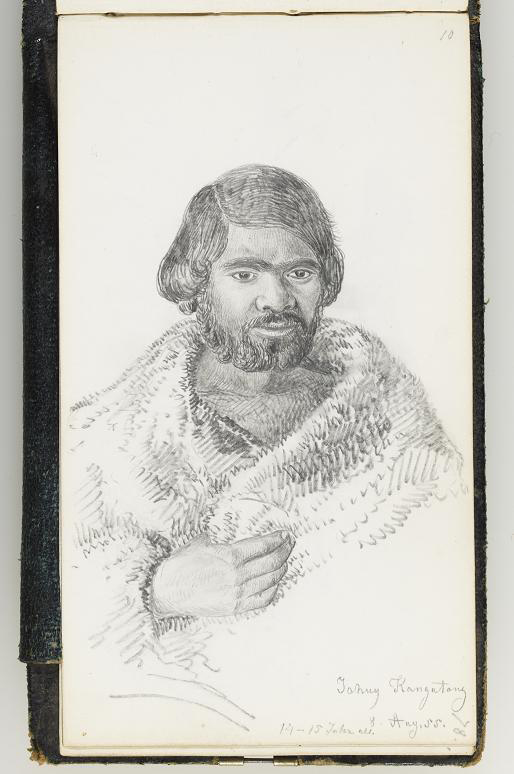 Johny the Artiste Kongatong – 8 Aug 55 (Aborigine) by Eugene von Guerard ((Ref: DGB 16/v. 3/f.77) Dixson Galleries, State Library of New South Wales)

The book opens in spectacular fashion with a pair of portraits – Eugene von Guérard's sketch of an Aboriginal man he knew as Black Johnny, and Johnny's coloured pencil drawing of the Austrian-born artist. Sayers covers the back-story; von Guérard met Johnny in 1855 during his visit to the Western District property of James Dawson, a squatter renowned for his empathetic relations with Aboriginal people and deep interest in their cultural life. Their meeting led von Guérard to invite Johnny to use his drawing materials. Whereas von Guérard usually drew his Aboriginal subjects just once, he made two portraits of Johnny, whom he identified not as a stockman, which was how Dawson employed Johnny, but as a fellow 'Artiste'.
Through this interaction in pencil, Sayers takes us into a realm not only of pictures newly discovered and brought to light, but also of cross-cultural relationships that radiate outwards from the page. The world of Aboriginal Artists is not a segregated sphere of Aboriginal cultural production, but rather the fraught, entangled, uneven ground of colonial Australia. Sayers reveals drawing to be a compelling medium through which to explore the specificity of such circumstances. Drawings, Sayers insists, mark a moment of intimacy between an artist who draws and a subject drawn – these men, at this place, at this time.
If Sayers treats Aboriginal drawings as a prism through which to explore responses to the brutality of the settler-colonial order, he does so with an eye firmly fixed on creative response. 'Each of these men's life histories was marked by enormous and devastating cultural upheaval,' he writes of Barak, Tommy McCrae, and Mickey of Ulladulla. Yet amid this upheaval, they and other Aboriginal artists were able to find a new space of creativity, an important element of which was their resistance to the coerciveness of European society.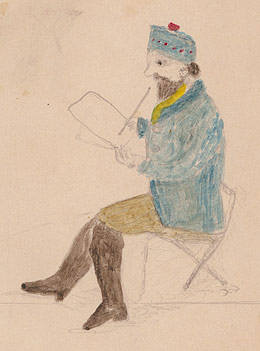 Portrait of von Guerard sketching, 1855 by Black Johnny (Mitchell Library, State Library of New South Wales)
Significantly, in the cross-cultural interchange between Johnny and von Guérard, 'resistance' takes on distinctly intimate and humanist qualities, as each artist attempts to get the measure of the other man. In their attempts to do so, they reveal the cultural frames that shape their attention. A sympathetic European eye sees masculine Aboriginal pride and dignity and distils it in the medium of the portrait. An Aboriginal eye is attentive to the phenomenon of the European artist who, dressed with flair, sits at work on a chair, drawing tool in one hand, paper in the other.
In framing the production of pictures through this prism of cross-cultural encounter, Sayers adopts a mode of attention and questioning which continues to agitate at the heart of Australian identity and the idea of an Australian art. He reveals the diverse and complex circumstances in which drawings were made and exchanged. Crucially, his attention to this interactional context makes clear that, while Aboriginal people were subjected to the colonial gaze or White on Black, as Geoffrey Dutton dubbed it, they returned this gaze with intensity and insight. While Black Johnny did so already in the 1850s, Tommy McRae did so most remarkably in drawings from the 1880s and 1890s of the 'Wild Man', William Buckley. Where White on Black involved European artists documenting, celebrating and lampooning Australian Aborigines in many different ways, McRae responded in his wry, sardonic style. Sayers reveals him as the first great proponent of a new genre, Black on White.
William Barak - age 33 Yarra Yarra Tribe (photograph by Carl Walter, State Library of Victoria, via Wikimedia Commons)
Approaching these works as intimate Aboriginal perspectives on turbulent and world changing circumstances, Sayers conceives drawing as something much richer and more complex than a medium of production. Drawing is inextricably entangled in daily life; a way to communicate, remember, celebrate, challenge, make money.Just as we may marvel at the delicacy, beauty, and liveliness with which artists such as Barak, Tommy McRae, and Mickey of Ulladulla made their pictures, we are also drawn to these pictures as conduits to the lives and times in which they were made. For all that Aboriginal Artists of the Nineteenth Century brings to light previously unseen pictures, it also introduces a method, as well as an ethics and politics, of seeing.
Its approach was in part museological. More than that, it was particularly Canberran – a product of the National Gallery of Australia, where Sayers was Curator of Australian Drawings. More than ever before in Australia, cataloguing was given special attention at the Gallery in the 1980s and 1990s, recognised as a fundamental curatorial and institutional responsibility, undertaken at significant cost, involving not just staff time and salaries and travel but funding of many of the consequent publications. The Gallery's director, James Mollison, was a catalyst: he appreciated cataloguing from his own work on the prints of Fred Williams, published in 1968. Daniel Thomas, the Gallery's first Senior Curator of Australian Art was even more influential: his recognition of the importance of cataloguing is patent in much of his work at the Art Gallery of New South Wales in the 1970s.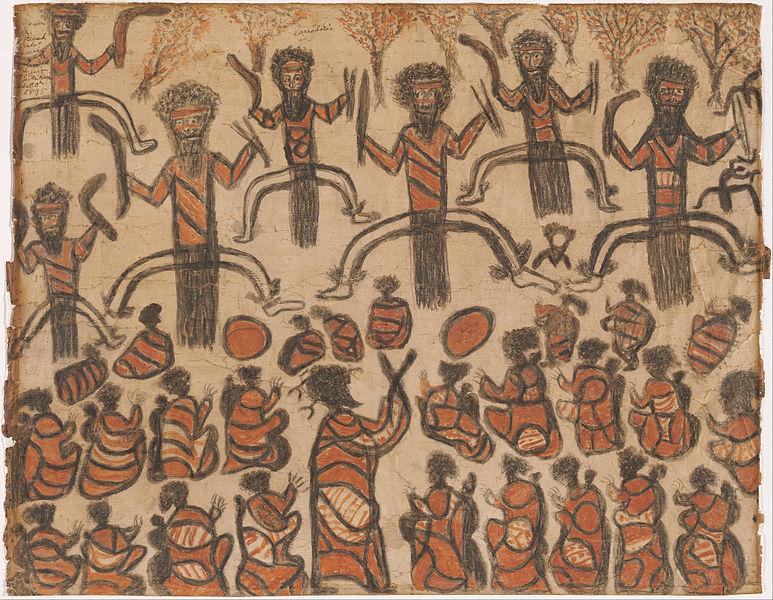 Corroboree by William Barak, 1895
(via Wikimedia Commons)
Thomas perhaps best articulated the methodology and philosophy behind this cataloguing in Australian Book Review in April 2009 as part of an exchange with Patrick McCaughey. Thomas wrote: 'I was originally a collection curator, and I confess the habits persist; I still prefer to discover new ideas within particular works of art after scrutiny and research, not to impose general ideas upon them from outside.' While cataloguing is not an inherent good – a vast amount of effort may be devoted to discovering new material which does little to change our understanding of an individual artist or a field – it may also be transformative, as was the case with Aboriginal Artists, which included every nineteenth-century Aboriginal drawing that Sayers could locate.
Their number was a shock to Sayers himself and everyone else. Despite counting sketchbooks as single works, Sayers listed more than 200 items spread across sixteen public collections and a myriad of private collections in Australia, as well as two public collections in Germany, two in Britain, one in France, and one in Switzerland. The locating and careful recording of these works, a significant labour, especially pre-Internet, provided the backbone of the argument and architecture of his book. It was the fundamental research which refuted common assumptions regarding the apparently small number of Aboriginal drawings in existence and provided a new basis for understanding nineteenth-century Aboriginal and Australian art and Australian culture more generally.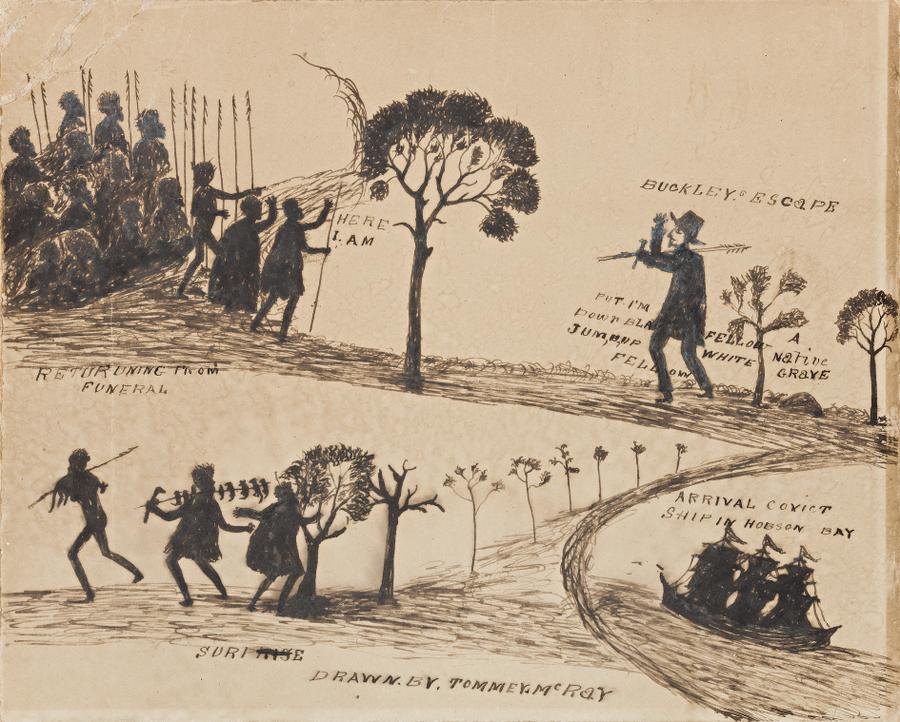 Buckley's Escape by Tommy McRae
(via Wikimedia Commons)
Yet Sayers' approach was not just museological or art historical – his original area of study – but also anthropological. The idea that drawing might be grasped as a space of interaction was inspired by a wider shift occurring in cross-cultural research, evident in the writing of scholars such as Nicholas Thomas whose own object-based archival studies offered up finely honed understandings of the complexities at work in colonial situations. Concurrently, the visual culture that made such situations visible was newly considered. Once dismissed as a kind of assimilation art or corrupted culture, picture making influenced by European ways of seeing, such as the art of Namatjira and the Hermannsburg watercolourists, was re-evaluated.
Over the last twenty years, Aboriginal Artists has changed the way in which general accounts of Australian art are written, ensuring that what had otherwise been thought of as 'colonial art' included Aboriginal artists. The book's impact has also been manifest in the only substantial survey exhibition, the Australia show at the Royal Academy in London in 2013. Not least, the mark of Aboriginal Artists is evident on the walls of Australian cultural institutions, in a way in which Sayers did not altogether expect. He thought that, because of their rarity and fragility, nineteenth-century Aboriginal drawings would rarely be on public display. Yet because of the emergence, heightened appreciation and public acquisition of more drawings, these pictures are now on show more often than ever.
'In framing the production of pictures through this prism of cross-cultural encounter, Sayers adopts a mode of attention and questioning which continues to agitate at the heart of Australian identity and the idea of an Australian art'
Institutions which had none – such as the Art Gallery of South Australia and the Queensland Art Gallery – have made acquisitions. The National Library has discovered more in its collection by Billy Jones, a previously unknown artist, and put them on display. Tommy McRae and Barak, sometimes also with Mickey of Ulladulla, have always been on display at the National Gallery of Australia since it opened its indigenous galleries in 2010 with a room devoted to Aboriginal prints and drawings. The National Gallery of Victoria has strengthened its holdings, most dramatically in 2001 when a drawing by Barak came up for auction and the Gallery, unusually, bought it pre-sale to ensure that, even allowing for the light sensitivity of these works, the NGV could always have at least one Barak on show.
The burgeoning interest of curators, scholars, and artists has also brought more recent collections of drawings to public attention, shedding light on how widespread the use of drawing continued to be as a medium of communication, intercultural exchange, and research. For anthropologists working across Aboriginal Australia in the early twentieth century, keen to obtain copies of pictures they had seen painted on the bodies of dancers and ritual objects at ceremonial events, soliciting drawings was common and the response often enthusiastic. Significant collections were assembled by Baldwin Spencer and Frank Gillen from the 1880s, Norman Tindale in the 1930s, Charles Mountford from the 1940s, Ronald and Catherine Berndt, Mervyn Meggitt and Nancy Munn through the 1950s.
Yet aside from Mountford, none of these anthropologists wrote in any significant way about the drawings they collected. In some cases drawings brought into focus aspects of Aboriginal life, especially post-colonial experience, that lay outside the research interests of anthropologists intent on documenting traditional culture. In most cases, drawings were collected and filed away in archives where they lay dormant for decades, only to be reappraised in the past few years, spurred partly by Sayers' book and the power of its accompanying exhibition. In 2013 the Art Gallery of New South Wales staged a major show of Yolngu drawings. In 2014–15 the National Museum of Australia staged a show of Warlpiri drawings, developed with Sayers's support as the museum's director.
The drawings which Sayers excavated have also found new significance in the work of contemporary Aboriginal artists such as The Barak Project, which the National Gallery of Victoria commissioned to mark its 150th anniversary. Vernon Ah Kee's Ideas of Barak is a poetic reflection, in charcoal and video, on the many meanings Barak has come to assume in the present, and on the limits of what can be known about a person so many decades removed in time and place. His full room multimedia installation includes a large charcoal drawing of the face of Barak, who looks out intensely to meet the eye of the observer. For Ah Kee, the medium of drawing was a crucial part of making Barak's acquaintance; his life, his character, his drawing making, as well as the life his image has come to assume in the public culture. Jonathan Jones's Transitions carries the drawn line across to the medium of electric light, making quiet, glowing traces of the past in the present.
The impact of Sayers' book has also been highly personal. For Aunty Joy Murphy Wandin, Barak's great-great-niece, Aboriginal Artists was transformative. Speaking at a symposium at the National Museum of Australia in September 2014 to celebrate the book's twentieth anniversary, Aunty Joy described how it gave her the 'never expected' opportunity to be 'able to speak about Barak and to be able to continue his journey', and 'another window to explore exactly where I've come from'. The 'gift' of Aboriginal Artists for her was 'being proud to speak her own language'.
A younger generation of Aboriginal people have also embraced the book. Addressing Sayers at the National Museum symposium, Jonathon Jones observed that, while never sure whom Sayers had imagined as his audience, 'I always thought you wrote it for me, which was great.'Jones recalled that, when he first encountered Aboriginal Artists as a university undergraduate, it felt like 'the first time that Koori art history, the history of my people, had actually been acknowledged and the important work of my ancestors had been so recognised. It was the first time I could see myself within a book and see where I'd come from.' As Jones lent the book to other community members, he had to keep on buying more copies, as it never came back, 'probably the best review of a book you can get'.
The legacy of Aboriginal Artists lies in this rich field of activity in which art historians, anthropologists, artists, curators, and members of Aboriginal communities bring their own investments, individually and collectively. It is a field whose activity shows little sign of slowing as drawings continue to be brought to light. What started for Andrew Sayers as an exercise in bringing attention to an overlooked genre of picture making has, by way of his example, become a vital space for exploring Australia's fraught settler-colonial identity. Aboriginal drawings, with their intimate intensity, continue to grip our attention through the infinite possibilities of the line.
Tim Bonyhady is Director of the Australian Centre for Environmental Law at the Australian National University. Melinda Hinkson is an Australian Research Council Future Fellow in anthropology at the Australian National University. They jointly organized the symposium at the National Museum of Australia in September 2014 celebrating Aboriginal Artists of the Nineteenth Century.
Andrew Sayers' exhibition of paintings, Nature Through the Glass of Time, is at Lauraine Diggins Fine Art from May 2 to June 27.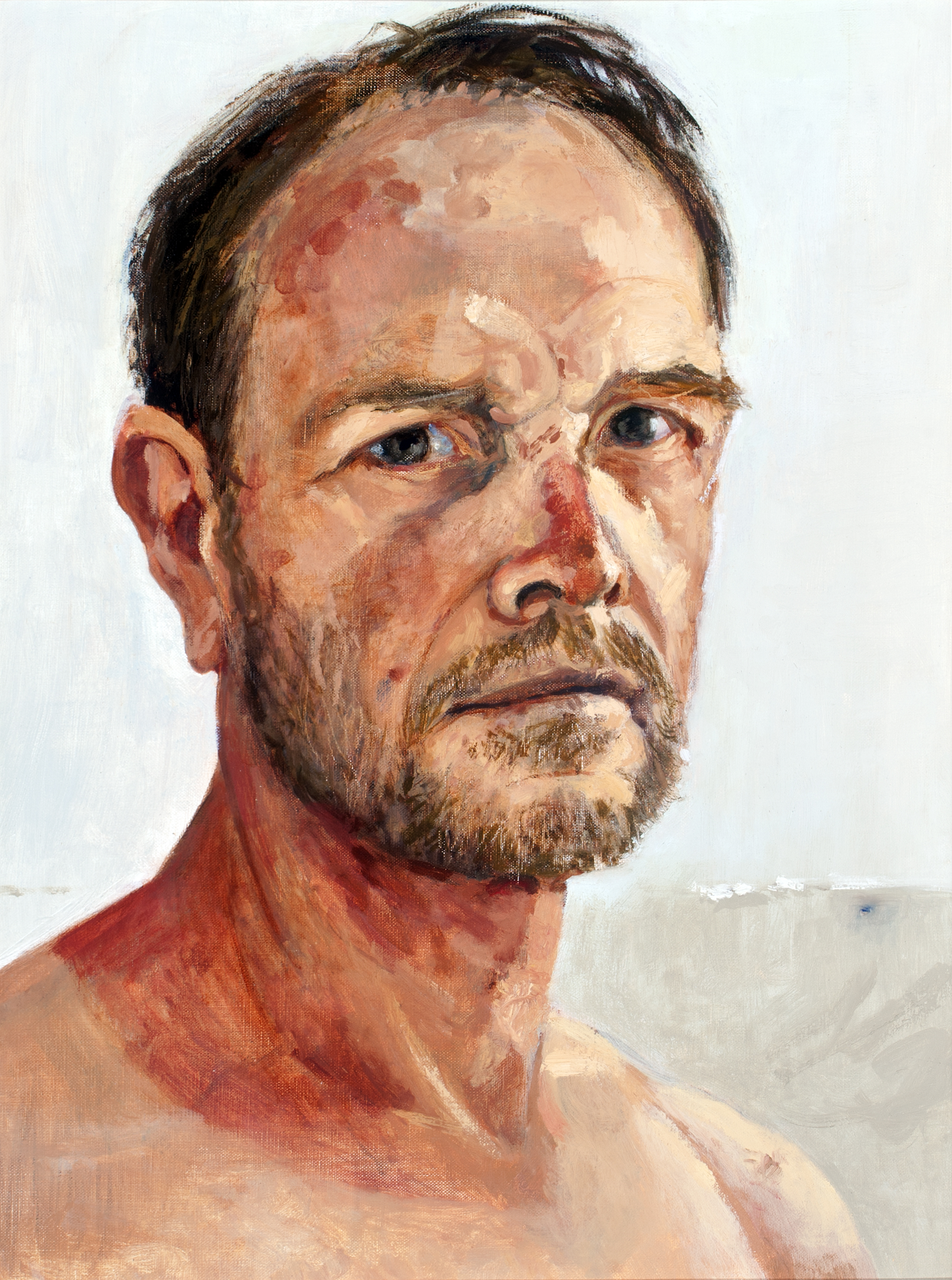 Self-Portrait with Sun Damage by Andrew Sayers, 2014 (Courtesy of the artist)