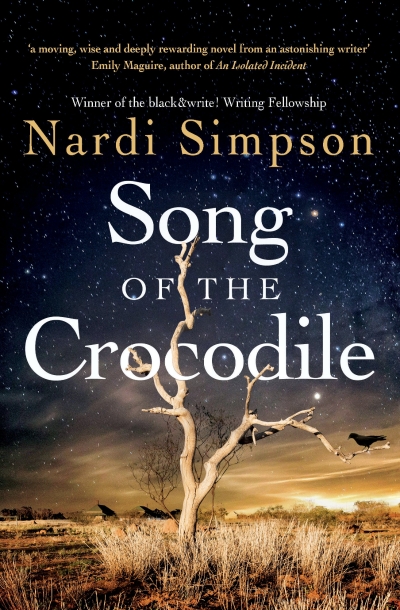 Song of the Crocodile
by Nardi Simpson
Hachette, $32.99 pb, 404 pp
Fiction
Cross over into Campgrounds
An original début by Nardi Simpson
When you begin to read a book about a remote town heralded by the sign 'Darnmoor, The Gateway to Happiness', you know it's not going to be a happy place. The opening chapter of Nardi Simpson's first novel describes a neat, drab town of streets with names like Grace and Hope. Under a vast cerulean sky, a whitewashed war memorial lies at its 'bleeding and dead centre'.
Outside town, a bush track leads past the rubbish tip to the banks of the Mangamanga River and to a hardscrabble settlement known as the Campgrounds. This is the home of the land's original inhabitants before the white settlers arrived. Darnmoor is a grim place of de facto apartheid, where Indigenous families eke out whatever humble living they can, under the heel of the respectable and resentful white folk who consider them nothing but a disgrace to their town.
Nardi Simpson is a Yuwaalaraay woman from the north-west New South Wales freshwater plains. She's already made her mark as a composer and playwright and as one half of the singing duo the Stiff Gins. A musician's sensibility to voice and rhythm enhances this engrossing lyrical tale, which won a black&write! Writing Fellowship in 2018.
Here's a highly original reworking of that old staple of fiction, the sweeping family saga. It follows the fortunes of four generations of the Billymil family – particularly the women – beginning somewhere around the middle of the twentieth century. Just as there are two versions of Darnmoor, there are also two versions of life. One is small, everyday, practical, pragmatic, and down to earth. The Billymils work, talk, and joke with one another in their own vernacular and in words of the Yuwaalaraay language; they squabble, fall in love, give birth, and die.
They are enterprising: they have to be. Celie and her daughter Mili start up their own laundry and mending business that becomes indispensable to the Darnmoor housewives, although none of their customers wants to admit it. 'Everything the town was built on was in fact due to the likes of them.'
Their minutely observed world is both prosaic and beautiful. Celie wanders along the riverbank past 'the hodgepodge collections of iron sheets, flattened tin, fire buckets and drums, timber beams, fence posts and lean-tos, flapping canvases, hessian bags and worn cotton sheets'. She breaks off a stem from a badha bush, 'thick with delicate white blooms, the bells of which hinted pink in the morning light … this was her mother's favourite'.
The other version of life is vast, soaring: a world beyond death, up on the crystal stars where the ancestors and recently deceased folk watch over the loved ones they have left behind. Here, Simpson's imagination takes off. She creates a mind-boggling universe of gigantic beings cooking mussels on campfires; amalgams of animal, human, and star; singers who learn ancient lore and perform urgent ceremony to defeat the evil that lurks in Darnmoor. These bizarre creatures, too, are down to earth and full of humour.
Hold on. Perhaps 'creates' and 'imagination' are the wrong words to use here. The non-Indigenous reviewer must tread carefully. I'm mindful of a recent Kill Your Darlings essay by Lisa Fuller, who wrote that even positive reviews of her first novel, Ghost Bird (2019), showed a lack of awareness of her beliefs, treating them as myths and legends. As she points out, we don't talk about the 'Jesus myth' or the 'Buddha legend'. So I'll refrain from talking about myth, legend, or magic realism.
What can be said with certainty, however, is that Darnmoor is a rotten, hollow town founded on a pernicious myth, and it's up to the reader to decide if this makes it a microcosm of colonial Australia. There's the proud pioneer story of 'discovering' their beautiful part of the river floodplain; a historic massacre that is never acknowledged; a belief in progress so adamant and one-eyed that the settlers will blithely build a levee to protect only their own folk against flood; constant petty injustices; and a secret crime that admits evil into the heart of the Billymil family.
Tension builds to a high pitch in the second half of the novel as Paddy, the somewhat prodigal son, struggles with his anger and alienation. He seems destined to commit some violent act, while the malevolent monster crocodile Garriya, curled under the earth around the base of the war memorial, awakens from its long slumber.
Simpson doesn't go out of her way to explain cultural references to a non-Indigenous audience, and many of the language words go untranslated. Yet a reader ungrounded in Yuwaalaraay culture will trust in this epic story rather than in the false pioneer myth, because the author has succeeded in weaving together the living and the beyond-the-living worlds. I can't lay claim to understanding it all, but I feel the connections.
For all the evil and hatred unleashed over the decades, there is a solid balance of love and hope and caring for one's family and one's people. I particularly cherish the abundance of tenderness shared between the Billymils, which no amount of oppression and cruelty can destroy. But there's something handed down through the generations that's more important than love and respect, which are just 'whitefulla words' for what's already built into everything they do. Wil tries to explain the importance of dhuwi to his son Paddy. It's 'somethin like ya spirit … When it's woken, it helps ya to be ya very best … Connectedness makes dhuwi strong … Your dhuwi will show you the person you are meant to be.'
This is one of many valuable and sometimes enthralling cross-cultural moments. Maybe we could all do with a bit of dhuwi.
Supporting Australian writers and readers
Australian Book Review – now sixty years old – stands for independent, reasoned journalism. Never has it been more important. Help us to support Australian writers by making a tax-deductible donation. ABR Patrons sustain and enhance this unique critical resource.

DONATEBECOME A PATRON