Writers describing the contemporary moment abound. Many do it well, but few do it as shrewdly as Jia Tolentino. With Trick Mirror: Reflections on self-delusion, Tolentino has produced a début collection of essays so insightful and moving that it appears to exist in a genre separate to so much perpetually circulated personal and political writing, the surfeit of which seems to define our era.
Since joining the New Yorker as a staff writer in 2016, Tolentino has produced a variety of spectacular and important journalism about both the gravely serious (including some of the most formidable analysis of Bill Cosby's trial and the Harvey Weinstein case) and the ostensibly frivolous (Tolentino, the pre-eminent documenter of Twitter culture, identifies where it is literary and where it is dangerous; in 2018 she also wrote an extraordinary investigation into the rise of vaping in US schools). In Trick Mirror, Tolentino expands her method and style, developing what amounts to a meditation on the consolations of a culture in which people (particularly women) are made to feel complicit in their own degradation.
The subtitle elegantly captures the thrumming engine of this book, a lightly ironised recognition that reflecting on self-delusion offers no guaranteed cure. In fact, it is often the process by which delusion is hardened and extended. Tolentino knows that as we continue to record ourselves, share ourselves, consume one another's identities, we risk losing our capacity for productive self-critique. Each essay is, in some way, concerned with themes that heighten the appeal of self-delusion: the internet, performance, faith, America, feminism, capitalism. Where others would look to gratify the reader by preaching dark generalisations or by mapping out happy escapes, Tolentino models a perceptive equivocation, navigating and confronting the tension between how narrative can both clarify and obscure, framing new and lucid ways of seeing or distorting reality for the sake of a nourishing tale. During the introduction, in a typically self-aware gesture, she describes the book as 'an even more elaborate mechanism to continue misdirecting myself from the truth'. Trick Mirror's quality is largely a product of Tolentino's skill in diagnosing without generalising, revealing that the aetiologies of our various cultural malaise are far more complex than we like to assume.
It would be reductive to call Trick Mirror a collection of personal essays. Tolentino is by far the most prominent recurring character, but even the stories in which she is the protagonist – including an account of her stint as a sixteen-year-old reality TV contestant on the dubiously titled Girls v. Boys: Puerto Rico, and the collection's lovely final essay examining her personal resistance to marriage – are those in which the author's personhood neatly conveys how the cultural systems being examined ultimately assert their power at an individual level; how a person comes to self-police.
The prose is warm and sometimes sharply funny, with no trace of the vernacular corniness that many American essayists seem to consider a prerequisite to intimacy. When the author's insecurities are disclosed, they do not read as sentimental currency traded for readerly feeling, but as genuine revelations. 'I still can't tell,' she writes, in an essay about religion and MDMA, 'whether my inclination toward ecstasy is a sign that I still believe in God, after all of this, or if it was only because of the ecstatic tendency that I ever believed at all.'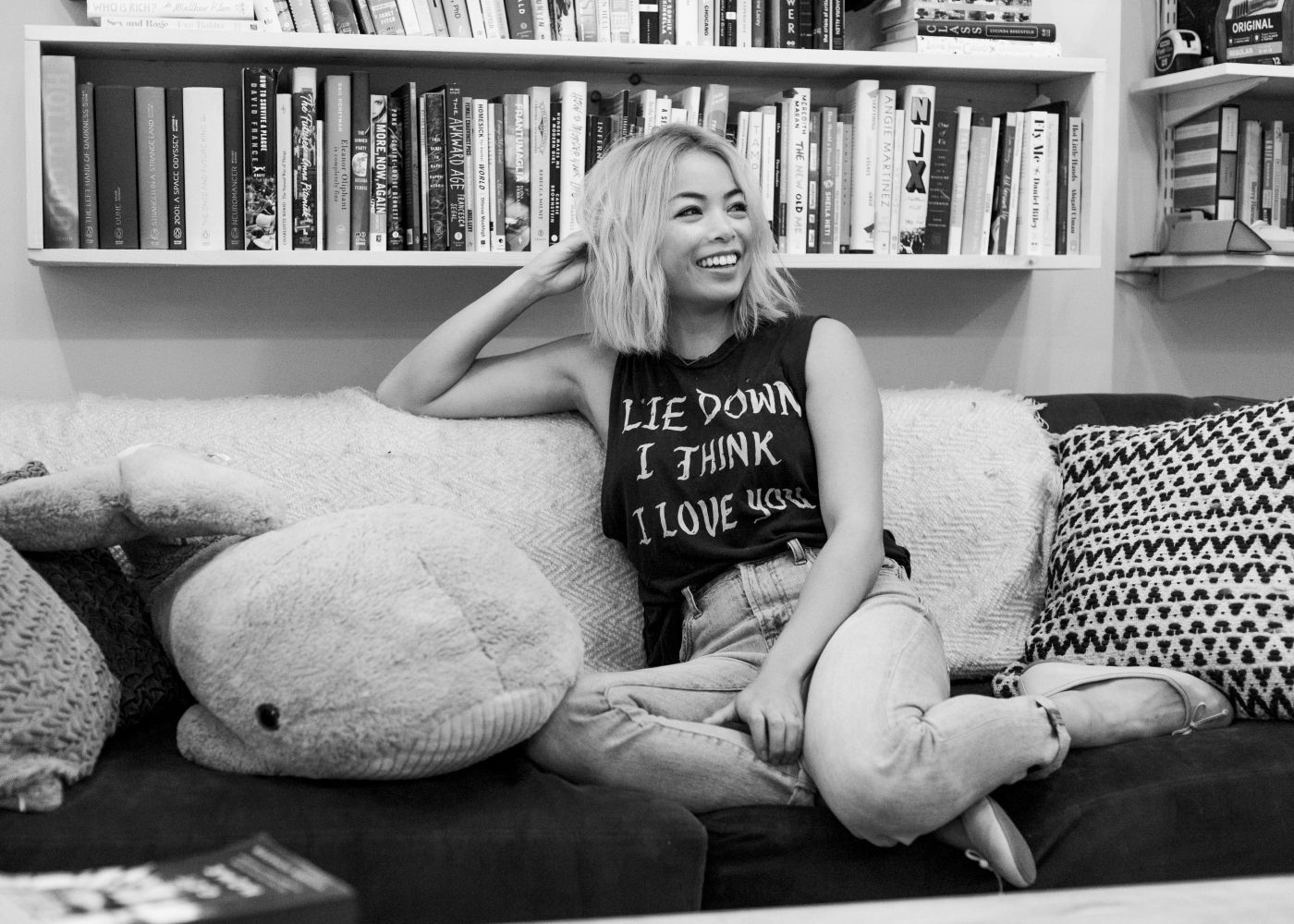 Jia Tolentino (photograph by Elena Mudd via author's website)
Tolentino is especially adept at deploying the understated, gut-churning phrase. 'Nothing today ever de-escalates' and 'porn and modelling are the only careers in which women regularly outearn men' appear within paragraphs of each other in 'Always be Optimizing', an inquiry into athleisure, exercise, and the commodification of bodies. 'Athleisure,' she tells us later, 'is reliably comfortable and supportive in a world that is not.'
Every essay in the collection is good, but the best, 'We Come from Old Virginia', is a masterpiece of the form. It begins by describing the context of and fallout from the infamous 2014 Rolling Stone feature 'A Rape on Campus', an account of a fraternity-house gang rape at the University of Virginia (Tolentino's alma mater) that was discredited shortly after its publication. As Tolentino's essay unspools, it becomes much more, deliberately and ferociously demonstrating how collective historical amnesia and wilful blindness permit the endless repetition of male sexual violence against women. It's a searing piece of writing that shows how 'Women's bodies have always been test sites upon which governing hierarchies are broken down and reiterated.' Rape is not exceptional and cannot be treated as an anomaly, Tolentino writes. 'And there is no way to make that into a satisfying story.'
The essays in Trick Mirror are united by a conviction that whatever makes a story accurate rarely makes it satisfying. In dispensing with the pleasure of the neatly tied bow, Tolentino finds something more invigorating: an understanding that not knowing does not have to mean abandoning ethical commitments. In the opening essay – about how the internet rewards opinion as an end in itself – she wonders what can be done about the fact that she benefits from some of the internet's worst features, admitting that her 'career is possible in large part because of the way the internet collapses identity, opinion, and action', and that as a writer who often depends on the first person, she has 'some inherent stake in justifying the dubious practice of spending all day trying to figure out what you think'. The clarity of the reflection is justification enough.