Poetry
Cassandra Atherton reviews 'The Hazards' by Sarah Holland-Batt, 'Conversations I've Never Had' by Caitlin Maling, 'Here Be Dragons' by Dennis Greene, and 'The Guardians' by Lucy Dougan
Contemporary Australian poetry has a complex and ever-evolving relationship with the land, both at home and abroad. Almost twenty-five years post-Mabo and entrenched in ongoing ecological crises, Australian poets explore new ways of experiencing and defining place. Where misguided nationalism sought to limit Australian poets to their local landscapes, peripatetic poets have embraced transnational and intimate responses to questions of home. Space in Australian poetry prioritises both dwelling and travelling as intimate psychological activities, a concept that these four poets embrace in their recent publications.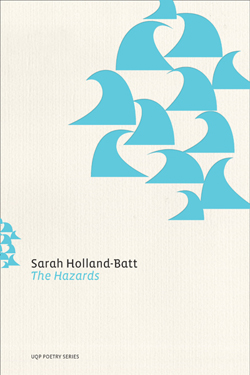 Sarah Holland-Batt's second book of poetry, The Hazards (University of Queensland Press, $24.95 pb, 112 pp, 9780702253591), is a thrilling psycho-geographical evocation of physical and internal landscapes. It brims with the threat of annihilation and the promise of home. In poems that range in location from her birthplace of Queensland to Nicaragua, Rome, Cuba, and beyond, Holland-Batt demonstrates what it is to be both insider and outsider.
In her ode to California, published in The New Yorker earlier this year, beauty and ugliness cohabit in an explosion of wit in the face of mortality:
I want to ride the long smooth tan body
of California, I want to eat the bear of the flag
of California, I want to roll like a corpse off the highway
of your chase scenes, I want my perfect teeth
preserved, California, my teeth buried
in the earth like a curse, California, and won't you show me
where the bodies are kept, California,
won't you show me, show me, show me.
In Holland-Batt's poems, the drive is always towards death. Home is safe, but death resides in even the most intimate of lived spaces:
When Grandad died, the wonky shack
grew wild, and creepers curtained over.
Through walls thin and threadbare
I heard them hissing, the cold wet tendrils
that cold strangle, and grew on air:
teatree, tangle root, tongue.
('The Orchid House')
Holland-Batt's stark and sumptuous lyricism is indelible. Her coruscating and percussive landscapes draw the reader into the danger and sublimity of living.
Continue reading for only $10 per month. Subscribe and gain full access to Australian Book Review. Already a subscriber? Sign in. If you need assistance, feel free to contact us.