Fiction
The Empress Lover
by Linda Jaivin
There is probably a subtle, composite word in Mandarin for it: the mixed elation and outrage of finding that something – a book, an artist, a secret holiday destination – which you privately cherished for its obscurity has been discovered by someone else. There must be a word for the chagrin attached to recognising that the intruder has possessed it more thoroughly; knew it first; has broken the unspoken pact and told everyone. If there is such a word, Linda Jaivin, sinologist and translator, will know it, and so would the McGuffin of her seventh novel, The Empress Lover. Sir Edmund Trelawny Backhouse, who was also a sinologist and translator, has been a personal joy of this reviewer's household: gentleman, scholar, baronet, adventurer, linguist, flamboyant aesthete, friend of Wilde, expatriate, hoaxer, enthusiastic homosexual, and, finally, according to his extravagant, long-suppressed 'memoirs', lover to the septuagenarian empress dowager of China. Now the gem glints dustily in a fiction of his own.
Linnie, the protagonist of this engaging novel, is a Jaivinesque Australian expat, shivering in a modern Beijing hutong room. There she subtitles local films, priding herself on her assimilation into Chinese culture and heroic independence, even as the freezing wind whistles through the walls and her landlady tuts over her splendidly uncomfortable antique furniture ('Like many middle-class Chinese, she shopped at Ikea'). Linnie is doing thankless work on a deranged arthouse film when a letter arrives, intimating knowledge of her unknown (possibly Chinese) father and signed, R. Hoeppli.
Hoeppli was Backhouse's real-life Boswell and he wrote his infamously obscene and creatively enhanced memoirs for the good doctor in the 1940s. Seventy years later, Linnie sets off into the snowy Beijing evening, apparently on the brink of a supernaturalepiphany, and what has been a chatty and amusing sketch of modern China and expat vanity twists towards something more unexpectedly Gothic.
Linnie's genial persona is shadowed, 'like the plot of a third-rate Victorian melodrama, ridiculously contrived and overblown with mystery', by loss: of her father, at birth; of her own origins; of her sense of place. China shelters her, as it does many adventurous foreigners, and yet it is ultimately implacable, unporous. That subtle Mandarin word, fuza, complicated, is useful there. Linnie's early encounters with the country were post-Mao, pre-Tiananmen. Now she lives in the contemporary nation, yearning for an elusive and charismatic man, Q, and aware that, as a foreigner, her nostalgia for the bohemian underground of her younger days is a prerogative in which her Chinese contemporaries cannot so easily indulge. Fuza, Jaivin explains, has implications of return, combination, answer, and vengeance. The tragic massacre of 1989 lurks in the background, although modern China, hepped up on consumerism ('hongchen, "red dust", a world of materiality, illusion and desire') and world-weary modern culture, fomenting gnomic arthouse cinema and intellectually renovating its museums, finds any reminder of a troubled past very fuza indeed.
' ... a chatty and amusing sketch of modern China and expat vanity twists towards something more unexpectedly Gothic.'
At this point the novel twists again, darkens. Jaivin has been hiding behind her amiable heroine, pretending to be writing semi-autobiography. Now she shows her chops, as we slide into the Chinese perspective, a melancholy, troubled one. Poetry, philosophy, revolution; violence, enigmatic succour, and secrecy lie in the past of an urbane bar-owner. This story is not as amiable. There is horror here, soaked reminders of what has been wiped from the memories of China's young people who write mini-blogs on Weibo, eat Argentinean barbeque, and buy Italian fashion, but have never heard of the events of 1989. How to remember Tiananmen for them? Is it 'tragedy porn', as one character worries? 'I would watch as my words drew tears to their pretty, widened eyes and feel disappointed, even disgusted with myself.' Or a mute communion between survivors? Is it trauma? Or maturity?
Jaivin's previous books, fiction and non-fiction, encapsulate her preoccupations: erotics (her incendiary début Eat Me [1995]), translation (the recent Quarterly Essay: Found in Translation [2013]), China (The Monkey and the Dragon [2001] and the anthology New Ghosts, Old Dreams: Chinese Rebel Voices [1992]), outsiders and foreigners (The Infernal Optimist [2006]; A Most Immoral Woman [2009], which evoked Backhouse's friend-turned-rival, Morrison of Peking), women's experience, poetry, politics. All of these, it seems, are summoned in this latest work. There is a sense in the early part of The Empress Lover that Jaivin is bundling into its pages various oddments that she has collected: nuggety observations, trivia of modern China, delightful and obscure history, Thoughts She Has Had. It's charming and disarming, certainly engaging. Linnie is slouchily familiar, her Beijing rigorously detailed. The writing is relaxed, unhurried, pleasant: China expat novel as entertaining blog post.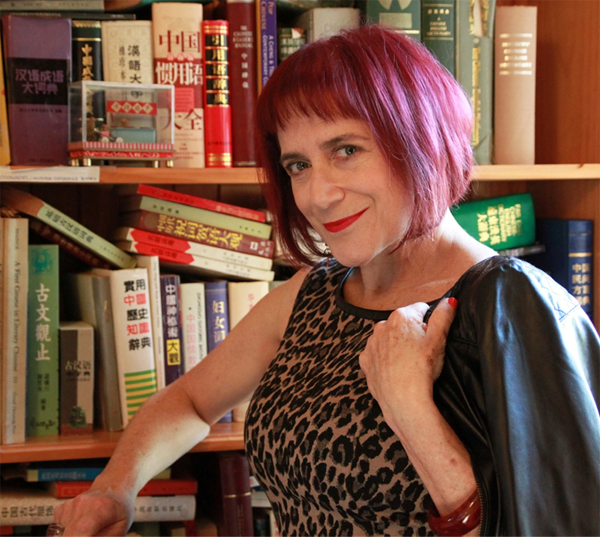 Linda Jaivin, 2013
But Jaivin is a novelist, and we expect something more. Her characters have histories, and the histories have made them: one searches for an explanation of her past, another seeks to forget his. There is the schlocky but refreshingly applied Backhouse-Hoeppli-time-travel-lost-father conceit; the mysterious Q; the meditations on foreignness and poetry and authenticity and fantasy; the evocations of Beijing past and present: there is substance here. The shifts in tone are disconcerting; I wasn't convinced by the emotion of the dénouement. Something cloudy swirls, rather than condensing, as the poet of the novel might observe. We don't need the schlock, though Backhouse is a wonderful walk-on. Jaivin loves China, and is troubled by it, and The Empress Lover is a surprisingly delicate, often moving, effort at describing the country, so fuza.