Sport
Crossing the Line: How Australian cricket lost its way
by Gideon Haigh
'To me,' Shane Warne once said, 'cricket is a simple game.' Australia's best-ever bowler may not be a renowned sporting philosopher, but his words echo throughout Gideon Haigh's latest book. In recent years, governing body Cricket Australia and an army of corporate consultants have sought to complicate the country's summer game. An alphabet soup of abbreviations – ACPPs, IPPs, PONIs, NPPs, and PPPs – have been developed to re-establish Australia's position at the pinnacle of world cricket. Yet, as Haigh chronicles in a short book of revealing anecdotes and caustic one-liners, they have instead brought the game to its knees.
Crossing the Line: How Australian cricket lost its way begins and ends at 3 pm, 24 March 2018 in Cape Town. An away series against South Africa was slipping from Australia's grasp at Newlands Stadium when an incident occurred that sent reverberations around the cricket-playing globe. With Proteas batsman A.B. de Villiers midway through building an imposing advantage, umpires Nigel Llong and Richard Illingworth suddenly beckoned two Australian players. Match-tracking website ESPNcricinfo observed at the time: 'They are having a chat with Cameron Bancroft, and there could be something afoot here.'
There was indeed. 'Sandpaper-gate' brought sporting superstars Steve Smith and David Warner plummeting back to earth. It ended the coaching tenure of Darren Lehmann, and it left Bancroft forever tarnished as a cheat for using a sandpaper scrap to increase the likelihood of reverse swing. Despite cricket's murky relationship with ball-tampering – historically the punishment has been a mere five runs – the brazenness of the Australians' deception drew instant condemnation. Former Prime Minister Malcolm Turnbull intervened; English newspapers were gleeful. Hypocrisy may have 'had a field day', but that was hardly the point.
With Australian cricket forced into introspection, Haigh decided to conduct his own 'cultural review'. He began with two simple premises. First, 'that nobody goes to sleep honest and wakes up a cheat'. Second, that the system which had developed Smith and Warner and had been lauded for their meteoric rise should not now 'escape scrutiny amid their failings'. Armed with this brief, Haigh interviewed fifty individuals from across the game's spectrum: 'players, coaches, officials and observers past and present', including twelve recent national team representatives.
The result is a piercing analysis of the woes afflicting Cricket Australia, expertly informed by those at the heart of the game. Even the anonymity Haigh accorded each interviewee – necessary because, in a monopolised sport, 'quoting them directly would hardly improve their job prospects' – does not lessen the book's impact. Its publication coincides with the expected conclusion of an official review into Australian cricket by Simon Longstaff of the Ethics Centre. Haigh's own review is likely to be far more instructive.
There are few writers more qualified to offer an assessment of Australian cricket than Haigh. The London-born Victorian has covered the sport for almost three decades, for The Times and The Australian. He is a prolific author, with notable past works including On Warne (2012) and The Border Years (1994). But Haigh's oeuvre is supplemented by books set far away from the grassy oval. The writer has often peered into the corporate world, writing The Battle for BHP (1987) when he was barely twenty. Other works that stand out amid a bountiful collection of cricket tomes are One of a Kind: The story of Bankers Trust Australia (1999), Bad Company: The strange cult of the CEO (2004) and Asbestos House: The secret history of James Hardie Industries (2006).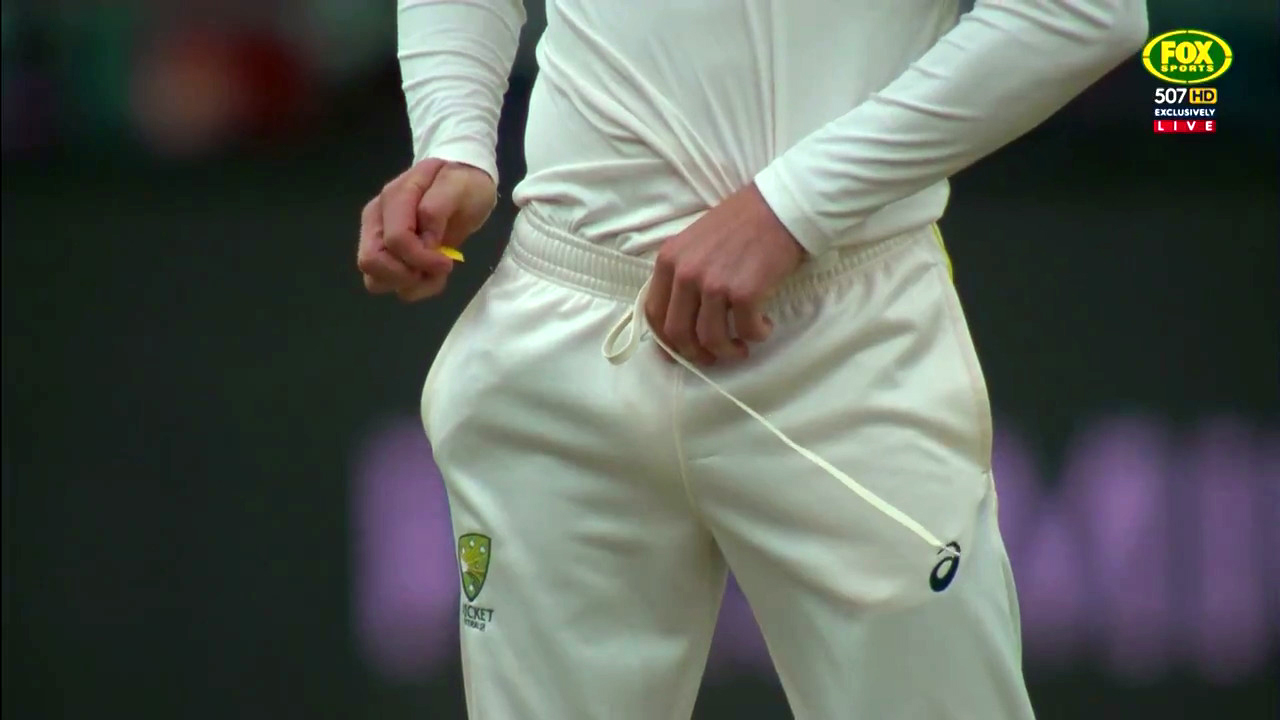 A still of Cameron Bancroft about hide the sandpaper used against the ball during the Third Test against South Africa in March, 2018 (Fox Sports)
This background proves helpful as Haigh navigates Cricket Australia's creeping corporatisation. Consultants, ex-consultants, and 'beige corporate' advisers are recurring characters, with their buzzword-heavy strategies and lack of sporting experience; he describes one incoming administrator as possessing 'knowledge of cricket that would not have covered a postage stamp'. This is as much a book about governance and corporate management as it is about cricket. That says a great deal about the game's parlous state in 2018.
Despite the book's brevity and limited temporal scope (just over a decade), Crossing the Line traverses considerable ground: the last embers of the Ponting–Clarke super era, the rise of the Twenty20 format, the Argus Review, 'homework-gate', the tragic death of Phillip Hughes, and last year's bitter pay negotiations. At every turn, Haigh's prose is crisp, deftly weaving together a compelling narrative with stark quotations: from favoured abbreviation 'WTBC' ('watch the ball, cunt') to 'no comment, but you can't quote me on that'.
If there is one shortcoming in Haigh's latest work, it is that readers occasionally risk being left behind. The author's word choice is so wide-ranging, his turn of phrase so rich, that Crossing the Line is bound to expand vocabularies. The influences on Cricket Australia are 'endogenous and exogenous', Michael Clarke is 'kvetching', first-grade clubs bemoan the 'high performance suzerainty', the Big Bash League is a 'nightly saturnalia', the national team backroom consists of 'Lehmann liegemen', and pay negotiations disturb the 'equipoise'. Some readers may delight in such prose. Others might look less favourably on the publisher's failure to curb these flourishes.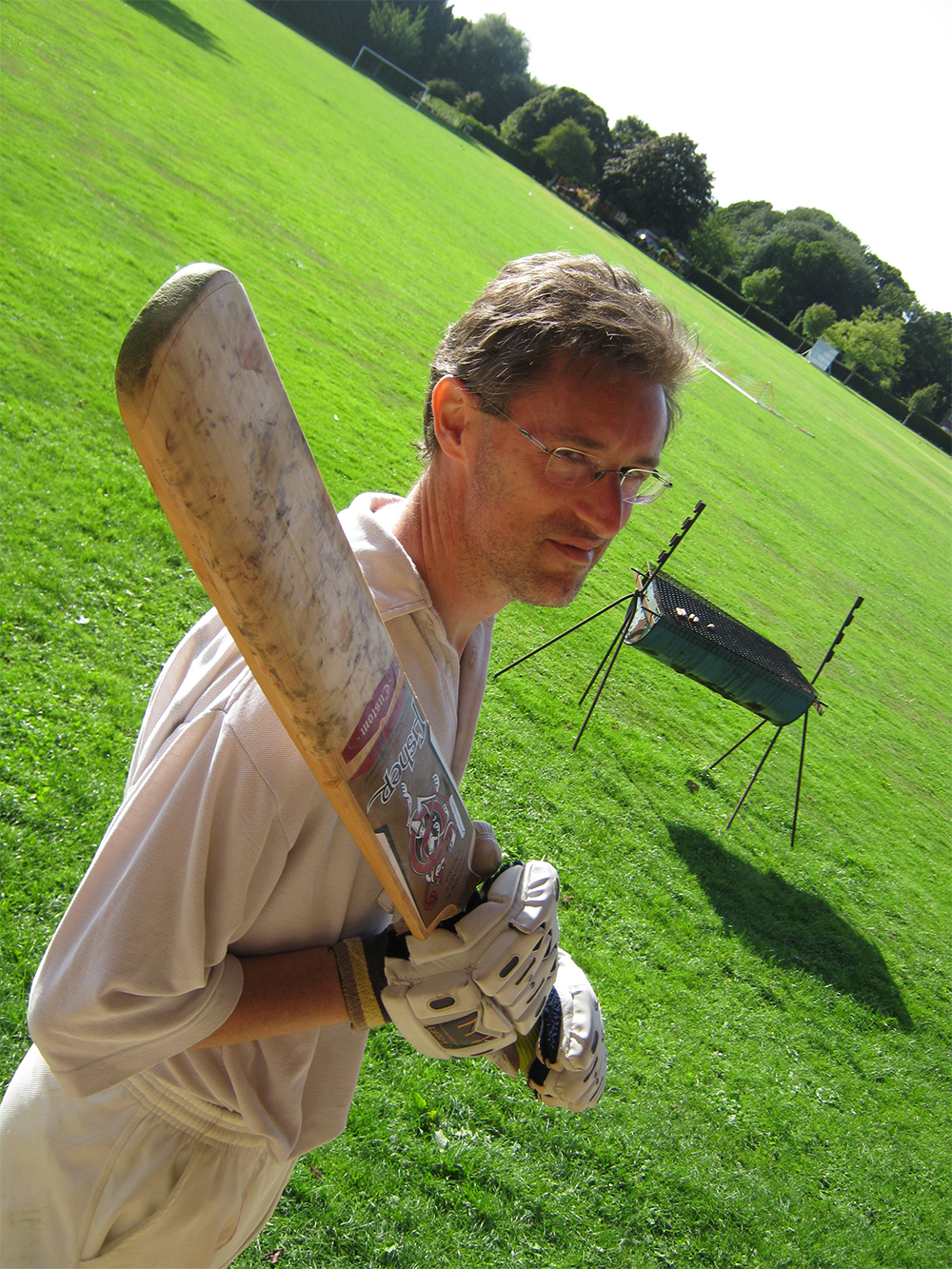 Gideon HaighBut this is a minor quibble. Crossing the Line is a succinct, pithy, and illuminating examination of cricket in contemporary Australia. Haigh brings the unparalleled insight of someone who has covered this beat for almost thirty years, with a healthy dose of cynicism for Cricket Australia's spin. It is hard to imagine a better evaluation of recent developments.
Australian cricket fans have reason to fear the future. On the field, 'for all Australia's manifold advantages … at the moment we're actually not that good'. Australia presently ranks third in test and Twenty20 cricket and sixth in the one-day format. Off the field, the independence of the Longstaff review is questionable, and the towering pile of discarded past reviews provides little confidence that this latest investigation will amount to much anyway. Cricket Australia's fiefdom remains unassailed: 'there are no regulators to appease, no tax to pay, no government to answer to'. Market research conducted even before Sandpaper-gate suggested that the national team's sheen was fading among the Australian public.
Yet Haigh concludes on an optimistic note. In 2018, Australian cricket 'is more inclusive, more open and generally more aware and reflective of the country in which it is played'. In seeking to build on these foundations, the sport's Jolimont Street administrators would do well to remember Warne's sage words – and read this book.