Napoleon: Passion, death and resurrection 1815–1840 by Philip Dwyer
Bloomsbury, $29.99 pb, 390 pp, 9781408891759
History
Napoleon: Passion, death and resurrection 1815–1840
by Philip Dwyer
A son of the French Revolution, Napoleon embedded in French society the Revolution's core goals of national unity, civil equality, a hierarchy based on merit and achievement, and a rural society based on private property rather than feudal obligations. To these he added the Civil Code, the Bank of France, and other reforms, but he was never able to establish a stable political regime, primarily because internal rule was always subject to the insatiable demands of his external empire.
Napoleon's obsession with creating a European order under French hegemony came at the expense of perhaps 900,000 of his own people's lives, and those of a greater number of other Europeans who fought him or who were drafted into his armies. For two million or more Frenchmen who served in the imperial armies, soldiering was a miserable experience: it meant physical privation, fear, disease, and death. But Napoleon's legacy of horrific numbers of deaths was overcome by the romanticised pride of those who survived: the one million men discharged from the armies in 1814–15. Their tales were embellished across time as subsequent French regimes floundered in a Europe determined to establish a balance of power against any further French imperial fantasies. The power of Napoleon's legend was also a deliberate creation by the emperor, during the six remaining years of his life, and his acolytes.
Philip Dwyer is Professor of History and Director of the Centre for the History of Violence at the University of Newcastle. He has published widely on modern European history, but his trilogy on Napoleon is his great triumph. The previous volumes – Napoleon: The path to power, 1769–1799 (2007) and Citizen Emperor: Napoleon in power, 1799–1815 (2013) – brilliantly charted Napoleon's story from his Corsican childhood to his Waterloo. Now Dwyer has examined with equal flair Napoleon's imprisonment and death, and his resurrection as an almost supernatural celebrity.
At the end of the volume, Dwyer reflects that 'I am not entirely sure I have understood him as much as I would have liked to', oscillating between feeling that at times he was actually in conversation with Napoleon, and at others that he was just another of the emperor's exhausted, obedient aides-de-camp. He is too modest: the trilogy ranks with the finest of the hundreds of biographies of Napoleon, and this third volume is especially rich in investigating the creation of a durable, unusually potent myth that became a full-blown cult.
From the moment of Napoleon's capture and detention in a ship off the Devon coast in 1815, there was a polarity of responses: from popular English fascination – even adulation – towards the world's greatest celebrity, to demands for bloody retribution in the Tory press. The government's solution was exile and imprisonment, with twenty-six of his supporters and staff, on the distant, hot, wet, and windy South Atlantic island of St Helena.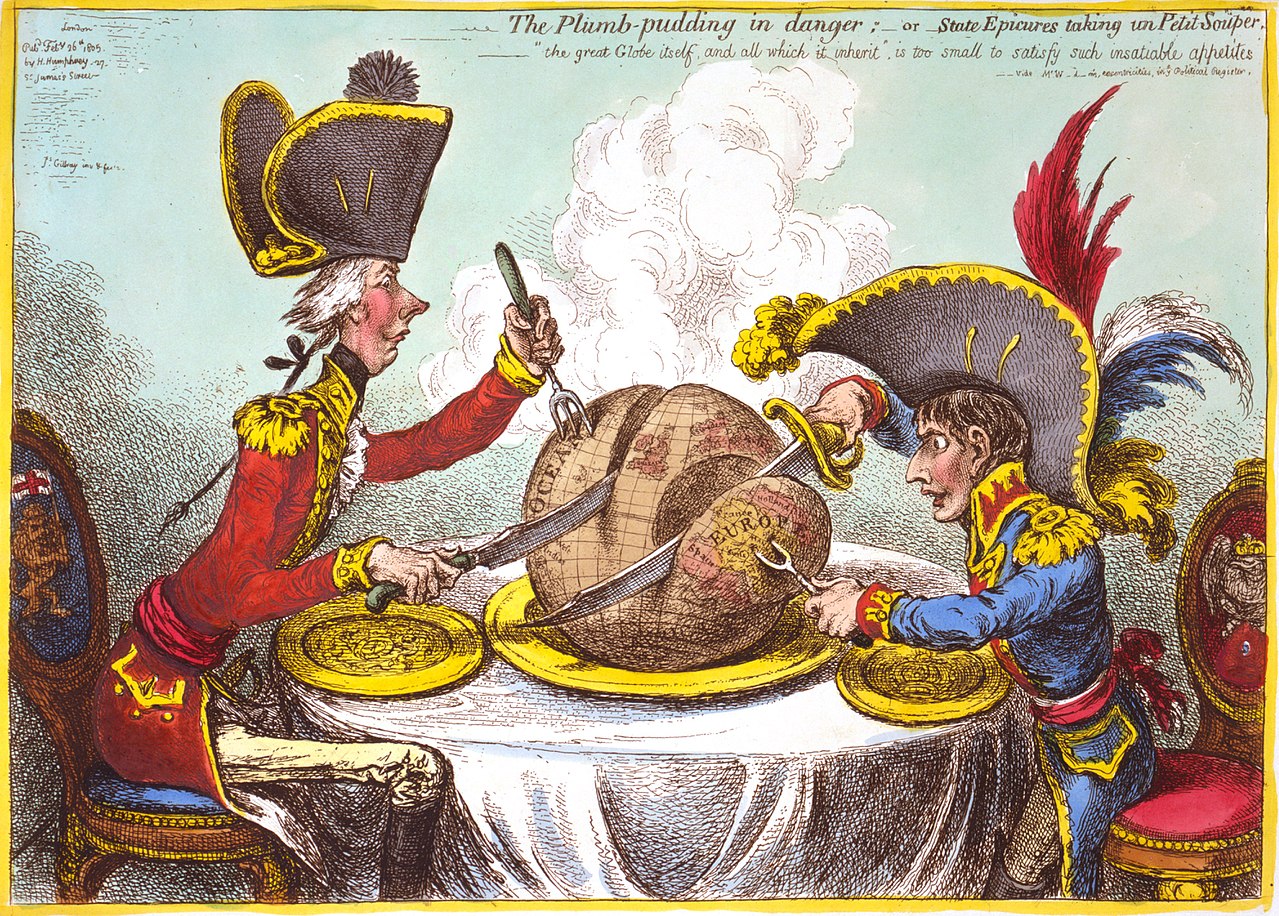 The Plumb-pudding in danger, or, State Epicures taking un Petit Souper, 1805, an editorial cartoon by the English artist James Gillray. The print depicts the British Prime Minister William Pitt the Younger and the newly-crowned Emperor of France Napoleon (photo via Wikimedia Commons)

Dwyer tells the story of Napoleon's exile with consummate skill, drawing on a vast array of sources to provide us with a detailed but vivid description of the rituals and tedium of detention in 'The Briars', then 'Longwood'. (Alexander Balcombe, the son of one of St Helena's purveyors, and an alleged Napoleonic sympathiser, would name his estate on Victoria's Mornington Peninsula 'The Briars' in the 1840s.) At 'Longwood', Napoleon dictated his memoirs variously to four intimates who would later become his 'evangelists'. There are brilliant passages on the petty jealousies and passions in this humid, all-male environment of alcohol, boredom, and worry about Napoleon's constant illnesses. His protracted, excruciating death in May 1821 – ascribed by Dwyer either to a gastric haemorrhage or stomach cancer – was to become another element of the Napoleonic legend, the alleged poisoning more proof of Albion's perfidy.
Almost immediately, widespread popular suspicion in France about Napoleon's demise, aged just fifty-one, escalated into certainty that he would reappear, then into a reworking of his memory into that of an idealised saviour: the invincible general, protector of his people, and defender of democracy until undone by betrayal and conspiracy. In other words, Napoleon was transformed into the antithesis of the narrowly based, monarchical regimes and their supine foreign policies that succeeded the empire.
The volume is enriched by scores of well-chosen illustrations, in colour as well as black and white. Particularly interesting are those which draw on Napoleonic artefacts (pipes and canes depicting his head) or woodblock prints, one of which, from 1835, depicts Napoleon's apotheosis, welcomed into the heavens by Alexander the Great, Caesar, and Frederick the Great. The Christ-like depiction of Napoleon resonates for Dwyer, whose provocative conclusion is that the followers of both Christ and the emperor used a similar set of images of sacrifice, redemption, salvation, and love.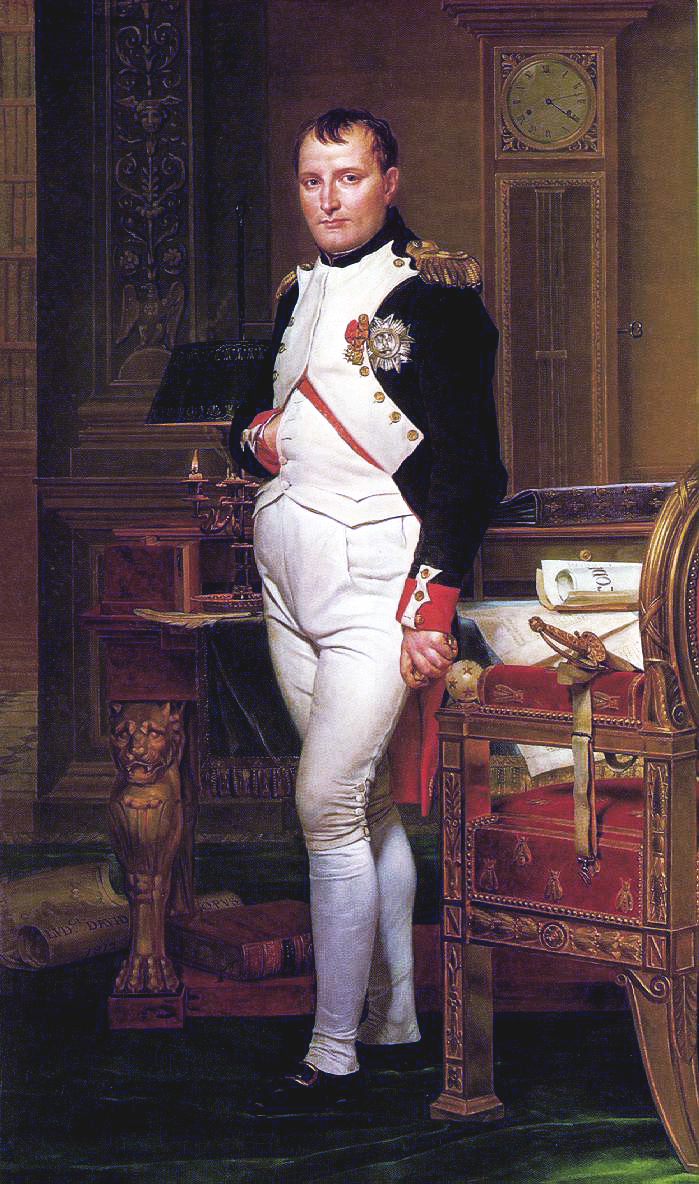 The Emperor Napoleon in His Study at the Tuileries by Jacques-Louis David (photo via the Samuel H. Kress Collection/Wikimedia Commons)Was Napoleon the first popular celebrity? The most fascinating chapter of Dwyer's book details the scale of his cult in 1820–40. There were hundreds of thousands of cheap images and mementoes of Napoleon produced in Britain after 1815, more than of Queen Victoria, for sale to people in England as well as in France. Dwyer details five hundred Bonapartist singing associations, or 'Friends of Glory', in Paris alone in 1836; in 1831 there were twenty-nine new plays about Napoleon.
The attempt by King Louis Philippe I (1830–48) to both profit from and undermine Bonapartist memories by bringing Napoleon's ashes back from St Helena to Les Invalides in December 1840, simply allowed freer rein for hostile comparisons with the image of his regime as one of sordid speculation, social callousness, and foreign cowardice. The population of Paris was then 935,000: crowd estimates for the return of Napoleon's ashes were up to 800,000. It furnished the occasion for a worker's newspaper to describe him as it wished:
It was not the … ambitious conqueror that the crowd came to salute, but the artillery lieutenant of  '93 ... Above all it was revolutionary France, represented at this ceremony by the veterans of the armies of the Republic and Empire, that the people of Paris came to salute, touched by all these memories of our glorious past ...
The cultivation of the Napoleonic legend was further enhanced by his nephew Louis-Napoléon's quasi-socialist rhetoric. In August 1840, Louis-Napoléon landed at Boulogne-sur-Mer hoping to foment a Bonapartist rising. Although this was an ignominious failure, Louis-Napoléon became a living reminder of a regime that grew more attractive to the masses with the passing of time. One reason for his crushing election as president of the Second Republic in December 1848 was certainly the appeal inherent in his name.
Louis-Napoléon's seizure of power with the army in December 1851, and his proclamation of the Second Empire, only strengthened the myth of Bonapartism as representing the deepest longings of 'the real France', la France profonde. The constructed memory of Napoleon has cast a long shadow of the strong man who could slice through the verbiage of self-seeking politicians, if needs be with the army, to satisfy the people's longings. In 2014, Lionel Jospin, prime minister of France from 1997 to 2002 and twice a presidential candidate, published a powerful polemic, Le mal napoléonien, in which he identified this authoritarian shadow as an ongoing blight on French democracy. Of course, it is not an exclusively French spectre.