Commentary
On 'Black Panther' by Dilan Gunawardana
The Marvel film Black Panther has currently earned more than US$1.3 billion dollars at the box office worldwide since its release on 13 February 2018, which places it high among the most financially successful films of all time. Such an achievement isn't necessarily indicative of quality – the Fast and the Furious and Minions films are on the same list – but countless column inches have been devoted to Black Panther's engaging narrative, its eye-catching aesthetic, and its complex heroes and villains. Moreover, the film was directed and co-written by Ryan Coogler, an African-American man, and features a cast almost entirely comprised of black actors. Its success has reconfigured conventional depictions of black people in large-scale blockbusters, and recast them beyond one-dimensional Hollywood thugs, sidekicks, buffoons, action film fodder, or objectified and exoticised bodies. It is also noteworthy in that its story originates from a comic book – a medium once derided as trashy and lowbrow.
In the early 1950s, unsold comic books from the United States were used as ballast in ships crossing the Atlantic Ocean to Britain; such was their value. Crime and horror yarns landed in major ports from Liverpool to London. Retrieved by collectors before they could be pulped, they were sold furtively and in small bookshops. The burgeoning underground scene paved the way for Marvel Comics with their vibrant yet flawed superheroes and sympathetic monsters, to proliferate among British fans in the early 1960s. Handfuls of these gems made their way to the market stalls of Northampton, where a young Alan Moore first came across them.
In the noughties, Moore allowed some of his most lauded works, such as Watchmen (1986–87) and V for Vendetta (1988–89), to be bastardised on the big screen for the sake of his collaborators' financial well-being, though he distanced himself from each flop. Among his many gripes about modern comic book-to-film adaptations was the inability of filmmakers to capture the nuances and effects created by a largely literary medium, to portray relatable characters, or to produce stories that resonated with contemporaneous hopes and fears. In an interview with Vulture, Moore asks: 'What are these movies doing other than entertaining us with stories and characters that were meant to entertain the twelve-year-old boys of fifty years ago? Are we supposed to somehow embody these characters?'
He has got a point. In Moore's own narratives he centralised the pressing issues of his time; namely the twin threats of nuclear destruction and Thatcherism. Antagonists in the recent Marvel Cinematic Universe (MCU) of films (2008 to the present) have included dark space elves, hulking abominations, and a death goddess – hardly relevant concerns for those dealing with today's crises, such as political corruption and catastrophic climate change.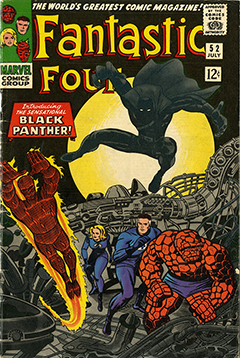 Fantastic Four, No. 52, July 1966, the first appearance of Black Panther (image from VCU Libraries comic arts collection, James Branch Cabell Library, Special Collections and Archives, via Flickr)
However, Marvel has a deep well of characters and stories to draw from, and so Black Panther, a superhero created by Stan Lee and Jack Kirby in 1966, has emerged as the first such adaptation to address more earthly issues in an intelligent way; namely the divide between African people and their American cousins across the Atlantic. Ryan Coogler's outstanding direction has also fixed many of the genre's flaws, including generic villains, endings that devolve into battles with ceaseless waves of inconsequential minions, and underdeveloped and underused female characters. The result is fun, engaging, but also deeply resonant.
Following on from his previous Marvel outing in Captain America: Civil War (2016), Prince T'Challa (Chadwick Boseman) assumes the throne of Wakanda following his father's (John Kani) assassination. In doing so, he takes on the title of 'Black Panther', a totemic warrior king who gains superhuman powers from drinking a herbal elixir grown in soil enriched with 'vibranium', a metal harvested from a giant meteorite that landed in Wakanda aeons ago and gave its people the ability to develop advanced technology; unbeknown to the rest of the world, which assumes that Wakanda is an impoverished hermit kingdom. When Eric 'Killmonger' Stevens arrives in Wakanda to challenge his cousin T'Challa for the throne in combat, and wins, T'Challa and his allies rally to reclaim their homeland and to stop Killmonger from executing his plan to arm people of African descent around the world with Wakandan technology to violently overthrow their oppressors.
The ideological conflict between the African T'Challa, and the African-American Killmonger is central to the question of 'how would an uncolonised technologically superior African nation use its power?' T'Challa is honour-bound to keep Wakanda's people hidden, safe from the corrupting influences of the outside world, while Killmonger wants the nation to use its resources to emancipate black people of other nations, albeit violently. In the end, T'Challa prevails, but he also sees merit in Killmonger's more benevolent ideals and opens the nation's borders. Killmonger, too, realises that his desire for vengeance has robbed him of the chance to appreciate his heritage, but this occurs to him only moments before his death. Marvel films rarely afford its heroes moments of genuine self-revelation, let alone its villains.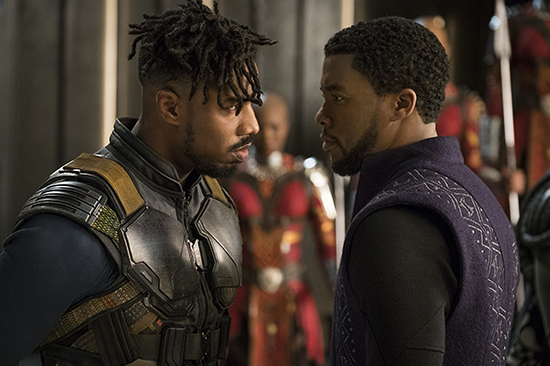 Michael B. Jordan as Killmonger and Chadwick Boseman as T'Challa in Black Panther (Matt Kennedy, Marvel Studios)
Aside from Chadwick Boseman's cool and dignified portrayal of T'Challa and Michael B. Jordan's fiery Killmonger, Black Panther's world abounds with fierce and intelligent women, from queens to scientists, spies to warriors; they guide and even revivify T'Challa. Danai Gurira's scene-stealing portrayal of Okoye, T'Challa's protector, even has an arc that replays Black Panther's central moral conflict in microcosm – her partner's alliance with Killmonger offends her traditionalist beliefs and her fierce loyalty to the throne.
The rich, colourful mosaic of African cultures that make up Wakanda is best expressed through its architectural styles, which draw heavily on the cactus-like mosques of Timbuktu and the stone-cut churches of Lalibela, and also the stunning array of costumes designed by Ruth Carter, including Zulu Isicolo headdresses and Lesotho blankets adorned with shells, gems, and Adinkra symbols, repurposed with futuristic flair. Ryan Coogler's Wakanda is not the homogenised Africa so frequently represented in Hollywood portrayals of the individual countries that make up that vast continent. Even the obligatory large-scale end battle, which in other Marvel films serves as a lazy device to tie their plot together, is made all the more interesting by the fact that its combatants are Wakandans of different tribes, fighting for differing ideological purposes, rather than hordes of faceless, generic monsters. Black Panther's success is a testament to films that strive for authenticity above simple showmanship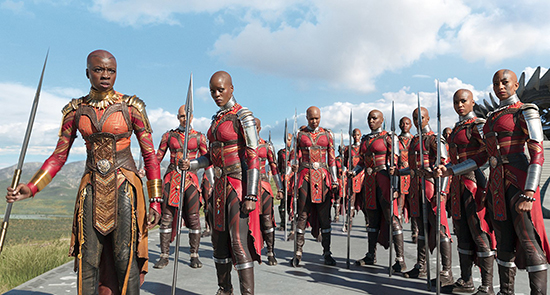 Danai Gurira, Florence Kasumba, and other actors as the Dora Milaje warriors in Black Panther (Matt Kennedy, Marvel Studios)
However, Black Panther is by no means the vanguard of a larger 'afrofuturist' movement. Sci-fi writers like Octavia Butler, Samuel R. Delaney, and Ta-Nehisi Coates (who is currently penning the most recent comic-book iteration of Black Panther); musicians and performers like Janelle Monae, Donald Glover, and Kendrick Lamar (who composed the Black Panther soundtrack); and filmmakers like A Wrinkle in Time director Ava DuVernay and Jordan Peele (Get Out, 2017) have been slowly eroding the levees of mainstream culture in recent years by taking control of the narratives of black lives. Black Panther may simply be the culmination of the years of toil by black artists that has preceded it, rather than a foundational work.
On his fortieth birthday, Alan Moore, believing that he had conquered prose, reached the next logical step in his progression as a writer, and declared to his bemused friends and family that he would become a magician. When asked, 'What makes you a magician', he would simply answer, 'Because I say so.' Perhaps films like Black Panther simply give non-white creative practitioners the same sense of certainty that comes with having control over their own stories, ultimately giving them the opportunity to manifest better futures for themselves. It is difficult not to be excited by the possibility of a new golden era in black storytelling.