My earliest memory of Princess Margaret is flicking through my grandmother's copy of The Australian Women's Weekly and seeing photographs of a middle-aged woman, in huge sunglasses and a colourful kaftan, on a tropical island. I surmised she was famous but did not know why. My grandmother explained, somewhat primly, that she was the queen's sister and left it at that. To young eyes, the woman in the photographs seemed to be at once gaudy and dowdy. As I grew older, I became increasingly aware of her more bohemian prime, at the same time as she was declining from middle age into a long period of illness and a relatively early death at the age of seventy-one.
It seems apposite to begin a review of Craig Brown's new biography of HRH The Princess Margaret (she would have insisted on being referred to by her proper title) with an anecdote. After all, virtually every major figure – and many minor ones – who featured in British life in the second half of the twentieth century had an anecdote or two about PM. Early in Ma'am Darling, Brown demonstrates the eclectic company she kept by pointing out the names between which she appeared in the index of a number of memoirs and diaries. Unfortunately, the same exercise cannot be carried out with Ma'am Darling; frustratingly, it has no index.
Ma'am Darling is not a conventional royal biography, and it is all the better for that. There is really no need for another one of those for PM. A straightforward biography would run the risk of being not very interesting: Apart from her colourful private life, she did not actually do much. The younger sister of the queen, descending in the order of succession with the birth of each new nephew, niece, great-nephew, and great-niece, she had to content herself, often petulantly, with the second-order, and later third- and fourth-order functions and charities. The timeline of her life is less interesting than her personality.
Ma'am Darling approaches PM's life in a broadly chronological order. Rather than presenting a linear narrative, however, Brown breaks his biography into ninety-nine chapters, each providing small glimpses into PM's life and personality. Most of the glimpses are derived from synthesising stories from the histories, memoirs, and diaries of a wide range of people. It covers all of the major events of PM's life: her doomed romance with Group Captain Peter Townsend; her tempestuous marriage to Tony Armstrong-Jones, aka Lord Snowdon; her affair with Roddy Llewellyn; her life on Mustique. To maintain the reader's interest, interspersed between the more straightforward glimpses into PM's life are counter-factual chapters (What if Princess Margaret had married Pablo Picasso, or Peter Townsend, or Jeremy Thorpe? The latter is hilariously rendered as an 'at home' interview with Lord and Lady Thorpe in Hello! magazine in 1999); a chapter rendering the one anecdote in thirty-one different modes, from the journalistic through to the alliterative to the tragic, including as a recipe, a haiku, a limerick, and a multiple choice test; and the current online holiday rental listing for Les Jolies Eaux, PM's property on Mustique. This approach to biography as bricolage is very effective; it is consistently funny and engaging, as one would expect from a writer known particularly for his work in Private Eye magazine.
Queen Mary touring London's dockyard area with Princesses Elizabeth and Margaret, 1939 (Federal News Photos / Library and Archives Canada, Wikimedia Commons)Ma'am Darling is not just a biography of a haughty princess. It muses upon the difficulties of writing biography and particularly royal biography. How should a biographer approach an anecdote which is recounted in multiple sources, when the varying accounts cannot be easily reconciled? How does a biographer deal with a subject who is removed from everyday access and is unknowable at close proximity? How does a royal biographer avoid sycophancy, wild speculation, and pop psychology?
The book charts changes to the monarchy but also to the nature of celebrity. As a young woman in the 1950s, PM was lauded as one of the most glamorous women in England. In many ways, she was the first celebrity princess. By the time she was sharing a stage with Boy George in 1984, he is the most famous person in the United Kingdom, according to a then recent poll, with the queen being placed second and PM failing to make the top 100. Over thirty years hence, Princess Margaret's celebrity has been somewhat revived by Vanessa Kirby's portrayal of her in the first two seasons of Netflix's The Crown.
The portrait of Princess Margaret which emerges from Ma'am Darling is complex but overall unflattering. She appears, by turns, difficult, bored, lonely, hierarchical, always standing on ceremony, funny, catty, caustic, and camp. (Brown is incisive in his analysis of the varieties of camp expounded by the Queen Mother and Princess Margaret respectively.) That may be ultimately her enduring public image, but it was not always thus.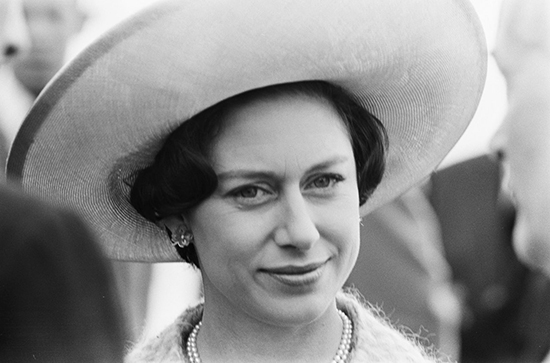 Princess Margaret, 1965 (photograph by Eric Koch / Anefo, Wikimedia Commons)
There is a famous photograph of PM, taken by Snowdon early in their marriage, which Brown refers to in his book but which is not reproduced in it. Princess Margaret is in the bathtub, smiling broadly and wearing the Poltimore Tiara, which she had famously worn at her wedding. The louche, cross-legged figure of Snowdon is partly reflected in the mirror behind her head. A waggish acquaintance has suggested the bathtub was filled with gin. She seems to be enjoying herself. The viewer gets a glimpse of a relaxed, glamorous Margaret. If only there had been more glimpses like this.