A Stolen Season by Rodney Hall
Picador, $29.99 pb, 342 pp, 9781760555443
Fiction
A Stolen Season
by Rodney Hall
'We are the inheritors of a world we need to remake for ourselves.'
Rodney Hall, The Island in the Mind (1996)
Of the now twelve novels that make up Rodney Hall's distinguished prose fiction – ranging from The Ship on the Coin (1972) to this year's A Stolen Season – it is arguably in the latter that the task of remaking is most explicitly and adventurously undertaken, even literally in the case of Adam Griffiths. As an Australian soldier fighting with the 'Coalition of the Willing', Adam has been shockingly wounded: he is 'helpless and isolated'. 'Cocooned in his own silence'. Now, with his young wife, Bridget, who, in edge-of-panic reflection, muses 'she ought never to have married him in the first place', Adam, smashed, burnt, 'ought to have died', navigates the pain-racked hours, tortured step by step, with the robotic help of his exoskeleton, 'the Contraption'. Like Viktor Frankenstein, Bridget recognises that she is in thrall to a monster: 'He is her monstrosity, hers and hers alone.'
While Adam and Bridget struggle with visions of a terrifying future – 'it isn't just his life in ruins … So, of course, she's angry' – Marianna Gluck, into whose presence we are now unceremoniously conducted, is conscious, despite her jungle isolation, 'that some day she will be forced to confront the past'. Having fled to 'a country so remote she has never heard of it' she feels safe. It's not clear yet what she feels safe from, though the reader searching for continuity can find teasing shocks of recognition in Marianna's self-knowledge that 'she is the kind of monster who must learn step by step – and always painfully – how to behave in the age of humans', and in her surroundings, the 'baroque church tower' she sees thrusting up nearby, reminiscent of that 'mudbrick tower … spiralling up' near the military compound where 'a surprise explosion leaves two men dead and one, an Australian, critically injured'. The Australian is Adam Griffiths, and so we are briefly taken back to the incident that destroys his body and to the first sentence of the story. 'A mudbrick tower stands in ancient Samarra …'
Adam and Bridget's agony is interleaved – or, not to put too fine a point on it, interrupted – first by Marianna's jungle escape and, perhaps most bizarre, confronting, and puzzling of all, the affairs of John Philip Hardingham, who, 'too preoccupied with the meaninglessness of existence, too filled with doubts and regrets, too shy to make new friends and, in the end, too comfortable with his capitulation', discovers at age sixty-eight that his parents' conviction that 'he would one day be someone special' may be coming true. What will ensure his distinction is the 'curious legacy' from an eccentric, childless great-great-uncle and the manner in which John Philip chooses to celebrate it. To this celebration – out of place and unexpected among guests more notable, genteel, and effete – comes Christian Fletcher, better known to Adam, in another time and under fire on the Iraq front, as Killer.
Our dark hut with its shattered roof stands abandoned on the black land under the empty sky. Too early for moonrise. Soon a man won't be able to see his fucking hand in front of his fucking nose. A single vehicle drones invisibly along the road that runs in a sandy depression. Now the Milky Way begins to emerge – a glittering universal lake seen upside down – as if you've been stood on your head. Thing is … to get a fix on east, the way to the river, and not lose it. Christian Fletcher takes the lead … Out across the infinite nowhere. Treacherous stones underfoot. The least noise a dead giveaway. 'Halt,' I whisper. 'Ssh!' We stop: Ratso, Killer, me. That lone vehicle drones, remote as an insect …
'Where's Ratso?' I ask in panic. Fletcher's ghostly voice answers, 'The Rat's not coming.' The stroke of darkness heavy. While being hunted by a dangerous enemy, most dangerous is my ally, all too close and by my side. The truth knocks the wind out of me.
'I'll go back for him,' I say. Fletcher says, 'You won't.' I whisper, 'That poor little bugger never stood a chance.' He whispers, 'That poor little bugger would have got us killed.'
As happens so often in this novel, one narrative reactivates another: a character makes a surprising return, memories, chance encounters, sudden recalled words or sentences, long forgotten voices, the unlooked for suddenly logical lineaments of certain incidents – Adam's unusual blood group, for example, and the mysterious emergency recipient of his 'jar of blood' bound for 'the third world' – these are the triggers and engines of a network of hints, signals, chords, and lightning-like illuminations that subtly stitch together the seemingly disparate stories – Marianna's, John Philip's – through which are woven the strands of Adam and Bridget's profoundly moving, doomed bid for renewal.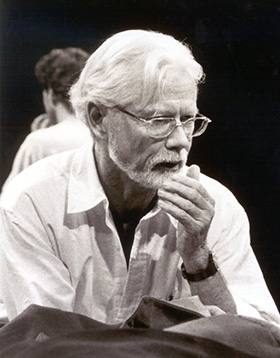 This is a terrific, unremittingly demanding novel that comes after an uncharacteristic hiatus in Rodney Hall's creative life – a fiction hiatus anyway – and it is not just tempting but necessary to note that Hall's long-standing interest in the ways and possibilities of narrative has reached, in A Stolen Season, a daring, almost reckless, magnificent climax (eclipsing the massive narrative problem he successfully conjures with in, for example, the splendid The Day We Had Hitler Home, 2000).  A Stolen Season more or less abandons explanation and offers the kind of network of glimpses, echoes, apparent juxtapositions, voices, intriguing possible connections, and credulity-testing ironies that most of us encounter and shrug through year by year, sometimes seeing and making the connections, sometimes not.
All of this is accomplished in a prose equal to any test: the lush jungle and precipitous, mysterious heights of Marianna's escape; the flash and blur, the mutilation of combat; the orotund ironies of John Philip's nunc dimittis moment; Bridget's confused guilt; and, like an always ready theme to swell into any pause or moment of indecision, the murderous pomposity of the 'Coalition of the Willing' and the duplicity of 'weapons of mass destruction'.
In its scope and innovation, its flair and balanced intricacy, the sense it has of Hall's successfully gathering together and, as it were, consulting a lifetime's personal artistic provenance, A Stolen Season is outstanding and inimitable.
It is Adam who utters, in his disabled, halting way 'from the recesses of sleep' the phrase 'a stolen season', as if reading Bridget's thoughts about their youthful, ill-advised marriage. Bridget is not sure what he means – 'perhaps he is thinking of football'. He is not thinking of anything in particular at that moment, having just painfully awakened and having 'survived the night', but all of Hall's characters in their far-flung distantly connected ways long for a 'season' of independence, renewal, love, or recognition of one kind or another. In Adam's season, his 'body dreams of walking free: the natural balance of an evolved hunter, able to leap and pounce. He has to think his way back to the present.'