Beneath a frantic veneer of normalcy, American politics is not okay. It is as if Punch and Judy have careened out of a dive bar, tripped down the rabbit hole, smashed head-first through the looking glass, and found themselves running all three branches of government. Core to this is that unlikely combination of words, President Donald Trump.
As I write in April, Trump's administration has been a chaos of incompetence and cruelty. That began with his inauguration, a patchily attended event, reportedly described by George W. Bush as 'some weird shit'. Declared a 'National Day of Patriotic Devotion' by Trump, America disagreed and photographs of small crowds prompted a robust White House response. It was, Press Secretary Sean Spicer screamed, 'the largest audience to ever witness an inauguration – period!' While the nation mouthed a collective 'what the?', presidential counsellor Kellyanne Conway defended Spicer's easily disproved lie: he gave, she said, 'alternative facts'.
Lies and conspiracies have become the hallmark of Trump's young presidency. Since taking office, Trump has blamed his massive popular vote loss on three to five million illegal votes, a claim based on the racist story of a friend of a golfer. Conway made up the 'Bowling Green Massacre' to justify Trump's extreme anti-immigrant policies, and Trump referred to a non-existent terror attack in Sweden, prompting former Swedish Prime Minister Carl Bildt to ask 'what has he been smoking?' Most egregiously, Trump restated a cable news conspiracy that President Barack Obama used British intelligence to wiretap then-candidate Trump, a claim denied by Obama, Britain's GCHQ, and Trump's own intelligence officials. And the press has to write this up as presidential politics. (Imagine a group of journalists writing soberly about a hangry five-year-old smashing a teapot with a bat. It feels a bit like that.)
The wiretap lie was a failed distraction from the federal investigation into Trump's potential collusion with Russia to influence the 2016 election. So far, the Trump team's entanglement with Russian questions has seen two former campaign officials and his National Security Advisor leave office, and the recusals of his Attorney General and House Intelligence Committee Chair. Which, to put it mildly, doesn't look great.
Neither does his cabinet. With notable exceptions, Trump's cabinet is a mix of the cartoonishly rich and bizarrely unsuited. Attorney-General Jeff Sessions was considered too racist to be a judge in the 1980s; Education Secretary Betsy DeVos claimed that schools should have guns because of 'grizzly bears'; and Energy Secretary Rick Perry once forgot the name of his department while calling for its abolition. To clarify, Perry oversees America's nuclear weapons program. In terms of diversity, the cabinet weighs in around '1950s country club'.
White House senior staff include alt-right propagandist Steve Bannon and Sebastian Gorka, an alleged member of Nazi-linked Hungarian group, Vitezi Rend. I am sure he is charming at state dinners. Trump's daughter, fashion designer Ivanka Trump, and son-in-law, real estate developer Jared Kushner, hold high-ranking White House positions, and are reportedly consulted on national security matters. Who wouldn't get Jared and Ivanka's take before launching missiles?
This blend of family and government make the Trumps walking conflicts of interest. Trump's sons fly the world plugging Trump-branded developments, and Trump partly runs the United States from his hotels. He supervised a missile strike on Syria from his golf club, Mar-a-Lago (as you do), and responded to a North Korean missile launch between courses in Mar-a-Lago's restaurant. Diners watched and Facebooked pictures of the nuclear codes bag. Later, Trump photo-bombed a wedding.
In foreign policy, Trump has threatened to invade Mexico, hung up on Australia's 'President Trumble', and had the Geneva Conventions explained to him by the president of Germany. He reversed the One China policy then re-reversed it when China 'threatened to take the gloves off', said he was cool with whatever on the notoriously chillaxed Israel–Palestine question, and sought (twice) to ban Muslims from the United States, a despicable plan swiftly overruled by 'so-called' federal judges. Trump still plans to build a useless, multi-billion dollar border wall that he has maintained Mexico will pay for. As former President Vincente Fox tweeted, 'Mexico is not going to pay for that fucking wall! #FuckingWall'.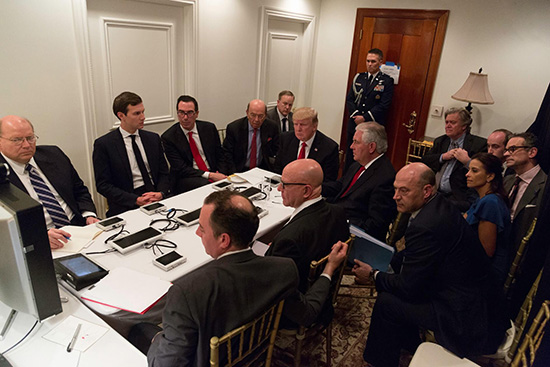 President Donald Trump receives a briefing on a military strike on Syria from his National Security team on Thursday 6 April, 2017, at Mar-a-Lago, Florida (photograph by Sheleah Craighead, White House)
In domestic policy, Trump has tried but failed to pass his party's signature campaign promise – repealing Obamacare – despite controlling all three branches of government. Add celebrity Twitter wars, beating up the press, repealing protections for female workers just before Equal Pay Day, trolling civil rights hero John Lewis, omitting Jews from the Holocaust memorial statement, gutting science, attacking women's health, and creating headlines like 'Trump Organization Settles Restaurant Lawsuit with Second Celebrity Chef', and you see where we're at. If America was a Facebook friend, they would be posting about how 'fine' everything is after the divorce, while sucking down tequila and screaming into a balled-up towel.
In fairness, none of this was unexpected after the 2016 presidential election, which, put charitably, made a bar fight between clowns look like Swan Lake. The election pitted Hillary Clinton – former first lady, senator, and secretary of state – against The Donald, a reality TV star and casino tycoon with no government experience. During his campaign, Trump called Mexicans 'rapists', insulted the parents of a dead veteran, mocked prisoners of war, mimicked a disabled reporter, made sexist comments, tweeted about a Miss Universe sex tape, supported torture and killing suspects' families, pledged to ban Muslims, threatened to jail Clinton, invited Russia to hack her, and appeared to suggest that his 'Second Amendment' supporters shoot her – something made more chilling still by his encouragement of violence at rallies. Then, it seemed, his campaign detonated: Trump bragged about not paying taxes, and – in a leaked tape – gloated about grabbing women 'by the pussy'.
So how the hell did he win?
Two early books on that question are Matt Taibbi's Insane Clown President and P. J. O'Rourke's How The Hell Did This Happen? In a campaign where television satire boomed to prominence – offering a vicious sense of objectivity amid the hyperpartisan lies – it is welcome to have collections of campaign writing by two leading print satirists.
Taibbi's collected Rolling Stone pieces argue that systemic flaws in America's political culture prompted Trump's unlikely win. While believing Trump would lose throughout the campaign, Taibbi's real-time commentary is nevertheless sharply prescient. He argues that, in addition to 'a triumph of the hideous racism, sexism and xenophobia that has always run through American society', Trump's victory was spurred by a rebellion against a 'lazy and profligate' oligarchy, a 'triumvirate of big media, big donors and big political parties' that kept constituents as far from the political process as possible. The political media had become 'one geek in a suit interviewing another geek in a suit about the behaviours of pipe fitters and store clerks and cops in Florida, Wisconsin'. Politicians and journalists developed a feedback loop, heightened in presidential campaigns, where – trapped together on buses and planes – they relied on each other for what the people thought. This 'insular arrogance' led to an 'astonishing cultural blindness'. Meanwhile in Congress, politicians were focused on the Washington 'power game', not their voters. Increasingly flushed with cash after Citizens United allowed unfettered corporate donations, US Representatives too often became fronts for corporate interests. An 'ideal' bill allowed 'the sponsoring pol to keep as many big-money donors in the fold as possible without offending actual human voters to the point of a ballot revolt'.
The 'People', Taibbi writes, were 'sick of being thought of as faraway annoyances', ignored, patronised, and used as 'props' by 'robo-babbling representatives of unseen donors'. Added to this was the Republican strategy of pushing laissez-faire capitalist policies that hurt their constituents, while distracting them with 'an ever-increasing list of villains responsible for the lack of work: communists, bra-burning feminists, black "race hustlers," climate-change activists, Muslims, Hollywood, horned owls ...' This, combined with cable news, fuelled a toxic hatred of media élites and a current of xenophobia that – with the alt-right's rise and Trump's 'rage rallies' – was whipped into something still darker: the unwinding of the post-Civil Rights era multicultural consensus.
These 'movements took place against the backdrop of a splintering and collapsing of the media landscape', where the commercialisation of news had emphasised not only partisanship but the business need for live events. The two-year presidential election campaign was ideal live television. Trump's innovation 'was to recognize what a bad TV show the campaign was' and play 'a better and more magnetic' character. For media companies, Trump's reality TV act was 'good for business' and while '[e]ditorially the press denounced him', they 'never turned the cameras off'. Trump also benefited from the first truly social media election, where fake internet news swirled into cable's hyperpartisan bloodstream, leaving 'us without any real forum for a national conversation'. As Twitter rose in political prominence, Trump's 'fortune-cookie mind – restless, confrontational, completely lacking the shame/veracity filter – [was] perfectly engineered for the medium'.
Trump used Twitter and his saturation-coverage rallies to tell the political and media establishment to go to hell 'at a time when Americans on both sides of the aisle were experiencing a deep sense of betrayal by the political class'. The more the press criticised Trump for behaving like 'a drunken stockbroker who fell of the end of a bar into a presidential race', the better he did. The press power to destroy a candidate had ended. 'Trump understands,' Taibbi says, 'that NASCAR America, WWE America, always loves seeing the preening self-proclaimed good guy get whacked with a chair.' He gave his supporters permission to howl 'Fuck everything, fuck everyone' and 'Republican voters ate it up', spending the 'primary season howling for blood as Trump shredded one party-approved hack after another'. Clinton and Trump's 'historically weak field' of Republican rivals were fighting with outdated rules while Trump chainsawed the rule-book on live TV. 'The irony,' Taibbi laments, 'is that when America finally wrested control of the political process from the backroom oligarchs, the very first place we spent our newfound freedom and power was on the campaign of the world's most unapologetic asshole'.
While I think Taibbi is too hard on Clinton, Insane Clown President is an exceptional real-time analysis of the failings of the US political and media system, freshened by Taibbi's wit and experience on the campaign trail.
Where Taibbi emphasises the political, O'Rourke accentuates the satire. O'Rourke wasn't on the trail much, so How The Hell Did This Happen? is armchair banter – but the good stuff. Unlike Taibbi, O'Rourke doesn't deliver a consistent quality of analysis. His thinkier pieces are too often straw-man arguments striving for humour that fall flat as political writing. And his deep dives into the policy positions of also-rans seem irrelevant now. There is a laziness in the book's 'hopelessly jumbled' structure, and O'Rourke admits to it being thrown together with his editor at a cocktail party. It shows.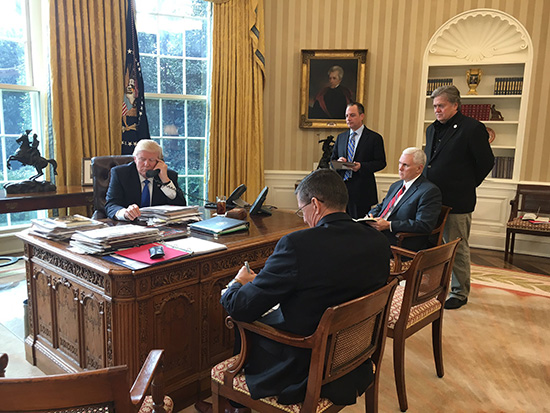 President Donald Trump speaks with Russian President Vladimir Putin on 28 January 2017 (photograph by Sean Spicer, White House)
Still, when O'Rourke is on song he is savagely funny: while watching the Republican candidates' debate, he writes of refilling his glass 'with the special vitamin that makes Jeb Bush interesting', and of Chris Christie, that he 'could pop a waistband button outside the Trenton state house and break a window in Newark'. O'Rourke is, as he himself wrily notes, 'an elderly and unhinged Republican' who thinks 'most popular music sounds like angry potty mouths falling down a flight of stairs while carrying a drum set'. That presents in certain country club attitudes, particularly his wince-inducing take on Clinton as a 'lying old fishwife'.
That leads to my broader comment on both books: there should be more on the vicious sexism Clinton endured – from the 'bitch' signs and Trump's 'nasty woman' sneer on live television, to the fact that Trump – an old, white, 'pussy grabbing' billionaire – won the presidency over his vastly more qualified female rival. The just fury resulting from that crowning sexism, together with horror at Trump's cruelty to minorities, is already redefining American politics, spurring the biggest US protest in the Women's March and grass-roots activism that is already influencing Congressional special elections in traditionally Republican districts. More must be written on it.