Thursday, 23 March 2017 11:03

Chilcot and Australia
Dear Editor,
We cannot be reminded often enough of the perfidy that led in succession to the Iraq disaster, the continuing débâcle in the Middle East, the refugee outflow, and even to populism, Brexit, and Donald Trump. Ross McKibbin's review of the Chilcot Report does this admirably ('Whatever It Takes', March 2017).
He doesn't note, however, that if Chilcot, whose evidence ends at 2009, had been published sooner than 2016, Britain's subsequent adventures in Libya, Iraq, and Syria would probably have been voted down by Parliament and the world would be different. Moreover, Chilcot was allowed to report the exchanges Tony Blair had with George W. Bush only from Blair's side, while the agreement between Bush and John Howard, and its date, were not in his terms of reference.
McKibbin compares Blair's foolhardy deployments with Howard's risk-averse commitment on the cheap to the Iraq War coalition, and this was confirmed by an internal Defence report published by Fairfax in late February. But successive Australian governments have refused a Chilcot-style inquiry, enabling them to dodge responsibility for the meaningless, legally dubious deployment of troops to Iraq and Syria which continues longer than both world wars put together.
Unless Australia changes the way governments decide to go to war, more such disasters will follow.
Alison Broinowski, Paddington, NSW
Coffins and covers
Dear Editor,
ABR's coffined March cover is not only the best one I have seen on the magazine, it is one of the best magazine covers I can recall. Chilling is what comes to mind. The brilliance lies in the ingenious way the consequences are portrayed.
Neil Spark, Howrah, Tas.
Kerry Reed-Gilbert
Dear Editor,
Kerry Reed-Gilbert's contribution to States of Poetry is a wonderful acknowledgment of an inspiring strong Elder. Her poetry is strong and deep, and her gifts to the Aboriginal and Torres Strait Islanders First Nations writers and the local Us Mob writers will be her enduring legacy.
Samia Goudie (online comment)
Kerry Reed-Gilbert, a Wiradjuri woman from central New South Wales, has five poems in ABR's 2017 ACT States of Poetry, an open- access online national anthology. Next month we will publish a selection from the thirty poems published there, as selected by state editor Jen Webb. Ed.
Wellington rules
Dear Editor,
Margaret Harris (ABR, March 2017) observes that Queen Victoria is ubiquitous in Australia, 'memorialised ... in the names of two states and innumerable other places'. I hope she will forgive me for pointing out that, using the excellent Geoscience Australia search engine, it is now possible to count the places and geographical features in Australia to which Queen Victoria still lends her name, either directly or by association. The results are fascinating. Of course, it is hardly a competition, but nevertheless the tally by my calculation is Queen Victoria, 148 versus Duke of Wellington, 466.
Portrait of the Duke of Wellington by George Dawe, 1829 (Hermitage Museum via Wikimedia Commons)It is a startling fact that no individual has been and remains commemorated more often in Australia, either directly or by association, than Arthur Wellesley, first Duke of Wellington, Marquess of Douro, and Earl of Mornington. The map of Australia currently yields twenty-eight places or features named Wellesley; 126 Wellington; three Douro, and fifty-two Mornington. Wellington's military victories are also directly commemorated: Seringapatam 1 (a reef off the north-west coast of Western Australia); Copenhagen 3; Talavera 6; Corunna 14; Salamanca 3; Nive 21; Pyrenees 7, and, of course, Waterloo 109, and even Hougoumont (a pub in Fremantle). The residences that were presented to Wellington by a grateful nation are likewise marked on our map: Apsley, no fewer than fifty-eight times (for Apsley House in London) and Strathfield Saye or Stratfield Saye or Strathfieldsaye (in Hampshire, which was to Wellington as Blenheim Palace was to the Duke of Marlborough), an impressive total of thirty-four.
Why is this so? Certainly, Wellington had a thirty-year head start on Queen Victoria. He was a brilliant general who did more than anybody else to unseat Napoleon (twice). Many of the Iron Duke's veterans migrated to the Australasian colonies and made up a hefty proportion of the officer class right up to the 1850s. They obviously did a lot of the naming prior to Victoria's accession.
Wherever you happen to be in this country, you are never far away from a spot that is named after the Duke of Wellington
Angus Trumble, Canberra, ACT
Tim Winton
Dear Editor,
The first two paragraphs of Peter Craven's review of Tim Winton's The Boy Behind the Curtain (ABR, December 2016) surprised me, with the suggestion that he could be ambivalent about the author's writing; Winton's prose, he suggested, was 'sometimes just a bit too self-delighting'. I had never felt that way. Cloudstreet was the first book I read that made me reread paragraphs simply because of how well they were written. In his largely positive review of The Boy Behind the Curtain, Craven showed that he was fair-minded (and certainly not fawning). Geoffrey Wells's response to that review (Letters, January–February 2017) seemed much less fair-minded. To imply that an experienced and often forthright reviewer like Peter Craven was 'fawning to a fault' seems quite insulting.
Wells expects a memoir to be personal, yet accuses Winton of rarely going beyond 'his own outrage and sadness'. Who else's outrage and sadness does Wells wish Winton to express in his own memoir? Apparently Winton is obsessed with his own personal feelings. As Brian Matthews says in his review of Winton's other memoir, Island Home (ABR, November 2015), 'Winton ... has little trouble in finding the words, tone, and rhythms, but even he seems to rejoice at times in the freedom of memoir ... the writer of memoir can be triumphantly personal, quixotic, eccentric, risky, and daring.' Perhaps it is the quixotic part of this new memoir that bothered Wells?
I don't think Winton is a 'sacred cow'. As for the suggestion that devotees of Winton's prose like it because they don't have to think, question, and learn: I can only thank Wells for prompting me to go back and reread some of Winton's work, so that I could stop thinking, questioning, and learning all over again.
Andrew Cronin, Robertson, NSW
Additional Info
Free Article

No

Custom Article Title

Letters to the Editor - April 2017

Contents Category

Letters
Wednesday, 22 February 2017 10:34
The publication of the much-delayed Chilcot Report on the origins and consequences of Britain's participation in the Iraq war has had its resonances, but they would have been more profound had it been published two or three years ago. It is hard on John Chilcot that his Report has had to compete in the public mind with Brexit and Donald Trump. Furthermore, in a general sense, most people had already made up their minds about the Iraq war.
Why the Report was so delayed was as much a matter of gossip as known fact. It is rumoured that the 'Maxwell convention' – a semi-rule that those criticised by an official inquiry should have a right to comment on such criticism before publication – delayed things. Tony Blair, UK prime minister from 1996 to 2007, and Jack Straw, his foreign secretary (2001–6), were alleged to be leading obstructionists; as was the US government. They might, however, have succeeded in delaying publication, but it seems unlikely, given the contents of the Report, that they much changed its conclusions. The notorious 'whatever' letter – Blair's assurance to President George W. Bush that Britain would support America 'whatever' – is there, as well as much other damning material. Does the Report tell us anything that we did not already know or had not already surmised? Regrettably it does. Chilcot is almost painfully fair, as we would expect from a leading civil servant, which is why this is such a crushing document. To anybody who wants to know how Britain was governed under Blair, and probably still is, this Report is indispensable.
It is not, of course, the first official inquiry into Britain's part in the Iraq war. Lord Hutton presided over an inquiry into the death of the scientist Dr David Kelly (about which there are still many conspiracy theories): an extraordinary inquiry, since its conclusions appeared entirely at variance with its evidence. Lord Butler, like Chilcot a civil servant, in his 2004 Report was very critical of the way decisions were reached – it was he who described Blair's prime ministerial technique as 'sofa government' – but there was a sense that he pulled his punches. Both inquiries raised questions which neither answered. Rather than settling things they allowed them to fester. Gordon Brown, by then prime minister (2007–10), appointed Chilcot, who was given more or less carte blanche, finally to settle things. Whether Brown now regrets the decision we don't know.
As an instrument of government, the Chilcot Report makes plain, the cabinet was almost entirely passive, and largely excluded from serious discussions about policy. At no point did it (or anyone else) consider alternative policies: 'policy' making was largely confined to No. 10 Downing Street. Chilcot identifies no less than eleven occasions when 'there should have been collective discussion by a Cabinet Committee or small group of Ministers on the basis of inter-departmental advice agreed at a senior level'. Before the 'whatever' letter was sent to Bush, it was seen only by No. 10 officials. It was later copied to Straw, but never shown to the defence secretary, Geoff Hoon. Chilcot is also very critical of the cabinet's attitude to the legality of the war. This was a matter of leaks at the time and it was known that the attorney-general, Peter Goldsmith, had revised his views as to the legality of military intervention in a manner very convenient to the interveners. But no formal record of that decision (Blair's 'confirmation' that Iraq was in breach of UN resolutions) was kept; the actual grounds on which that confirmation was accepted 'remain unclear' and 'far from satisfactory'. Chilcot rather supports the widely held view that ministers were largely in the dark, and little better informed than members of the public who read the broadsheets. But even when they had the opportunity, ministers tended to duck it. Chilcot says, for example, that no 'substantive discussion' of the war's legality was ever held.
As to intelligence, though Chilcot is again careful in his comments, it seems obvious that some senior intelligence officers were simply not up to the job, and were certainly incapable of withstanding pressure from No. 10 to provide convenient information. The methodological problems of intelligence gathering, and the inevitable limitations of its usefulness, were not recognised by Blair and his circle, or were brushed aside. Chilcot concludes that, in effect, intelligence, for whatever reason, was misused – particularly in the notorious memorandum of September 2002 – and this is the view, clear from their evidence to the inquiry, of several senior intelligence officers themselves. Once again, however, the failure is primarily one of government. At no time did ministers commission 'systematic' alternative evaluation of the choices facing them or the risks of military intervention. Intelligence officers might have been muddled or weak, but it was ministers who were derelict in their duties.
Chilcot notes that the United States was a 'determining factor' in Britain's decision to participate in the invasion of Iraq. It was indeed. Although, as he points out, Britain and the United States had not invariably agreed with each other – Suez and Vietnam are two good instances – the institutional and personal biases of British governments and the world view of its political élites increasingly tend to tie Britain to the United States; to defer to US 'leadership'. The justifications for this are usually twofold: that America is Britain's indispensable and only reliable ally; and that general deference allows Britain to desirably influence American policy in specific cases. There is also a cultural affinity that should not be neglected, though it is easily exaggerated. Blair seemed especially susceptible to these arguments. He liked the United States and clearly thought his casual style and democratic manner would give him an authority which, in the end, proved totally illusory. Furthermore, after 9/11 Blair became convinced that the United States needed British 'help' – they could not be expected to handle all this themselves. In fact, Bush was prepared to humour him in small things but ignored him in big ones. The falsity of Britain's position became apparent in the 'reconstruction' of Iraq. Britain had no real standing in the Coalition Political Authority, which reported directly to Rumsfeld. Britain became associated with US blundering, and tainted by it, without ever being able to correct it or to offer (assuming Britain had them) alternatives. It is in relations with America that Blair most completely deceived himself.
Britain's exclusion from overall reconstruction-planning might have partly released the United Kingdom from any responsibility for the shocking failure of reconstruction; but even within its own narrow sphere Britain had made almost no preparations for reconstruction or postwar security. Looting had been anticipated, but little was done to stop it. Chilcot's description of interdepartmental buckpassing is amongst the most depressing parts of the Report. More time was spent on the question of which department should have the responsibility for civilian casualties than on efforts to discover the actual number; just as it was more anxious to deny charges that Coalition forces were killing civilians than it was to find out how many were killed. Chilcot is obviously astonished at the insouciance of government departments: 'The inquiry views the inability of the Foreign and Commonwealth Office, the Ministry of Defence and the Department for International Development to confirm how many civilian personnel were deployed to or employed in Iraq, in which locations and in what roles, as a serious failure.'
Perhaps the most surprising but telling of the findings is the extent of military failure. There has long been a comforting story that British forces – though now much diminished – have a kind of morale and esprit, an ability to get on with the locals, that compensates for their depleted state. That turns out to be what it is – just a 'story'. In part, this was (again) the responsibility of government. The Ministry of Defence proposed to maximise Britain's contribution to the invasion, and Blair recklessly agreed on 3 October 2002, even though he admitted Britain had only a 'one shot capability'. The cabinet was neither consulted nor informed. It was government that decided to participate in Afghanistan, to run two interventions simultaneously, even though it 'knowingly exceeded the Defence Planning Assumptions'. The forces' chronic lack of equipment and of appropriate training was also due to government. Chilcot writes that it was 'not sufficiently clear which person or department within the Ministry of Defence had responsibility for identifying and articulating capability gaps'. But the military themselves, including named senior officers, were partly to blame. They concealed from ministers and superiors in London the truth of life in Basra; they declined US help in their sphere of occupation; and in the end they had to persuade the local militia to allow them to evacuate Basra safely. They left behind a reputation for ill-discipline and violence we liked to think was exclusively American.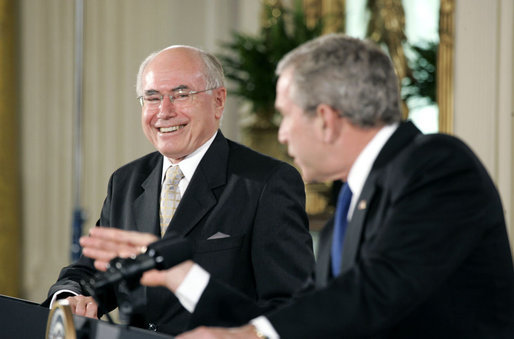 John Howard and George W. Bush at the White House, 2006 (photograph by Paul Morse)
Finally, there is Tony Blair. Blair is central to the narrative even if governmental failure characterised it. Without him, Britain would not have joined the Americans. Without a belief in the parliamentary Labour Party that many MPs owed their seats to him, it would not have supported him even to the extent that it did. Why did such a man usually so risk-averse embark on such a risky enterprise? Blair's mental world is not something Chilcot much considers, yet it shaped his actions. First, there is a sense of frustration. Blair sought to do much to reform British public life and services, but never really knew what he wanted or how to achieve it. Not for the first time, a frustrated politician turned to foreign affairs or war. Furthermore, that Blair knew so little about either probably added to the attraction. Second, there was that desire to be the centre of attention which had driven him since he set out to organise, on America's behalf, the international coalition against terrorism, and his increasing use of the exculpatory 'I did what I thought was right', which apparently excuses everything. And there is the fascination with American power, a feeling that history is made in Washington; fascinating even to a man who is a strong supporter of the EU and who once wanted Britain to join the Eurozone.
Australia is not mentioned in the Report, despite the fact that Australia was one of the few countries to support Bush and Blair from beginning to end. But there has been no inquiry into Australia's actions; no obvious institutional regrets or lessons painfully learnt; no real outrage. That is so, however a 'determining factor' the United States is in Australia's political life, because the circumstances of British and Australian involvement in Iraq differed. Unlike Blair, Howard was careful to keep Australia's presence limited and its soldiers away from dangerous territory. Blair chose the reverse. The Liberal Party as a whole was more compliant than the Labour Party in Britain, which was publicly very divided, and was readier to accept the indispensability of a wholly unequal alliance with the United States. The timidity of the ALP was also a factor. The Rudd government could have established a royal commission into Howard's actions, which at least would have been very embarrassing, but was frightened that people might think it was being petty or unsporting. The issue therefore died.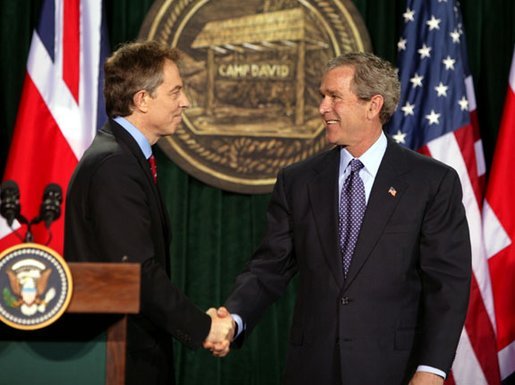 Tony Blair and George W. Bush after they conclude a joint news conference at the Camp David 2003 (Wikimedia Commons)

Nor is the relationship of Australia and Britain to the United States the same. Whereas Britain now has no friend except the United States, the transformations of politics and economics in Asia and the Pacific, especially the rise of China, and Australia's economic dependence on Asia, will almost certainly modify, possibly drastically, Australia's relations with the United States. Furthermore, Australia's obvious reluctance in Iraq to put its money where its mouth was – something the then Senator Obama noted in 2008 – suggests that even to someone like John Howard Australia's support for the United States is not unconditional. If, however, this almost paralysing dependency on the United States is not modified, British and Australian prime ministers, as Theresa May, Tony Blair, and Malcolm Turnbull have discovered, face a lifetime of future humiliations.
Additional Info
Free Article

Yes

Custom Article Title

Whatever it takes: A chronicle of failure and deceit in the Chilcot Report by Ross McKibbin

Contents Category

Commentary