Memoir
The First Casualty
by Peter Greste
It's a provocative title. Forty-two years ago, Phillip Knightley's The First Casualty: From the Crimea to Vietnam: The war correspondent as hero, propagandist, and myth-maker (1975) kick-started a new field of media history. Knightley's rollicking account of journalistic connivance with political and military power from the Crimean to the Gulf Wars spared his industry nothing. The fourth estate's serial pursuit of national self-interest, its abandonment of objectivity, truth, and morality, revealed many of our most storied war reporters as grovelling servants of the powers that be, monsters of avarice and deception whose first duty was to their own wealth and preferment. If truth was the first casualty of war, principle was prominent among the collateral damage.
In the last three decades, the massive power that journalism wielded, and the influence this afforded a coterie of editors and foreign correspondents, has waned. We live among the ruins of a once great industry. Mastheads have fallen or migrated online; the staff that served them have been reduced to a skeleton crew of overworked generalists locked in the hamster-wheel of the 24/7 news cycle, frantically updating stories filed earlier in the day. Refugees from the defence round and the foreign desk, grammar-Nazis, and commissars of style who upheld enviable standards of public literacy have been scattered to a thousand boltholes in PR, corporate communications, and the academy. Its influence increasingly undercut by social media platforms, its fourth estate role challenged by consumer demand for the melding of fact and opinion – or the failure to recognise that there might be any difference between the two – journalism has slipped from the critical list into palliative care.
With their power and privilege evaporating, outlets and reporters unaccustomed to self-justification have increasingly fallen back on arguments about principle to assert their relevance or to justify their paywalls. Whether they are defending the public interest, safeguarding inalienable rights, pursuing truth, or holding the powerful to account, journalism has suddenly become a theme park for principled endeavour. The spectacle of national broadcasters, newspapers of record, and press barons across the globe defending their right to serve as arbiters, mediators, gatekeepers, and interpreters of the news calls to mind Camus's assertion that 'to abandon oneself to principles is really to die'.
A prominent advocate of the media's burden of principle has been Australian reporter Peter Greste. Arrested in December 2013 while covering the downfall of Egypt's Morsi government, Greste and his co-accused, fellow Al Jazeera reporters Mohamed Fahmy and Baher Mohamed, were the victims of a farcical show trial in which the prosecution advanced no evidence and the defence offered no rebuttal. Convicted of 'damaging national security' and conspiring with the Muslim Brotherhood and other 'terrorist' groups 'to depict the country in a state of rift and infighting', Greste and Fahmy were given seven years each, while Mohamed got ten. Greste still seems shocked that the case against him and his co-accused was not laughed out of court. His refusal to accept that justice was a key weapon in the establishment backlash against Morsi and the Muslim Brotherhood, and not an impartial principle checking its excesses, suggests a worrying disengagement from the realpolitik he was supposed to be reporting on for his employers.
In one sense, The First Casualty is an orthodox prison memoir recounting Greste's experiences of arrest, imprisonment, and trial, his life behind bars in an exotic location, and the subculture of the penitentiary. Yet the book's structure implies that he is aiming at something grander than dispatches from the belly of the beast. Chapters on life in the Egyptian penal system alternate with those recounting the global news events that marked the progress of his career and registered the fundamental changes in the news media's practices, role, and status over this time. As digital connectivity democratised the production and distribution of news, so information was transformed from the stable currency of international knowledge exchange into a weapon of influence and authority. Over two decades, information rapidly moved from being a means of publicising force capability to an integral feature of it, and then the battlefield in itself. Here in the information environment, as Islamic State have demonstrated, insurgents could match, and often master, the firepower of their better-armed adversaries. However, where information is a weapon, its channels and those who staff them, are perceived to be its warriors. In a world where every government department, every political party, every company large or small musters information to serve its ends, all forms of media are regarded as committed to one cause or another and assertions of 'truth' or 'objectivity' are accepted as indispensable elements of an information strategy. A 'Press'-emblazoned flak jacket is no guarantor of principled reporting. Journalists have become both deliberate targets, and the collateral casualties, of our own and our adversaries' intolerance of heterodoxy.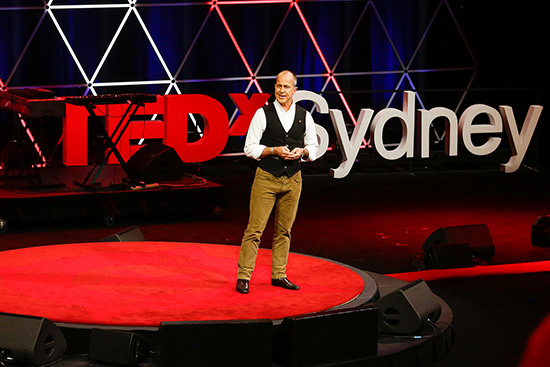 Peter Greste at TEDxSydney 2017 (photograph by Catherine McElhone, Flickr)
An insistence on transcendent truth, and the principles of moral purity this enables, might appear indulgent in such a polarised landscape, yet these are the arguments that Greste advances. Extrapolating from his experiences, he parallels his ordeal with, and takes up the burden of, others struggling in defence of truth, justice, and freedom of expression. From the fortified compounds of Mogadishu to the offices of Charlie Hebdo, from the psychotic vaudeville of the White House briefing room to the bloodied deserts of Western Iraq, there isn't a martyred media worker or a retrograde statute that isn't mined for a principle that Greste can defend. His Cairo jail becomes a Robben Island of the mind, where, in small acts of defiance – hiding a diary, baking bread, planting vegetables – he strikes a blow for all those suffering under oppression or fighting for their rights.
Absorbed by his own struggles, Greste overlooks the exemplars of principle all around him, the once-and-present enemies of the Egyptian state, former cabinet ministers, ministry officials, students, and unfortunate bystanders, with whom he shares a cell-block. 'Extremists' in the eyes of some, these men have sustained a lifetime of struggle against repression. Growing old behind bars, separated from their families for years at a time, they are a stark reminder that true principles, unlike empty posturing, come at a high price.
Like many others, as Greste's ordeal dragged on I warmed to his parents. Plunged into a nightmare of alien laws and unwonted celebrity, though visibly battered by their experiences, they retained their sense of humour and sustained a jaunty rapport with the global media. Their focus was not on any larger cause that might reside in their ordeal, but on freeing the son they loved and bringing him home. Humility: now there's a much undervalued principle.