Sport
'When sport and politics collide' by Kieran Pender
Politicians in ancient Greece were well acquainted with the alluring intersection between sport and politics. Alcibiades, an ambitious aristocrat, entered seven chariots in the 416 BCE Olympics, aware of the potential political benefits. He came first, second, and fourth, later citing this 'splendid performance' to the Athenian assembly while lobbying for a senior military appointment in the Peloponnesian War.
Since then, sport and politics have become even more intertwined. Sports of all kinds serve as potent tools of nationalism. Eric Hobsbawm famously wrote that 'the imagined community of millions seems more real as a team of eleven named people'. The image-building potential of sporting mega-events, meanwhile, has enchanted national leaders from Hitler to Ronald Reagan, Paul Keating to Vladimir Putin.
Despite the storied history, there remain prominent strands of denial. Seven countries refused to attend the 1956 Olympics in Melbourne in response to the Suez crisis, the Soviet Union's invasion of Hungary, and the participation of  Taiwan respectively. This angered then-International Olympic Committee (IOC) President Avery Brundage, who criticised the ignorance of those 'unaware of one of our most important principles, namely that sport is completely free of politics'. Six decades later, Tony Abbott tweeted that 'sport is sport' in response to American rapper Macklemore's intention to sing his pro-equality song at a rugby league game. 'Footy fans shouldn't be subjected to a politicised grand final,' griped the former prime minister. Similar sentiments were expressed in certain circles when the AFL conspicuously endorsed the Yes vote during the marriage equality campaign.
If Abbott and his conservative colleagues were truly concerned about the politicisation of sport, they would have been better off looking to Turkmenistan rather than ANZ Stadium or AFL House. In mid-September, the isolated Central Asian state hosted the fifth Asian Indoor and Martial Arts Games. Australia sent eighteen athletes to the event, returning with two bronze medals in taekwondo.
At first glance, Australia's participation at the Games seems innocuous – athletes wearing the green and gold compete around the world on a regular basis. But Turkmenistan is no ordinary country. Run by the dictator Gurbanguly Berdymukhamedov, the post-Soviet republic's human rights record is atrocious. According to Freedom House, Turkmenistan is 'a highly repressive authoritarian state where citizens' political rights and civil liberties are almost completely denied'.
Notwithstanding Australia's recent elevation to the United Nations Human Rights Council, our sporting administrators clearly felt no moral compunction about sending athletes to Turkmenistan. Human Rights Watch announced widespread destruction of houses during preparations for the Games (without adequate compensation for residents), and the host city – Ashgabat – was reportedly sealed off from the rest of the country during the ten-day spectacle. International best practice this was not.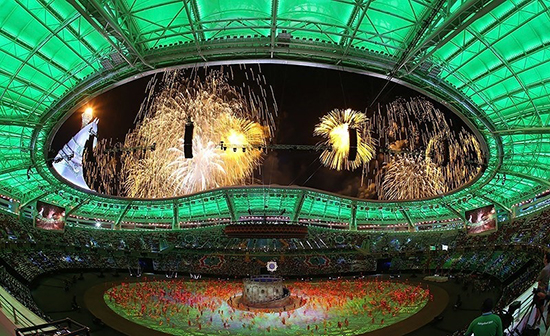 The opening ceremony of the fifth Asian Indoor and Martial Arts Games in Ashgabat, Turkmenistan (photograph by Javid Nikpour, Wikimedia Commons)
When I put such matters to the Australian Olympic Committee (AOC), there was barely a squeak. I asked four questions of AOC President John Coates, with the phrase 'human rights' (and synonyms) used five times. His 140-word response did not include the phrase once. Instead, Coates offered platitudes like 'Participating in these Games represents a wonderful opportunity for our young and developing Australian team to gain invaluable experience with some of the best athletes in the world in their sports.'  The political benefit of continued sporting engagement with Asia was evident in Australia's participation, burying any concerns about the propriety of assisting a dictator to burnish his international legitimacy. Nor did the Department of Foreign Affairs and Trade seem troubled, stating merely that 'the AOC is a non-profit organisation independent of government. As such, we do not participate in its decision-making.'
If Australia sent athletes to a sporting event in North Korea, public condemnation would be immediate. But there was barely a murmur about the Asian Indoor Games. Not one Australian media outlet was accredited to cover the tournament, and the few stories to be published consisted of newspapers cheerleading for their local bronze medallists. Scrutiny of the AOC's activities was conspicuously absent. Yet the comparison with North Korea is apt. Berdymukhamedov 'won' the 2017 election with ninety-seven per cent of the vote; dissenting voices are jailed or scared into exile. The leader's predecessor erected a golden statue of himself that rotated to face the sun and named days of the week after family members. It was into this political environment that the AOC sent eighteen athletes.
I was commissioned to cover the Asian Indoor Games for The Guardian but had my media accreditation revoked eleven days before the tournament began. Several other prominent international media outlets, including Associated Press, were also denied entry to Turkmenistan. The AOC and IOC were both advised of this attempt to limit press freedom, an ideal to which both are committed via the IOC Charter. Neither offered any assistance, nor did they denounce the local organising committee's actions.
Australia's recent morally questionable sporting engagement in Central Asia is not an isolated incident. The Socceroos will participate at the 2018 FIFA World Cup in Russia and, most likely, the next edition in Qatar four years later. Both raise a panoply of ethical issues. The Russian organising committee reportedly used North Korean forced labour to build stadiums, and hundreds of migrant construction workers have died in the Qatari heat. Russia is edging ever closer to authoritarian rule under President Putin, while the emir of Qatar holds absolute executive and legislative authority. Both nations are rated as 'not free' in Freedom House's latest report.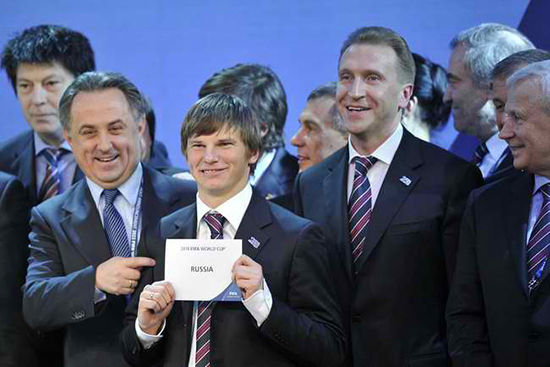 Russian delegates celebrating after winning the right to host the 2018 FIFA World Cup at a FIFA meeting in 2010 (image source: The Kremlin)

The methods by which Russia and Qatar secured hosting rights are also questionable, with allegations of corruption surrounding both winning bids. Sacked FIFA General Secretary Jérôme Valcke claimed in a leaked email that the Qataris 'bought' the World Cup, while Russia's bid team had conveniently wiped their computers before an international audit could commence investigations. Of the twenty-two-member executive committee that awarded the two events in 2010, seven have since been accused of criminal conduct by US authorities and another five sanctioned by FIFA's internal ethics body.
In such circumstances, should Australia be participating in these World Cups? Beyond football, the 2022 Winter Olympics will be held in Beijing, repeating the quandaries raised by China's hosting of the 2008 Summer Olympics. And with Donald Trump currently vandalising the White House, who knows what state the United States will be in come the 2028 Los Angeles Games.
Fans and journalists are placed in an awkward position. Is it okay to attend a sporting event in Russia or Qatar, let alone enjoy it? By doing so, are we also contributing to the misuse of sport for murky political purposes? When the 2018 and 2022 World Cups begin, media organisations will inevitably overlook the underlying probity concerns and focus on the sporting action. Who can blame them? Supporters want to read about exciting on-field heroics, not corruption and political repression.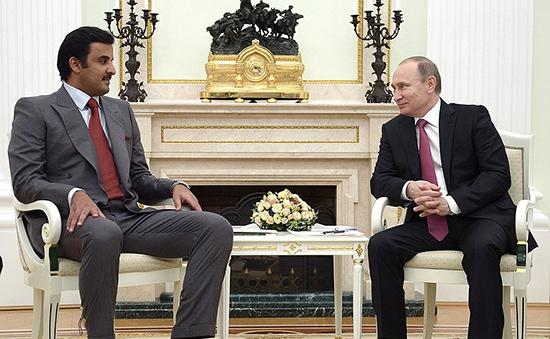 Sheikh Tamim bin Hamad Al Thani, Emir of Qatar, meets Russian President Vladimir Putin at the Kremlin, 2016 (image source: The Kremlin)

At the FIFA Confederations Cup in Russia in June, 2017, I sought the views of fans on these moral conundrums. 'I do have difficulties with the way the bidding process was conducted, but I feel those issues are above the ordinary fan,' said one Socceroos supporter. 'Ultimately I just want to watch the football.' But with FIFA, the IOC, and other such bodies abdicating any moral responsibility, is it not incumbent upon fans to take a stand?
Sport has previously been a force for political good. Sporting boycotts of South Africa contributed to the fall of apartheid, with a number of international sports federations restricting or suspending South African participation. Even there, Australia's own involvement was far from unimpeachable. Supporting South African rugby and cricketing tours to Australia in 1971, Prime Minister William McMahon expressed views that would not have been out of place in the current debate. 'I don't like people to prostitute their political position by saying there's some moral issue involved,' said the Liberal Party leader. 'I think sport ought to be divorced from politics and I believe that's the view of the Australian people, too.' McMahon would end up on the wrong side of history, as would Abbott, who has been criticised for participating in a rugby tour of South Africa during the apartheid era.
Forget Macklemore (although I applaud his gesture). There is a more important conversation that Australia needs to be having. Sport has always been political. Australians and our elected officials should appreciate that and hold our sporting organisations to account for their inherently political decisions. When Australians athletes compete in authoritarian Turkmenistan, giving a veneer of credibility to one of the most repressive regimes in the world, we are all complicit.