Publisher of the Month
Publisher of the Month with Henry Rosenbloom
What was your pathway to publishing?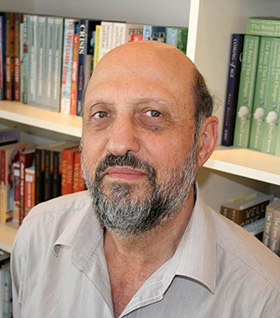 I had been a writer and editor at school and university, I'd worked in the Whitlam government, I'd been a freelance journalist, and I was interested in politics, history, books, and writing, so it was a natural progression – though I didn't realise it at the time.
What was the first book you ever published?
A small book by an unknown author by the name of Henry Rosenbloom, titled Politics and the Media, in 1976.
Do you edit the books you commission?
Usually.
How many titles do you publish each year?
Around seventy.
What are the main qualities you look for in an author?
In non-fiction, a fresh take on an old story, or new, ground-breaking insights, or a strong argument. In fiction, the capacity to make me feel pleasure as I'm reading, even if the material is hard to take. In either category, nothing beats a strong voice and a beautiful style.
In your dealings with authors, what is the greatest pleasure – and challenge?
I love editing, and always have. There comes a stage in each manuscript when you see the world through the author's eyes, and when you see what's working and what's not. It's dealing with both that is the great challenge and, potentially, very satisfying. Apart from that, I love helping a new author find his or her voice.
Do you write yourself? If so, has it informed your work as a publisher?
I've written (and edited) since I was a schoolboy. Most of the time it's been journalism of one kind or another, although I did write the abovementioned small book more than forty years ago. I would like to think that my own writing has sensitised me to the need, as an editor, to always think of the reader.
Who are the editors/publishers you most admire?
In the current era, I am full of admiration for Andrew Franklin, the founder and publisher of Profile in the United Kingdom. I think Michael Heyward at Text is a world-class publisher. In the United States, Cindy Spiegel is a brilliant editor/publisher at her eponymous imprint, Spiegel & Grau. One of the reasons why I am still an editor and publisher is that I read A. Scott Berg's wonderful biography of Maxwell Perkins, titled Max Perkins: Editor of genius, in 1978. Around this time, I also became deeply impressed by Di Gribble, when she was a co-founder of McPhee Gribble.
In a highly competitive market, is individuality one of the casualties?
I think that large publishing houses, like Hollywood film studios, have a lot of pressure on them to play safe, either in terms of genres or sequels. I would probably do the same if I was in their shoes. However, independent houses have to think differently. Speaking purely for Scribe, some of our most successful books have been highly individual, and have been written by previously unknown authors.
On publication, which is more gratifying – a brilliant launch, a satisfied author, encomiastic reviews, or rapid sales?
Launches are evanescent, authors' moods change, and good reviews don't usually sell books. Nothing beats rapid sales, and any publisher who denies this is lying. Rapid sales transform the usual tepid and torpid economics of publishing, and make everything seem worthwhile – and everybody happy.
What's the outlook for new writing of quality?
Much the same as it's always been.
---
Henry Rosenbloom is the founder and publisher of Scribe. A son of Holocaust survivors, he was born in Paris, France in 1947, was educated at the University of Melbourne, where he became the first full-time editor of the student newspaper, Farrago, and later worked in the Whitlam Labor government. The author of Politics and the Media (1976), he has been a book printer, freelance journalist, book reviewer, and occasional newspaper op-ed and feature writer. In 2010 he was presented with a George Robertson award for service to the publishing industry.