What is Barack Obama's legacy? That deceptively simple question forms the subject of Jonathan Chait's new book, Audacity. Across seven disparate chapters, the book 'makes the case that Obama succeeded' – that he 'accomplished nearly everything he set out to do, and he set out to do an enormous amount'.
Although Audacity 'is not a history of the Obama administration', the book makes an implicit claim about the way history will treat Barack Obama. Given time and proper analysis, Chait argues: 'The Obama presidency will be seen as a careful, patient application of the powers of office that paid off in ways that were not often evident on the surface – a long game with audacious goals, and a bold willingness to endure short-term costs in order to achieve them.'
Two problems with this approach emerge immediately. First, Chait has selected a poor test by which to judge the Obama presidency. Even a cursory review of Barack Obama's campaign speeches (here, E.J. Dionne Jr and Joy-Ann Reid's We Are the Change We Seek provides an excellent reference point) reveals that Barack Obama, objectively, did not accomplish 'nearly everything' he set out to do. Yet, it was precisely because Obama set such ambitious goals that even partial success may mark him out as a great president. Second, published just over a month after Obama left office, the book's claims about how history will treat Obama are necessarily speculative.
Audacity's opening chapter – entitled 'America's Primal Sin' – begins with the issue of race during Obama era. Chait meanders through descriptions of growing racially loaded rhetoric, hypersensitivity to both racism and accusations of racism in the political realm, and the backlash to Obama's own tentative forays into the subject while in office. Untethered from the main argument of the book and largely inconclusive, it is unclear what purpose this chapter serves.
Despite this faltering start, Audacity finds its footing by the second chapter, which deals with the Obama administration's response to the global financial crisis. The new administration's immediate priority became stabilising financial institutions and limiting the damage to a structurally weak US economy. President Obama and the Democrats in Congress intervened, passing a stimulus bill worth US$787 billion. Further interventions to save the American automotive industry and improve financial sector regulation followed. Though derided as inadequate by liberals and as 'economic fascism' by conservatives, Chait persuasively marshals evidence to demonstrate that Obama's economic policies worked and probably prevented a second Great Depression. Yet, as The New Yorker's editorial observed, 'harm averted is benefit unseen', and the administration received scant credit for its efforts.
When Obama signed the Patient Protection and Affordable Care Act into law on 23 March 2010, he fulfilled a central campaign promise and achieved a goal that had eluded Democratic presidents since Harry Truman. As Chait ably recounts, the passage of the law was not easy. Along the way, the public insurance and single payer options preferred by the Democratic left were jettisoned. Ted Kennedy, a champion of universal healthcare, died and the special election for his seat cost the Democrats a filibuster-proof majority in the Senate. All the while, public opposition to Obamacare grew, stoked by Republican fearmongering. As the political cost mounted, key presidential personnel and members of Congress advised the president to abandon the bill. According to Chait, it was Obama's 'decision to push forward ... that most clearly displayed the role played by his personal qualities in his presidency's historic success'.
Yet throughout the Obama administration, significant policy successes were often accompanied by poor or ineffective communication. Obama, speaking to Charlie Rose in 2012, said 'the mistake of my first term ... was thinking that this job was just about getting the policy right'. An irony, Chait observes, given Obama's vaunted eloquence.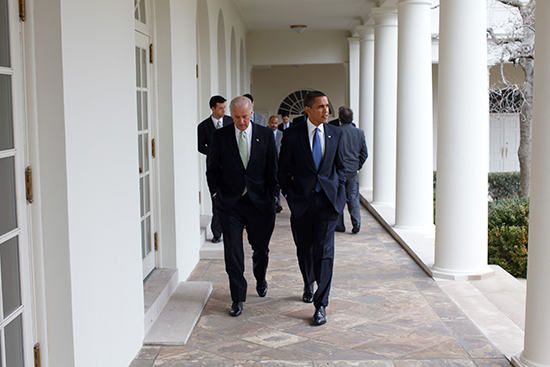 Vice President Joe Biden and President Barack Obama, 2009 (photograph by Pete Souza, Wikimedia Commons)
Chait's attempt to demonstrate Obama's 'success' on climate change and in foreign policy is far less convincing. Accepting the Democratic nomination for president in 2008, candidate Barack Obama declared, in mighty cadence, this would be 'the moment when the rise of the oceans began to slow and our planet began to heal'. However, the administration's progress – funding clean energy projects and requiring higher emissions standards of vehicles and power plants through executive action – was more incremental and easy to reverse.
In discussing foreign policy, even the normally effusive Chait concedes that 'Obama's foreign policy was not transformative' and its 'non-Bushness overshadowed any positive characteristics'. Obama ended US troop deployments to Afghanistan and Iraq, but in circumstances that gave no cause for celebration. An unenforced 'red line' in Syria, the failure to close the infamous US military prison at Guantánamo Bay, and the administration's extensive surveillance and targeted killing programs all undermined Obama's credibility and moral standing at home and abroad.
Other disappointments of the Obama years are largely ignored. Despite a spate of mass shootings – including the monstrous slaughter of children at the Sandy Hook Elementary School in Newtown, Connecticut in 2012 – meaningful gun control was never implemented. On immigration, a comprehensive reform bill passed the Senate in May 2013 but was not even considered in the House. These must rank as failures during Obama's term, even if much of the blame lies with the Republican Party.
Audacity is sometimes as concerned with Obama's critics as with policy outcomes. Chait is clinical in cataloguing examples of policy reversals, intellectual dishonesty, and hypocrisy in the Republican opposition to Obama's agenda. He also digresses into extended critiques of liberal disappointment in Obama – as if this disappointment, as much as Republican opposition, impeded the president's progress. This analysis too often remains superficial. There is very little engagement with the substantive ideological opposition to Obama's agenda from the left or the right.
Audacity similarly avoids reckoning with the political failures of the Obama administration. If the Republican strategy of total opposition was cynical, it was also remarkably effective. As Jay Cost of The Weekly Standard observed in late 2016: 'While Obama's standing with the country has held more or less firm, he has overseen a down-ballot rout during his tenure.' After eight years of Obama's presidency, Republicans are now the country's dominant party, holding thirty-three governorships and controlling both legislative houses in thirty-two states. In the 2016 federal election, Republicans retained majorities in the House and Senate and won the presidency. Chait's final chapter – Obama's America – seems particularly oblivious to this reality, arguing that electoral trends have 'ominous portents' for the Republican Party.
Audacity sets out to provide a robust defence of Obama's performance and achievements in office. Yet, by overselling the case and ignoring or dismissing valid criticisms, Chait weakens the credibility of his conclusions. Typographical errors, a confusing structure, and formulaic chapter set up further undermine the book's persuasiveness. Audacity is an amiable and sympathetic primer on the Obama administration. It may also serve as a liberal palliative in the age of Trump. Unfortunately, it is unlikely to be more.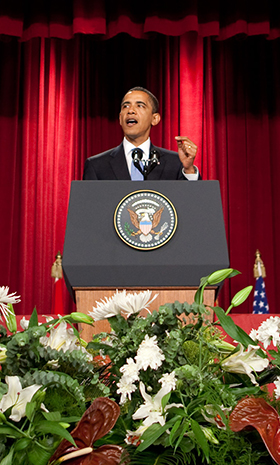 President Barack Obama speaks at Cairo University, 2009 (Photograph by Chuck Kennedy, Wikimedia Commons)When I first picked up We Are the Change We Seek: The speeches of Barack Obama, my thoughts went to the future of such collections. Video, audio, and transcripts of presidential speeches are now all freely available on the internet. Why read speeches when you can watch and listen to them? While it is a handsome volume and might make an excellent gift, We Are the Change We Seek, is perhaps more decorative than useful. Yet, reading We Are the Change We Seek from start to finish was a surprisingly rewarding exercise. The rhetorical and literary gifts of the president are evident from first to last. In the introduction, the editors quote Adlai Stevenson speaking in Los Angeles in 1960: 'Do you remember, Stevenson said, that in classical times when Cicero finished speaking, the people said, "How well he spoke," but when Demosthenes had finished speaking, the people said, "Let us march."'
In spite of his unfailing ability to draw crowds, Obama seems more akin to Cicero than Demosthenes. Obama's speeches read like well-written essays, weaving together narrative and argument in a balanced way while eschewing oversimplification or cliché. Ironically, these may not be attributes in a modern political environment. Although Obama is a gifted wordsmith, his speeches lack certain notable qualities of presidents past: the iconic phrases of Franklin Roosevelt: the ideological certainty of Ronald Reagan; the down-home charm of Bill Clinton. (There are certainly none of the nativist or jingoistic catchphrases of Donald Trump.)
Other insights emerge. Obama's speeches clearly transition from more strident and partisan rhetoric to the language of national unity as Obama positioned himself to become a national political figure. The same speeches also reveal a naïveté about the depth of ideological, geographic, and cultural division in the United States, and about the persistence of his optimism.
Together, the speeches selected in We Are the Change We Seek lay out a vision of an open, pluralistic, just, and confident America. It is a vision that seems distant today. 'But,' as Obama might say, 'in the unlikely story that is America, there has never been anything false about hope.'