Fiction
The Ministry of Utmost Happiness
by Arundhati Roy
Arundhati Roy's first and only other novel was The God of Small Things (1997). It attracted an advance of half a million pounds; publishing rights were sold in twenty-one countries; and it won the 1997 Booker Prize, as it was then called. Since then it has sold six million copies and has been translated into forty languages. In the interval, Roy has been prolific in her non-fiction and fearless in her political activism.
When The God of Small Things was first published, not everyone joined in the cheering. One of the Booker judges, Jason Cowley, published an oddly defensive piece late in 1997 entitled 'Why We Chose Arundhati', claiming that 1997 was 'a year of levelling mediocrity ... not a good year for the British, or indeed the Commonwealth novel', which is one small step away from saying it was the best of a bad lot. Critic Peter Kemp was annoyed even by its appearance on the shortlist and was dour about its 'over-writing', calling it 'magic realism as recycled candyfloss' (which makes one wonder exactly what he thinks magic realism is), and legendary publisher and former Booker judge Carmen Callil went one step further again: 'vulgar and execrable', she said.
I mention these facts in so much detail because The Ministry of Utmost Happiness, twenty years on, will more than likely attract the same kinds of criticism from the same kinds of readers: an irritated rejection of its multivalent exuberance and excess. No adequate summary of plot and characters can be given in the space of a review, not least because there are three or four major characters and hundreds of minor but significant ones, and there are many jumps in time and space, as characters muse and remember, back-stories are told, and the narrator goes off on wild tangents to do with recent Indian politics and history. Given the complexity of these, all but the most well-informed non-Indian reader will be left floundering, and occasionally gasping, in Roy's wake as she provides brief satirical sketches of politicians, describes riots and massacres in the wake of terrible events, provides awful illustrations of the way the caste system works, and dwells in detail on the history, geography, politics, and people of the Kashmir region – now administered by three different countries – and its relation to India proper.
But most of all this book is about the dissolution of boundaries: between caste and caste, between colour and colour, between gender and gender. Two of the main characters, Anjum and Tilo, embody this idea. The mother of Anjum (born Aftab) gets a nasty shock on close inspection of her newborn: 'That was when she discovered, nestling under his boy-parts, a small, unformed, but undoubtedly girl-part.' Years later, a doctor judges that Aftab 'was not, medically speaking, a Hijra – a female trapped in a male body ... Aftab, he said, was a rare example of a Hermaphrodite'. And the unacceptably dark-skinned Tilo is the illegitimate product of a scandalous small-town love affair between a man from an 'untouchable' caste and a woman from a Syrian Christian family, bundled off at birth to an orphanage and later reclaimed by her birth mother.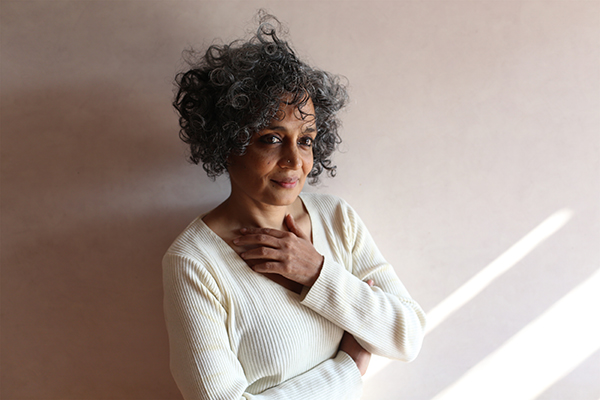 Arundhati Roy (photograph by Mayank Austen Soofi)
Anjum and Tilo, like so many of the other characters in this book, are fringe-dwellers: people who have slipped the moorings of the caste system and the biological family through accidents of birth. Tilo's prospective family-in-law is horrified by this dark bride, 'without a past, without a caste'. And the adult Anjum, living as a Hijra and contemplating pairs of legendary lovers, says 'I'm Romi and Juli, I'm Laila and Majnu ... I'm a gathering. Of everybody and nobody, of everything and nothing.'
Both of these characters live vulnerable and eventful adult lives, often fraught with danger in the various plots and conspiracies and eruptions of violence around them. Roy has a gift for stepping back from her brightly coloured, hyperreal narratives to deliver brief and devastating truth-bombs about the nature of her country; another of the main characters, recalling the massacre of thousands of Sikhs in the riots after the assassination of Prime Minister Indira Gandhi by her Sikh bodyguards, talks about his own failure to be shocked by it: 'It was as though the Apparition whose presence we in India are all constantly and acutely aware of had suddenly surfaced, snarling, from the deep, and had behaved exactly as we expected it to. Once its appetite was sated it sank back into its subterranean lair and normality closed over it.'
India is by no means the only country to be subjected in this novel to relentless observations; there are some brief, sharp critiques of the United States and the United Kingdom in particular, and even, in a well-informed wisecrack that made me laugh out loud, Australia: 'Instead, their homes ... were flattened by yellow bulldozers imported from Australia. (Ditch Witch they were called, the 'dozers.)' This gift for the vivid image is often enlivened by little whip-flicks in the diction: 'Naga's mother was at the centre of a clot of elegant ladies whose perfume I could smell from across the lawn.'
Roy writes the sort of fiction to which critical reaction will always be divided by personal taste more than anything else. She is a political activist, and her colourful, scented, noisy, sweet-natured, micro-detailed stories of human (and, indeed, animal) lives are vertiginously juxtaposed with attacks, both satirical and straight, on Indian politicians and customs and on the shameless, giant crimes against humanity and nature being committed by multinational companies in India and elsewhere. Some readers simply dislike either one or both of those things in fiction. But others will be seduced by the sheer vitality of this novel, the writing powered by an intoxicating combination of intellectual and sensual energy.